Fraxel Laser Treatment (Fractional Repair)
Everyone wants soft, beautiful skin. But our skin is subject to numerous experiences every day that leave it less than perfect.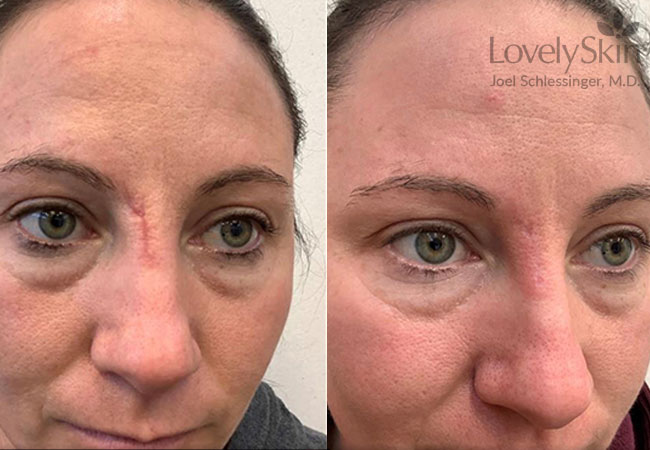 Since the 1990s, CO2 laser resurfacing has long been the gold standard for a safe and effective treatment for fine lines, wrinkles, sun damage, scars, uneven pigmentation and large pores. However, with the CO2 laser there is a need for anesthesia, risk of scarring and lengthy recovery period after the procedure that includes weeping and crusting of facial skin. There is also a potential for prolonged facial redness that can last three months, hypopigmentation or lightening of skin color and the potential for infection, which can lead to scarring.
A new breed of Fractional technology has been designed to improve the risks and make this procedure much safer. This new treatment, known as Fraxel, is the new gold standard in laser resurfacing. Fraxel laser treatment delivers the laser's energy in tiny microbeams, leaving some healthy tissue behind. This results in much faster healing of the treated area.
Diminish fine lines, wrinkles and sun damage with Fraxel Laser Treatments.
What is Fraxel laser treatment?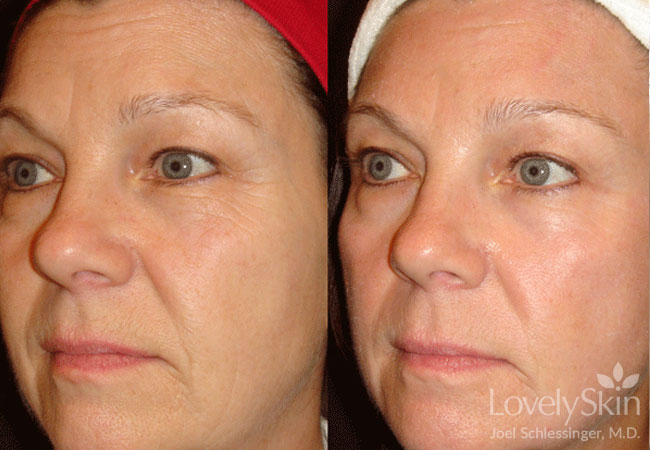 Fraxel is a semi-ablative procedure that is based upon the skin's own healing response. Microscopic laser wounds are spaced across the skin with a handheld scanner. Fraxel light energy stimulates collagen and resurfaces the deeper layer of skin so its natural rejuvenation process can renew and repair the complexion. As the formation of new collagen continues to improve over time, most patients will see significant improvement in the appearance of fine lines, wrinkles, dark spots, uneven skin tone, large pores and acne scarring with a fresher, more youthful skin tone and texture. Fraxel reaches deeper into the skin to produce more effective wrinkle removal and skin rejuvenation.
Usually, only one session of Fraxel is needed. The higher the intensity, the longer the recovery, but you'll see more impressive results. During the procedure, Dr. Schlessinger scans the skin being treated with the Fraxel hand piece in a computer-controlled pattern. This allows Dr. Schlessinger to treat small areas of skin while leaving the surrounding area intact.
During your consultation with Dr. Schlessinger in our Omaha, Nebraska office you can discuss your concerns and your goals. Together you can choose the treatment level that best suits your needs.
What is Fraxel used for?
Fraxel laser treatment is an FDA-approved fractional laser technology that helps improve skin tone and texture for a more youthful appearance. In addition to minimizing dark spots and wrinkles, this procedure also refines large pores, evens out discoloration and helps improve the appearance of scars and stretch marks.
The benefits of Fraxel Laser Treatment
Better results compared to non-ablative treatments
Minimal downtime
Minimal chance of pigment loss
Safe and effective for all skin surface areas
Promotes tissue contraction and skin tightening
Your appearance continues to improve over a period of up to six months
Can be performed to delay more invasive surgery like a facelift
Questions and answers about Fraxel Laser Treatment
Dr. Schlessinger will answer your questions about Fraxel Laser Treatment. If you have a question, he invites you to .
How does Fraxel differ from regular CO2 laser resurfacing?
With CO2 laser resurfacing, there is a need for anesthesia, and more risk of scarring. The first fractional lasers took off the entire top layer of skin, resulting in a larger wound to heal and a longer recovery time.
Fraxel, on the other hand, delivers the laser's high precision energy in tiny microbeams, creating tiny wounds on the skin's surface. This lessens the risks associated with the treatment and substantially speeds up recovery time. The results are more impressive and they last longer, too.
What can I expect after a Fraxel treatment?
Usually only one 20 to 60-minute session is needed, and patients can resume most normal activity after five to seven days. Results and their longevity depend upon the individual patient. Skin type, other procedures performed, the severity of the skin conditions being addressed and your skin care routine can all have an impact on your Fraxel outcome. Dr. Schlessinger will consult with you about the best way to maintain the results of your treatment.
Are the results permanent?
No, they aren't, but they do last significantly longer than non-abrasive laser procedures.
Does Fraxel replace Botox and Fillers?
Fraxel is performed to tighten the skin while Botox relaxes the skin and fillers restore lost volume to the skin. Most patients find that optimal results are obtained by combining these treatment options.
Are there any side effects of Fraxel laser treatment?
There will be some redness, swelling and seeping for a few days following your Fraxel treatment. Most everyday activities can be resumed after five to seven days, and makeup may be used to cover mild to moderate redness after this time. Remember, recovery time always depends upon the intensity of treatment. Five to seven days is the average recovery time for most patients.
How do I care for my skin after my Fraxel laser procedure?
Dr. Schlessinger will instruct you on wound care in the initial phase of recovery, which lasts about a week after treatment. You'll also need to take care to avoid direct sun exposure for at least three months after your Fraxel laser treatment, and always wear a sunscreen with an SPF of 30 or higher.
Am I a candidate for Fraxel?
Any patient who would like to have smoother, tighter, younger-looking skin is a good candidate. For patients who are 40 to 50 years old, this procedure can put off the need for a facelift. Also, if you'd like to address these skin concerns, but you have a busy lifestyle that doesn't allow for a long period of recovery after procedures, Fraxel may be the best treatment for you. Discover more when you visit us at our Omaha, Nebraska office.
Where can have the Fraxel procedure performed?
If you live in the Omaha, Nebraska area, Dr. Schlessinger would welcome your call at 402-334-7546 for an appointment to discuss Fraxel laser treatment. If you live elsewhere, consult with a dermatologist who specializes in cosmetic dermatology and does his or her own treatments rather than handing them off to a nurse or non-MD.
It takes skill and technique to get really good results from Fraxel and other laser procedures. It's best to have an MD, and usually a good dermatologist or cosmetic surgeon, do the procedure. Always look for an experienced physician who has your safety and best interests in mind. Dr. Schlessinger recommends avoiding medspas for procedures like this, as they usually have little to no medical oversight and can end up causing problems that will be very difficult or impossible to reverse.
As a board-certified dermatologist, Dr. Schlessinger is an expert on laser procedures and he performs all of the Fraxel procedures on his patients. If you go to a clinic that is run by a reputable dermatologist and/or cosmetic surgeon, these professionals should be the ones doing the treatments.
Congratulations on considering the exciting procedure!
When you visit Dr. Schlessinger's Midwest office, you'll be in good hands for all your cosmetic needs. Our excellent staff will make you feel welcomed and comfortable. We look forward to meeting you!
Make an appointment today
Contact Skin Specialists in Omaha, Nebraska for an evaluation for treatment of your skin condition.