Hair Care
Platinum Hair Help: Maintain blonde hair around chlorine and other environmental factors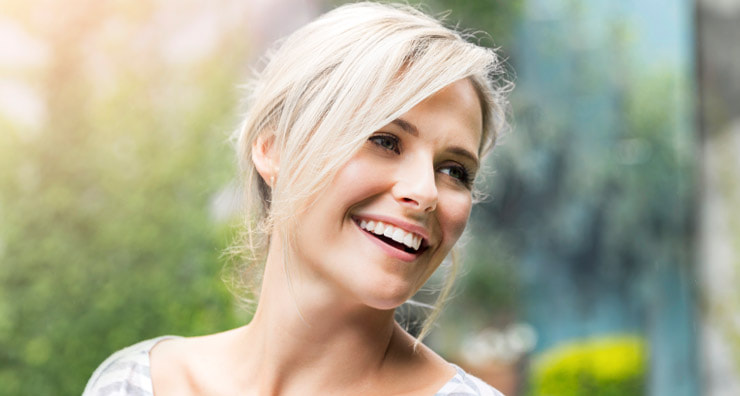 Platinum hair is having a moment. But for those that aren't blessed with white blonde hair naturally, achieving and maintaining this bold color choice can take some effort and time. Fresh from the salon your locks are wonderfully white, but a few weeks in, your platinum hair color fades and starts to look brassy and dull. Environmental factors like chlorine wreak havoc on hair–and can even alter its pristine color from platinum to green! Fortunately, with a few tips, tricks and precisely-picked products, you can keep your platinum hair vibrant, brilliant and bold – sending any brassy, yellow tones right down the drain.
What should I know if I want to learn how to get platinum hair?
Achieving white blonde hair always starts in the salon, but what about after? It's been a few months (or weeks) and not only are you starting to see dark roots, but your once vibrant color is now brassy-toned or yellow. If your icy-white platinum locks are losing their luster, there are a few things you need to know and products you absolutely need to use to protect your investment after you leave the safety of your expertly-trained colorist's hands.
Protect Hair from Chlorine-Treated Pools
While a dip in the pool never sounds more appealing than in the sweltering summer months, chlorine-treated water spells disaster for all hair, especially platinum blondes. Unfortunately, blondes going green after swimming in chlorine-treated pools isn't a myth. But, why does blonde hair turn green after swimming at the pool, and how can you protect your platinum color around chlorine? Copper is commonly found in swimming pools and binds to the proteins in your hair as you swim. Once copper comes in contact with chlorine, it oxidizes and produces the green appearance. Certain hair treatments protect hair from this interaction, making them a necessity for swimmers.
Try: IGK Blocked Water-Resistant Hair Shield – This hair shield protects platinum locks from the green tint chlorine causes by acting as an invisible swim cap that seals the hair cuticle with water-resistant waxes. In addition to preserving your recent color treatment, it also prevents breakage and damage at the hands of wind, sweat and UV rays, making it the perfect hair companion for the pool, beach or gym.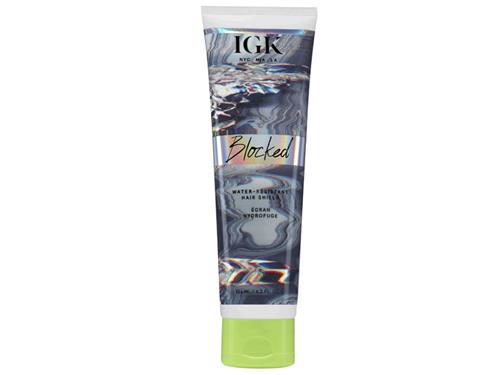 Always Use a Sulfate-free Shampoo
Shampoos with sulfates do a great job of creating a sudsy, luxurious lather, but can really do a number on dry or color-treated hair, causing color to fade more quickly than it should and making dry hair even drier. By choosing a sulfate-free shampoo for daily use, you're taking one more step to protect your platinum investment.
Try: Pureology Perfect 4 Platinum Shampoo – This sulfate-free shampoo is a cult classic for platinum-haired beauties. It thoroughly cleanses strands and removes impurities without stripping hair color. Plus, it strengthens over-processed hair with anti-breakage fortifier keravis and protects color with an Anti-Fade Complex.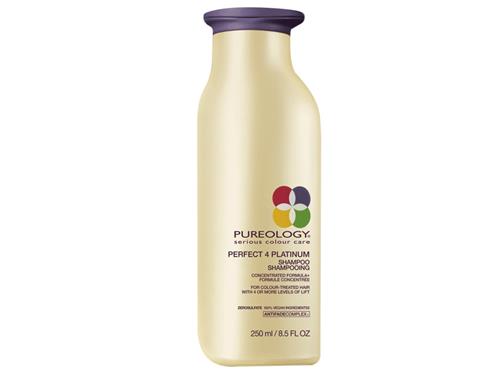 Try a Hair Mask & Scalp Treatment
Let's face it, bleaching damages your hair and can irritate your scalp. To help rebuild hair strength, use a weekly protein-based hair mask to repair hair strands and strengthen the cuticle. If bleaching irritates your scalp (and it undoubtedly will), know that it's only temporary and often calms a day after your salon bleaching treatment.
We consulted with board-certified Dermatologist and LovelySkin CEO Dr. Joel Schlessinger about protecting your scalp;
"Most don't know that one of the keys to healthy hair growth begins at the scalp, so it's always important to protect that skin. If you have a very sensitive scalp or psoriasis or eczema on the scalp, it's important to consider how bleaching will affect your scalp and use a soothing treatment after your salon session to restore essential moisture."
Try: Redken Extreme Strengthening Mega Hair Mask for Damaged Hair- Over processed and overworked hair is revitalized with this strengthening hair mask that uses a soy protein called arginine to seal in moisture. This ultra-moisturizing treatment detangles and increases manageability and features Redken's innovative RCT (Root to Core to Tip) Protein Complex to target and treat damaged hair right where it needs it.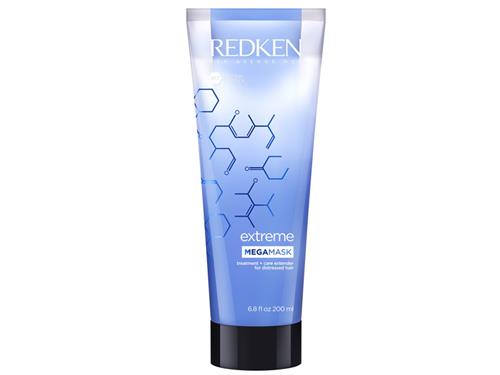 IGK Low Key Cleansing Walnut Scalp Scrub – Soothe a stressed scalp with this cleansing scrub that uses walnut oil to hydrate and nourish the scalp and apple cider vinegar to clarify. New to scalp scrubs? Dispense a walnut-sized amount into the palm of your hand and apply directly onto the scalp. Massage onto skin and work through hair lengths. Rinse thoroughly and voila!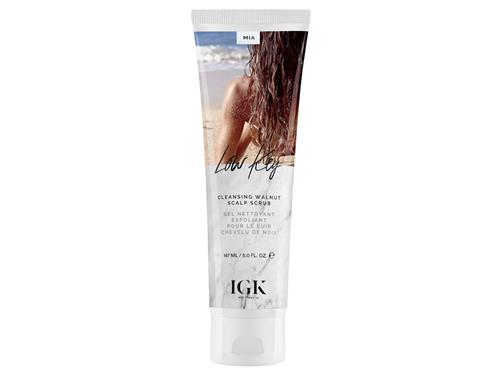 Use a Purple Shampoo for Blonde Hair Weekly
The #1 key to maintaining icy-looking hair is to keep the color cool-toned. The best way to do that is to neutralize the yellow undertones that tend to show up long after you've left the salon. Purple shampoo to the rescue! Purple shampoo (in its most literal sense) is a deep purple-hued shampoo that deposits a small amount of purple pigment onto hair, canceling out the yellow color and restoring a cool tone to your strands.
By using purple shampoo, you can extend the life of your blonde color, lengthening the time between salon visits. But, it's important to note that purple shampoo shouldn't necessarily be used on a daily basis, but rather on a weekly or bi-weekly basis. If you notice your hair is now taking on a purple or bluish-hue, you're using it too often.
Pro Tip: Rinse your hair in hot water before using purple shampoo. This causes the hair strand to expand and allows the purple pigment to cover more surface area.
Try: L'Ange Hair Glace Cool Toning Shampoo – This violet-colored shampoo will do wonders to turn down brassy and dull yellow tones in platinum hair and turn up the bright white cool tones! In addition to the purple pigment, it also brightens color with mica and is formulated with marula oil for added shine and grape seed extract for antioxidant protection. Incorporate this shampoo every third wash until you achieve your desired platinum color.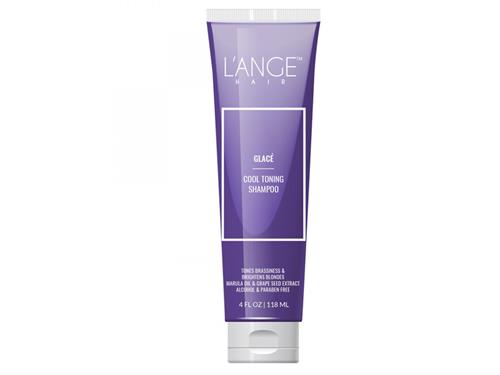 What do I need to know about how to tone hair after bleaching it?
When we talk about toning your hair after a bleaching session, you probably think about that additional step the colorist takes to tone out any immediate yellow color before styling. It's usually done at the wash bowl immediately after bleaching and it does wonders to create that icy white color you want. If purple shampoo alone isn't cutting it, there are a few at-home hair care products that help tone down brassiness between salon visits.
Try: IGK Mixed Feelings Leave-In Blonde Toning Drops – Achieve your brightest white color with these toning drops, perfect for platinum, silver or violet hair. Much like purple shampoo, these vegan and cruelty-free toning drops deposit purple pigment directly onto hair strands and nourishes and softens with prickly pear cactus extract. To use, just mix 1-4 drops into your daily styling products or leave-in conditioner.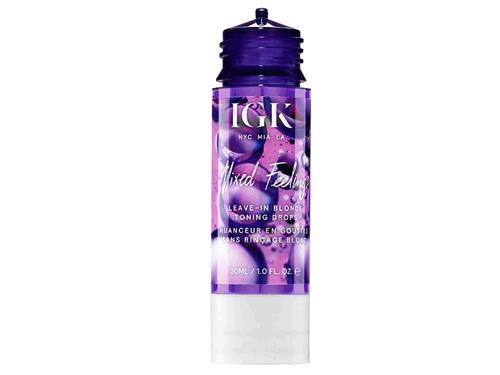 Pro Tip: If you have a shampoo you love (and don't want to part with), incorporate these toning drops into your hair care routine in place of a purple shampoo.
Pureology Perfect 4 Platinum Cool Blonde Enhancing Treatment- This multi-purpose platinum hair care treatment serves as a purple toning conditioner to neutralize brassiness while also fortifying overworked hair strands with protein-rich keravis.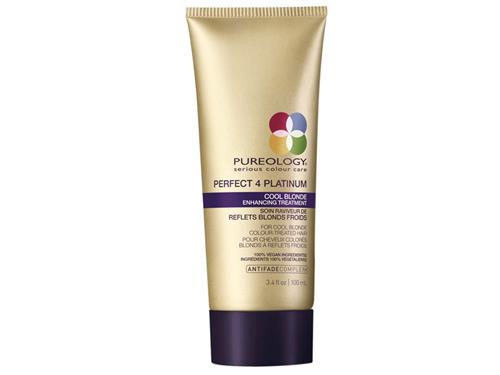 What's your secret to maintaining platinum hair? Let us know in the comments below!
Shop This Blog
Highlights
Gluten-free
Provides UV protection
Protects hair from damage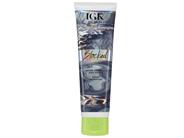 Quick Shop +
Highlights
Cleanse strands without fading blonde color with the Pureology sulfate-free shampoo for blonde, col...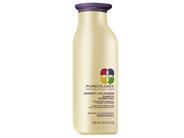 Quick Shop +
2 sizes
Highlights
Smooths and nourishes hair
Provides deep conditioning
Extends benefits of hair care products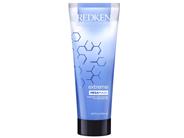 Quick Shop +
Highlights
Fortifies over-processed hair
Soothes scalp
Uses apple cider vinegar to deep clean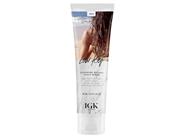 Quick Shop +
Highlights
Offers antioxidant protection
Color-safe
Brightens pastel, blonde, or gray strands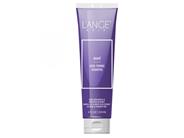 Quick Shop +
Highlights
Vegan-friendly
Paraben- and sulfate-free
Tones blonde, silver or violet hair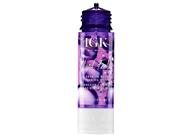 Quick Shop +
Highlights
Keep cool blondes radiant between color services with color depositing conditioner. A purple condit...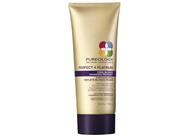 Quick Shop +