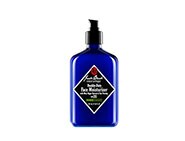 Reviews For
Jack Black Double-Duty Face Moisturizer SPF 20 - Bottle 8.5 oz
$48.00
16 Results
Jack Black Moisturizer
I purchased my first bottle of this moisturizer after trying a sample I received. I loved it from the start! It smells great and absorbs well and doesn't leave my sensitive skin greasy. Great new addition to my morning regimen. Great lotion with sunscreen
I love this lotion. It is lightweight and has sun protection. Light fragrance. LovelySkin Customer
Verified Purchase
smooth texture
this sunscreen moisturizer is a somewhat thin lotion that is very easy to spread. it is not sticky or oily, and leaves no white residue. it leaves a matte finish due to having a lot of silicones. there is a light scent, it is hard to pin down but i would say it is somewhat herbal. it does not smell as strong as most jack black products. Great!
I bought this for my husband who is VERY fair skinned and hates sunscreen. He loves the product and is not bothered by it at all. It's easy to apply, spreads well (even over day off stubble!), and soaks in without leaving traditional sunscreen slime or shine. He actually uses it every day! Killikeena
Verified Purchase
Love it!
I purchased the Jack Black Clean Break Oil Free Moisturizer and just fell in love with it. So when I wanted a moisturizer with sunscreen I went back to Jack Black. Very pleased with this product. Works great under makeup foundation. Best I've ever used. Non-greasy and absorbs nicely. My husband will use it as well without reluctance because he can't even tell he has it on (normally hates sunscreens). Highly recommend. Gets my husband to wear moisturizer AND sunscreen
My husband likes using this product because he gets a two-fer: a moisturizer and sunscreen in one. It helps in cold, dry Minnesota winters and in hot, humid Minnesota summers. It's not heavy and has a barely-there but pleasant scent. LovelySkin Customer
Verified Purchase
Hydration All Day
Love what this product does. It helps keep my oily skin at bay and protects my skin from sun damage! LovelySkin Customer
Verified Purchase
Perfect daily moisturizer
Works great as a daily moisturizer. It doesn't have any real strong or strange scent, and it protects from the sun with SPF 20. The 8.5 oz size is not as expensive as similar products, and it lasts me several months. LovelySkin Customer
Verified Purchase
JB Double-Duty Face Moisturizer
One of my favorite products from Jack Black. Product goes on easily, absorbs well, and leaves your face feeling smooth all day long. Great product to use as an aftershave. The SPF-20 is a nice bonus. LovelySkin Customer
Verified Purchase
Highly Recommended
Silky moisturizer, easy to apply, lasts all day. Easy to dispense bottle. I like this so much I even bought the travel size. LovelySkin Customer
Verified Purchase
Game Changer
Got it for my dad and he loves it! LovelySkin Customer
Verified Purchase
He rated it "5" stars
I gave this to my boyfriend because his skin gets so dry. After using it for a week he said his skin was feeling better. After 2 weeks of using it I noticed his skin not only looked better but it wasn't as red as it usually was. And it didn't cause breakouts. Getting him more for Christmas! Absorbs quickly.
My husband uses Jack Black Double-Duty Face Moisturizer every morning. It is great moisturizer that provides sun protection. His words not mine! LovelySkin Customer
Verified Purchase
Great everyday lotion
I have been using this product for years, and I will forever. It applies easily, feels great and does everything I need it to. It moisturizes without feeling greasy and provides sun protection. LovelySkin Customer
Verified Purchase
JACK BLACK DOUBLE-DUTY FACE MOISTURIZER SPF 20
It is a worthy lotion. My son use it. It suits him well. But it is expensive. LovelySkin Customer
Verified Purchase
Finally: RELIEF!
After searching many products, I came upon your web page. It was so much easier to find a product that I needed for moisturizing my dry skin. This product is perfect. After cleansing my face, I spread the lotion on and my skin feels invigorating and alive again. You dont need much, so it goes a long way. Thank you for having such a product. I will definitely buy again and recommend to my friends! LovelySkin Customer
Verified Purchase