Skin Care
3-Step Weekly Moisture Boost
by Stepha
|
January 14, 2016
It's January and right about now, your skin could use a major moisture boost. Supercharge your routine with this quick, once-weekly SkinCeuticals regimen that'll leave your complexion soft, smooth and most importantly, hydrated.
Step 1: Exfoliate!
This step warrants an exclamation point, in our opinion, because so many people tend to skip it in winter when skin needs it most. We get it—if you're feeling sensitive and flaky as it is, why would you want to use a scrub? Here's why: those white flakes and peeling patches are composed of dried up skin cells, and simply put, they need to come off.
Healthy skin naturally has a 10-20% water content, and a protective oil at the surface helps maintain this level of moisture. But when that protective layer begins to dry up, as it tends to when exposed to harsh winter winds, skin loses water. The topmost layer of skin cells begins to die off and this shows up in the form of pale, dusty flakes.
A buildup of skin cells, dirt, oil, makeup and other debris can wreak havoc on your complexion over time, leading to blemishes, dullness, a rough texture, large pores and more. Exfoliating just once a week can go a long way toward keeping skin clear and radiant, and when you're struggling with dryness, it helps get the bad stuff off the surface, revealing healthier skin underneath.
Try: SkinCeuticals Micro Exfoliating Scrub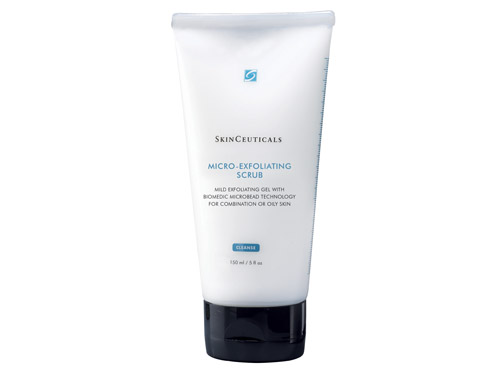 This mild scrub features natural microbeads for gentle exfoliation that's perfect for all skin types. It's also aloe-based so it'll never over-dry skin or strip those natural oils that are so crucial to a balanced, healthy complexion.
Step 2: Pamper Your Skin with a Mask
Masks are one of our favorite ways to relax, but they're so much more for tired skin. For one, masks feature a powerful concentration of active ingredients. Unlike other types of skin care formulas, they're designed to be left on the skin, usually for about 10-20 minutes. This allows the ingredients to penetrate more effectively and deliver their unique benefits.
An ultra-hydrating mask can help nourish your complexion and lock in moisture long-term. Even with just the recommended once or twice-weekly use, you'll likely enjoy the effects of your mask for days afterward, making it a must for any moisture boost routine.
Try: SkinCeuticals Hydrating B5 Masque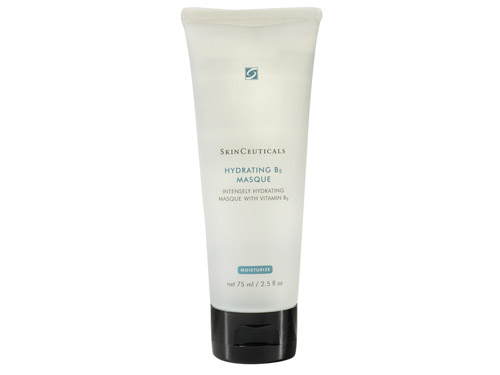 When you think of a mask, you might think of a thick cream or clay, but SkinCeuticals Hydrating B5 Masque is a refreshing gel that feels super soothing on depleted skin. Its star ingredient is hyaluronic acid, a naturally occurring substance that has the ability to hold up to 1,000 times its weight in water. This helps bind moisture to skin and create a plump, youthful appearance.
Step 3: Finish with Moisturizer
Moisturizer is likely your tried and true method for getting rid of that tight, dry feeling, and now that you've exfoliated and masked, it should work better than ever. However, winter weather often calls for a richer formula. If you're a lotion devotee, it might be time to upgrade to a cream to help compensate for the colder, drier climate.
Creams are thicker and work especially well for dry skin because they create a strong barrier against moisture loss. Applying creams to damp (not wet) skin helps them work even better. Pat skin gently with a towel to remove any excess water and it in till its fully absorbed.
Not only does this cream contain the best hydrators, like mango butter, it's also packed with nourishing antioxidants and botanical oils. A blend of marine ingredients, plus chamomile, macadamia nut and grapeseed oils work to soften skin and protect against environmental stressors.
What's in your #LovelySkin box? Let us know below!
Shop This Blog
Highlights
Best suited for dry skin
Prevents moisture loss
Absorbs quickly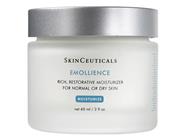 Quick Shop +
Highlights
Diminishes fine lines and wrinkles
Promotes healthy skin repair
Replenishes lost moisture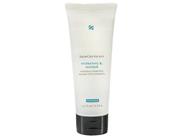 Quick Shop +
Highlights
Best suited for oily or combination skin
Exfoliates and polishes skin
Promotes healthy cell renewal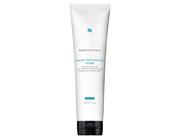 Quick Shop +