Skin Care
Four Ways your Hands are Aging You (And the Best Hand Creams to Repair Them)
Believe it or not, your face isn't the place where signs of aging show up the most prominently. Perhaps that's because we take great care in our skin care regimens, from exfoliating to moisturizing to proper sun protection. If you're wondering which part of your body gives away signs of aging more than anywhere else, you won't have to look far – it's your hands! It's time to give them some love. We're discussing the top five ways your hands show their age and the best hand creams to nourish, hydrate and mend the damage.
Dark Spots
Dark spots on the hands have many names, age spots, liver spots or the more formal name solar lentigines. Whichever name you prefer to call them, they are usually caused by one thing and one thing only – the sun. Other reasons why dark spots tend to pop up on your hands as you age include increased exposure to pollution, as well as scars from skin conditions like acne, chicken pox and burns. The simplest way to avoid these spots is to protect your hands from the sun. It's as easy as smoothing your sunscreen over the tops of your hands when applying SPF onto your arms and reapplying during the day as needed.
If you've already sustained sun damage on your hands and are looking to improve or remove age spots on your hands, choose products that contain the same lightening ingredients that you would use for dark spots or hyperpigmentation on your face. Look for ingredients like licorice extract, arbutin, kojic acid and mulberry, as well as vitamins C, A and B3 (also known as niacinamide.)
Products to Try:
Jan Marini ReNu Corrective Hand Complex – Board-certified dermatologist and LovelySkin founder and CEO Dr. Joel Schlessinger performed the clinical trials on this treatment hand cream and the full results can be seen in the Journal of Drugs in Dermatology. Overall, Dr. Schlessinger found that 100% of subjects experienced improved skin texture, fine lines and wrinkles and 96% of subjects had improvement in discoloration. This ultra-reparative hand cream is Dr. Schlessinger's preferred anti-aging hand treatment cream because it lightens dark spots and improves hyperpigmentation on the hands with ingredients like alpha-arbutin, kojic acid and azaleic acid. Retinol encourages cell turnover for more youthful looking skin and moisturizing ingredients like sunflower seed oil and vitamin E keep skin soft and smooth.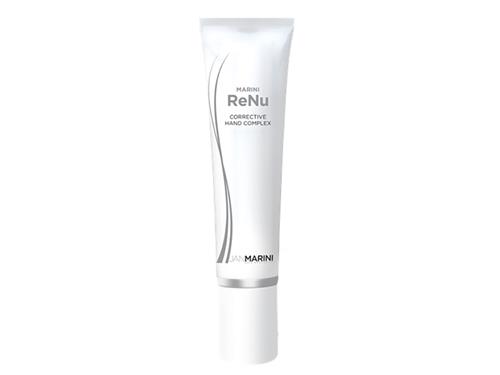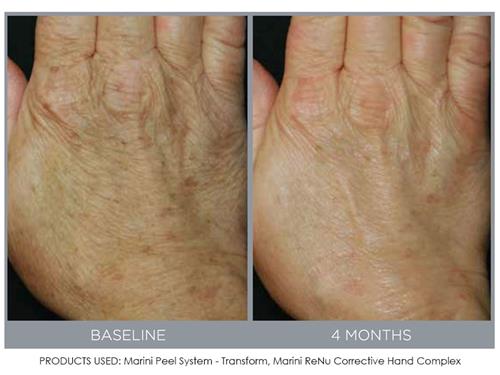 jane iredale HandDrink SPF 15 – This moisturizing and protecting hand cream shields your hands from the sun's rays with all mineral sunscreen actives while protecting skin from free radical damage with antioxidants like white and green tea. Apple fruit extract helps exfoliate rough patches and maintain skin's elasticity.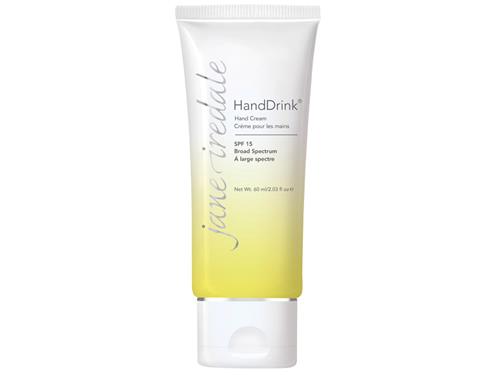 Pro Tip: Unsure if you'll remember to apply sunscreen to your hands as much as you need to? Supplement your sun protection with Heliocare Sun Protection Pills. It supports your sunscreen regimen with special antioxidants that strengthen your body's immune response to the sun, helping to protect your skin from damage.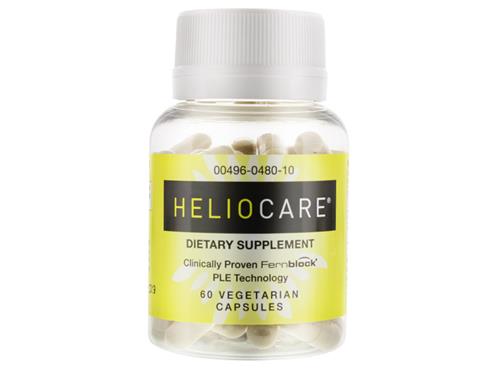 Dry Skin
Hands are more susceptible to dry skin and rough patches than any other part of your skin. Why? Because we use them so much! The amount of hand washing we do each day and exposure to harsh weather conditions in the fall and winter can really do a number on the moisture levels in our hands. Just as with the skin on your face, properly hydrated skin is less likely to show fine lines and wrinkles, so a moisturizing hand cream is a must for every day use. If you suffer from cracked, dry skin on your hands, avoid dipping your hands in water as much as possible and consult with a board-certified dermatologist if you think you're suffering from conditions like eczema or dermatitis.
Products to Try:
EltaMD So Silky Hand Crème – This fragrance-free hand cream contains powerful ceramides, emollients and nourishing vitamin E to help skin maintain optimum moisture levels, even after hand washing. Plus it's formulated with sclareolide to help improve discoloration.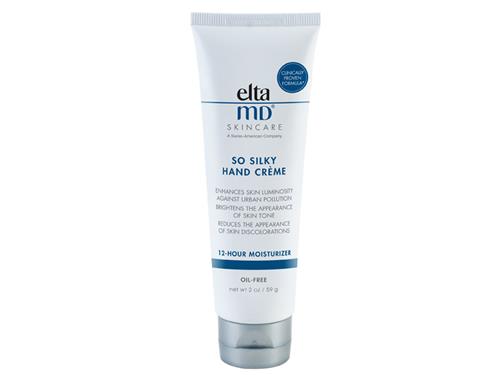 FixMySkin with 1% Hydrocortisone – This convenient, balm stick is formulated with 1% hydrocortisone to soothe and heal everything from dry, cracked hands to chapped skin to eczema and bug bites. Plus, it contains shea and cocoa butters that intensely moisturize dry skin.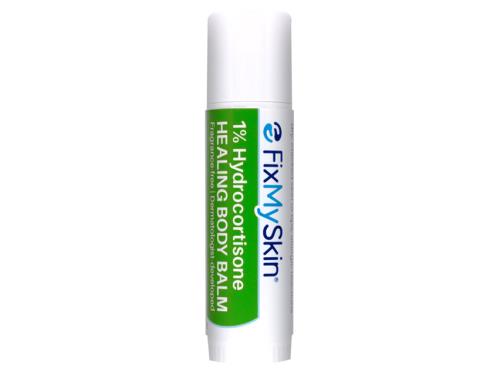 Crepey Skin & Bulging Veins
If you religiously apply sunscreen on your hands and have avoided dark spots, you can pat yourself on the back! Unfortunately, there are other signs of aging that have nothing to do with sun exposure. Skin seems to thin more quickly on the hands than other parts of the body, creating a sagging, crepey appearance and making veins much more prominent. We consulted with LovelySkin CEO Dr. Joel Schlessinger on why that happens,
"There is such little fat cushion on our hands that even the littlest loss in skin volume can make a difference. As collagen and elastin break down, the skin begins to thin and sag, and on our hands, that typically means bulging veins. So how do you fix it? As skin loses volume in the face, we can treat that with injectable fillers to temporarily plump skin, making it appear more youthful. While it is possible to also "thicken" the skin on the hands with injectable fillers, it's not always ideal. If you want to address sagging skin on the hands, look for creams that contain ingredients like hyaluronic acid and peptides to temporarily hydrate and plump the surface of the skin."
Product to Try:
StriVectin Anti-Wrinkle Volumizing Hand Cream – This anti-aging hand cream plumps skin and lessens the appearance of wrinkles with hyaluronic acid and shea butter and repairs damaged cells with proprietary NIA-114. A NanoBright Complex that contains arbutin helps fade dark spots.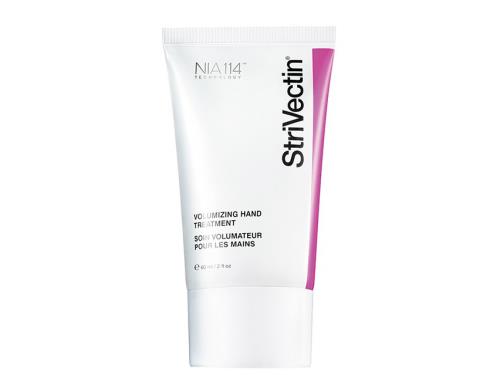 Revision Skincare Lumiquin – Peptides encourage collagen production to fill thin skin while hyaluronic acid binds moisture to the skin, giving hands a more youthful appearance. Licorice addresses dark spots and mango seed oil and shea butter keep hands soft, smooth and supple.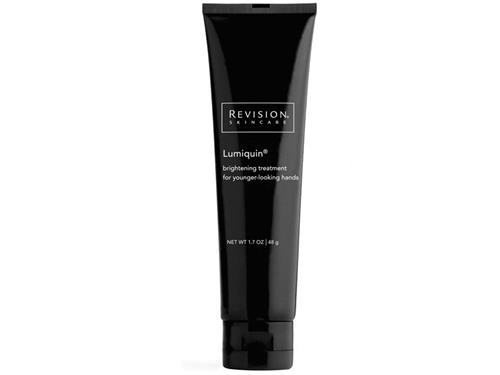 Brittle Nails
While brittle nails can happen at any age, they certainly don't improve the look of aging hands. Brittle nails can happen for many reasons, including vitamin and iron deficiencies. The most common reason, however, is repeatedly wetting and drying the nails making them "dry." Additionally, exposing your hands to harsh chemicals in daily cleaners or polish removers can weaken and soften nails. To combat this, wear gloves on your hands when doing heavy household work that requires water or harsh chemicals.
Product to Try:
Dr. Hauschka Neem Nail & Cuticle Oil – This all-natural oil is formulated to nourish weak or soft nails with strengthening neem oil and soothe and soften cuticles with chamomile.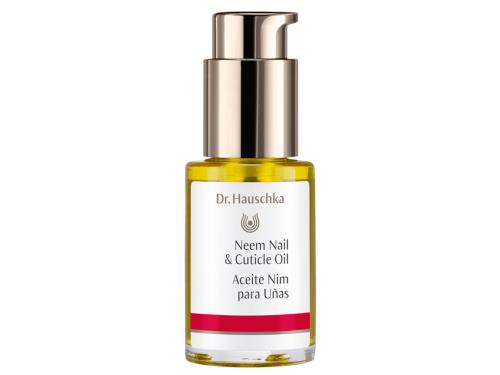 Want more recommendations on the best hand creams to combat signs of aging? Check out our blog!
Shop This Blog
Highlights
This Dr. Hauschka nail oil helps to strengthen nails and soften cuticles. Dr. Hauschka Neem Nail &...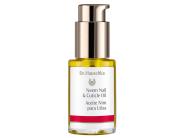 Quick Shop +
Highlights
Diminishes fine lines and wrinkles
Fades dark spots
Hydrates and plumps skin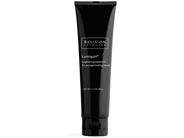 Quick Shop +
Highlights
Provides essential hydration
Improves tone and texture
Brightens dark spots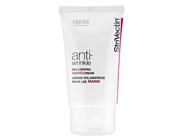 Quick Shop +
Highlights
Fragrance-free
Treats psoriasis, eczema and more
Travel-friendly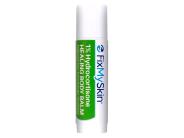 Quick Shop +
Highlights
Strengthens immune response
Enhances UV protection
Gradually builds UV tolerance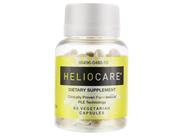 Quick Shop +
Highlights
Brightens skin
green tea protects against premature aging
Safe for use around marine life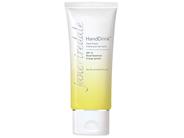 Quick Shop +
Highlights
Smooths fine lines with retinol
Actively lightens discoloration
Antioxidants promote a more youthful appearance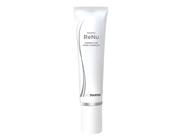 Quick Shop +
Connect with Us!