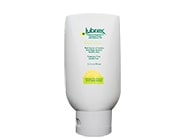 Reviews For
Allerderm Lubrex Hand Cream
Severe hand eczema-Excellent hand cream!
I have severe hand eczema as well as an anaphylactic allergy to tree nuts (which are often found in products for dry skin). This is, by far, the best hand cream I have found!! I've used this for many years now. It's s very emollient without being too greasy as well as fragrance-free!! LovelySkin Customer
Verified Purchase
BEST
This is the best hand cream I have ever used. Even my cuticles look better. I have eczema and this cream really helps. I highly recommend. LovelySkin Customer
Verified Purchase
Best Ever!!
My daughter always has problems in the winter with dry, cracking, bleeding hands. We have tried everything! She gets the dryness under control but breaks out and itches from whatever she uses. Then she has to use cortisone cream to stop the itching and bumps. The cycle begins again! Lubrex is the very first hand cream that has healed her hands and no adverse reaction!!! I tried it myself and ordered it for myself and my Mom. You can feel the results instantly! I am ordering more now to have on hand, no pun intended:) Do yourself a favor and get this! LOVE IT!!!! LovelySkin Customer
Verified Purchase