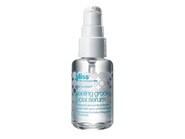 Reviews For
bliss Peeling Groovy!
Perfect as a spot treatment for blemishes
When I first used this product I used it all over my face and found it way too drying for me. I then decided to use it as a spot treatment for some existing blemishes and presto those pimples were cleared up by the next day. This is how I use this product and I really like the results. Really Works!
I tried this on our cruise ship and felt an almost immediate change. My skin is evening out, the discolorations becoming less visible. Quite simply it is one product that truly does what it say and brilliantly. Great Product
First bought this after a facial on a cruise ship 3 years ago and have been using it ever since. Really helps skin look smoother, pores smaller and maybe even less acne. Im 47 and still get occasional monthly breakouts. Takes a bit to get used to the application because its the consistency of water, but the bottle lasts along time. LovelySkin Customer
Verified Purchase