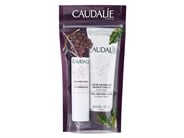 Reviews For
Caudalie Winter Duo - Limited Edition
Amazing hydration
I love these travel sizes wonders! I bought several as gifts and I will be going back to buy the lip balm. Goes on smooth and absorbs quickly. No tacky or sticky sensation. RhTempe56
Verified Purchase
Great set
Caudalie is a great brand and this hand cream and lip balm is a great value for the money. I liked hand cream best it's got a great scent not strong. Lip balm is a wax stick, not too moisturizing. LovelySkin Customer
Verified Purchase
Lovely set!
This is a great sample set of two quality products. They are nicely packaged and were exactly what I was looking for as a stocking stuffer. They are the perfect size for carrying along in a purse to provide moisture and hydration on the go. LovelySkin Customer
Verified Purchase
Great set for dry winter lips and hands
This is a really nice little set of lip conditioner and hand lotion. The lip balm is a good size and comes in a lipstick type container which makes it easy to apply with no mess. Very rich and solid consistency. The hand lotion absorbs very quickly which is great when you''re in a hurry. Smells nice, not too strong. Would get this in a larger tube if available. Highly recommend. LovelySkin Customer
Verified Purchase
Caudalie Winter Duo - Limited Edition
Really great hand cream, easy to put in my purse. LovelySkin Customer
Verified Purchase
Wonderful lip conditioner and Hand/nail cream
I really love this Caudalie set with one of the best lip conditioner and a great hand and nail cream. The lip conditioner is so soft and smooth. The hand cream sinks in and leaves my hands soft but not sticky. I love the smell also. My lips really need this conditioner in the cold winter months, and my hands need the cream since I wash them often during the cold and flu season. I carry the lip and hand cream with me in my purse and use both of them regularly. It is a great price for the winter duo! I will continue buying them all year round. LovelySkin Customer
Verified Purchase
love this lip balm!
This set is really valuable! I love the lip balm of Caudalie. It's really suitable for the weather in LA! I use it before I go to sleep and using lip stick, reduce the wrinkle of lip, not dry anymore. LovelySkin Customer
Verified Purchase