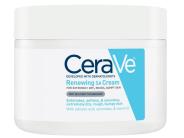 Reviews For
CeraVe Renewing SA Cream
Best lotion ever!
My skin is really dry, but also breakouts easily. This lotion solves both problems and makes my skin look incredibly smooth. LovelySkin Customer
Verified Purchase LovelySkin Customer
Verified Purchase
Fantastic!
With my psoriasis, this cream with its exfoliating properties is an answer to a prayer. Its soothing, moisturizing and exfoliating. Definitely worth every penny. LovelySkin Customer
Verified Purchase
CeraVe Renewing SA cream
This product is wonderful for very dry, bumpy skin. It has worked great in keeping my dry, rough hands, cuticles and legs smooth this winter with all of the cold weather. LovelySkin Customer
Verified Purchase
Fast-acting result treatment for Eczema and dry rough skin
This product is so amazing! I could see results within the 2 days mark! My two baby daughters has eczema ever since they were one month old and it was horrible! At first I thought it was just dry skin but as they grew older they started to have really rough bumpy skin and sometimes they both would scratch their skins and it would leave scars. I took them to the doctors and they prescribed my daughters hydrocortisone. After applying those it still didnt work. I took them back into the clinic for another checkup and they recommended that I use Lubriderm and other lotions to keep their skin hydrated. I tried different kind of lotion and still didnt work. One day I went into Walgreen and looked at CeraVe and bought it to try it out. Took it home, gave my daughters a bath and soaked them and then after they dried, I applied the cream all over their bodies and within 2 days the scars and bumpy skin were completely gone! I loooovee this product and would recommend it to anyone who has eczema or bumpy dry skin!