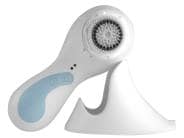 Reviews For
Clarisonic Pro Skin Cleansing System for Face & Body White
I cannot go without my clarisonic pro
This is a must have. I have been using this product for over a year and have had fantastic results. I have highly reactive skin with mild rosacea, it is a horrid nuisance, I also used to get a cystic like pimple in the same spots, over and over. I started using this product and my out breaks truly diminished and my redness improved. I have safely used all the brush types; my favorite is the deep pore cleansing brush head. I never have any irritation from using this product twice daily. I know this product is beneficial, as I went on vacation and lost my charger! My skin quickly deteriorated and I had to cave in a spend 45 bucks to replace the charger. This is my absolute must use product! Loving my Clarisonic
I love what the Clarisonic has done for my skin. It has cleared up my acne and made my pores smaller. I really love it. I have told friends about it and they in turn purchased it and love it as much as I do. LovelySkin Customer
Verified Purchase
smaller pores
I saw a write up on the Clairsonic in the Wall Street Journal which mentioned that the author tried it and saw smaller pores after using it. Since i am always looking for ways to make my pores look smaller i ordered the pro model and have really noticed a difference in my skin since i started using it. I bought the pro and use it on my body too especially my trouble cellulite spots and have noticed a difference there too! I have a sonic tooth brush that really works well so i am guessing the sonic technology has something to do with the great results!!!! LovelySkin Customer
Verified Purchase