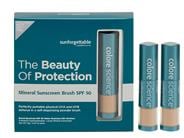 Reviews For
Colorescience Sunforgettable Mineral Sunscreen Brush SPF 50 3-Pack - Medium
I like this sunscreen
I really like this sunscreen. The only issue is its hard to tell how much is coming out, so Im always nervous that I didnt get enough coverage. I use it over the eltamd sunscreen anyway to cut some of the shine and be extra careful, so it doesnt really matter. Also, if I just did a peel the brush is a little too harsh. But on most days its fine. LovelySkin Customer
Verified Purchase
Love, love, love this stuff!!
This is exactly what Ive been looking for all my sensitive-skin, burn-prone, skin-cancer-prone life!! I cannot use most sunscreens because they give me a rash, so I have to use the zinc-titanium ones, which usually come in a base of olive oil and beeswax, so they are goopy and unpleasant to wear. When I saw this product, I thought Id dreamt it. I ordered one tube of the SPF 30, just to see if I was allergic to it, and it is amazing, so I ordered this 3-pack of the SPF 50. I see and feel a definite difference in protection between the two SPFs, so the 50 is my go-to for walks and gardening, while the 30 is great for days when Ill have less sun exposure. The applicator works perfectly, and I worried that the 50 would have a very obvious appearance on my skin, but it does not. I keep one in my bathroom, one in my car, and one in my office, and I just brush it on when Im heading outside and thats that! I could not be happier with this product. LovelySkin Customer
Verified Purchase