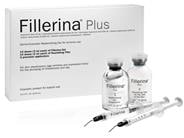 Reviews For
Fillerina Plus Dermo-Cosmetic Treatment Kit Grade 5
$240.00
5 Results
Amazing Product
I started with grade 5, took photos before and after and the improvement is real! The nasolabial folds have softened as well as the deeper imperfections around my eyes and lips. I purchased the Grade 5 mask and WOW! The results are fantastic. I don't understand the negative reviews. The results will not be the same injections, but the results from a topical application are most impressive. Next on to Level 4. My husband is so impressed we are starting his treatments tomorrow! Amazing!
I've never written a review on anything as I figured if I had a problem, then the company would know about it. But this treatment has impressed me to a point I felt it worthy of my first review (I'm 56 years old by the way.) It has done more to help my skin than any spa treatment, peels, or dermatologist visits. Yeah, it's a little pricey but how much money do most people throw away on products that do little to nothing? I will continue to purchase this product and others from Fillerina. LovelySkin Customer
Verified Purchase
Fillerina 5
Better than any cream I have used, but certainly not at all close to a filler. Saw some improvement in some of the small lines around the mouth. The applicator didn't work at all, so I used my fingers. LovelySkin Customer
Verified Purchase
Skeptical it works for anyone really
I bought a first kit from the company site–in a bundle with the day cream, night cream, and eye cream. I saw little results. So, why did I buy another kit from here? Because I thought another kit might give me some results. But, you know, no, it didn't. And the more I think about it the more I'm convinced this really doesn't work for anyone. It DID seem to work a little bit on my lips, but it could have been that I was more hydrated, and might not have been the gel or cream at all. I think that's why I decided to buy another kit here (best price on the internet with coupon code). I used this faithfully as described on the areas described using a little bit more under my eye in a criss cross pattern to fill wrinkles I have starting there. Nothing. And, seriously, if the molecules are really small enough to go through, how will it work as fillers do in the doctor's office? It makes no sense at all because it's not the tiny molecules that do the filling in the doctor's office–it's the actual amount of filler is what fills your hollows and stretches your skin. So it makes no sense at all this could work because we're using too little, even if it DID enter your skin and sit where it was supposed to. Prior to using this you have to drink two cups of water. I did this, which is why I think I had some temporary lip results. But even today–several weeks after using it, my lips plump up by themselves if I'm hydrated and don't if I''m not. Very very disappointed since I spent 600 bundled at their own site and approx 200 here. I think if it worked, it should work on EVERYONE even if it wouldn't LAST on everyone. I am so skeptical because there were NO results at all. LovelySkin Customer
Verified Purchase
Very disappointed.
I bought the Grade 5 kit and followed the directions to the "T." I also took photos, as I went along. I have to say I did not see much improvement in lines. The serum will hydrate your skin along with the water you drink, but I was not impressed enough to buy this product again. I am in my early 60s and have taken care of my skin all my life and am faithful with using sunscreen. My advice is "Don't waste your money." Just because a product has a patent doesn't mean it will work. LovelySkin Customer
Verified Purchase