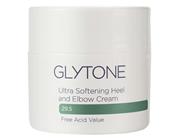 Write a Review - Receive 50 Rewards Points!
Tell us your thoughts about Glytone Ultra Softening Heel and Elbow Cream so we can help you find the right products. With your review, you'll also receive 50 Rewards Points. Please note that it may take up to 72 hours for a review to appear on site. All reviews are subject to moderator approval.
Write a Review
25 Results
Super powerful!
This stuff really works! Only put it on places where your skin/calluses are pretty thick because it will eat through your regular skin. I'd like to use it on my feet before bed and put socks on. I wake up with much softer feet!
Love it!
Softened my skin, and it is a vast improvement to how it was to now!
Excellent product
Works great. Please follow the instructions, I thought it was just a cream, but it is a treatment. You need to wash it off, or it will "burn" sensitive skin.
THE best foot cream!
I love this product by Glytone. I have been using it for over five years, and it keeps my feet smooth and soft and removes even the worst dry, dead skin.
Not a miracle cream, but does improve tough calluses
Thanks to heels, sandals, and being active, the skin on my feet isn't exactly baby soft. I bought this cream with high hopes. Although it didn't turn out to miraculously transform my feet, it did improve their softness. I apply this cream after showering and wear socks on top. I don't wash it off until I shower again and scrub with a pumice stone. It seemed most effective the first time I used it, but doesn't seem to be as effective with each additional use. I still have half the jar and will update this review once I finish the jar.
This works!
I love this product, whenever I get rough patches on my feet I rub a tiny amount on it for a couple of days and the problem is solved. It is very pricey but it will last a long time. I will buy this again if I ever run out
Ummmm....
I've been using this product each night for the last week and I can't say I'm overly impressed. Reading the other reviews, I was expecting a bit more. I think this cream works, but it is not a miracle cream. It will take a bit of use and consistency.
Love this Product!!
This cream works so great for my Keratosis Pilaris which is especially bad in the winter!! This helps keep my arms smooth all year round!!
THE BEST!!
My feet have never been so soft and look so good since using Glytone. I've been using this product for about 4 years. I use it about 1 or 2 times per week most of the year except 2 or 3 times per week during summer when I remember. I live in flip flops and sandals so my feet really take a beating. I put some on at night over the rough areas or all over my feet right before bedtime (no need for socks.) There is absolutely no dryness near my heel area, or any other pressure points. My heels look pink and fresh EVERYDAY! During winter months I put some on my feet after my morning shower put socks and shoes on and leave it on all day. I do use pumice on my heel as well as using both as part of a beauty routine is well worth it! A little goes a long way. There are so many gimmicks on the market that may help soften your feet but it's temporary. Glytone is the real deal.
Be careful when using
This stuff is hard core. I put it on my elbow (which is not very rough) and boy did it peel. This will likely take the paint off a car! If you have heels that are a mess, this will clean them up in no time!
Much improvement!
My heels were dry and cracked. I could feel them snag on certain materials-ugh! After one application, there was visible improvement and the skin was smoother. After a few applications my heels are so much improved! The dryness is gone and the cracks are much less noticeable and they no longer feel rough. I am not good about using products everyday but I know if I apply Glytone regularly, my feet will be smooth again. The active ingredient is strong so it should only be used on thick skin. I use it on my elbows too which tend to get a little dry. My elbows are already smooth.
Happy feet
This really does the job for rough feet. I put on, socks, and usually sleep with it on (only if youre used to AHAs and dont have super sensitive feet - and dont put between toes). It makes my feet summer sandal ready! And equally great for rough elbows. Happy to have found better pricing here during their specials.
Effective for Rough Skin
Whenever an intriguing beauty product recommendation comes to my attention, I always flip over to LovelySkin to see if the doctor carries it and to compare similar products by different manufacturers. After checking prices and reviews, the Glytone product seemed worth trying. It goes on somewhat less gooey and gummy than other foot creams and does a nice job of quickly smoothing and over time, healing, the rougher areas of ones skin. Entering my sixth decade, the feet have started light cracking around the heels and outside edges which the Glytone cream remedies quickly. Looks like Ill be using it going forward!
A heavy duty cream that works!
I have very thick skin on my feet, and I have tried so many products to help moisturize and/or exfoliate the skin on my feet, but nothing really seems to get through. ....until this product. I didnt follow the directions on the box, to leave on for only 15 minutes....On my feet, I put it on and leave it on ALL NIGHT. Im not recommending that people do this. ..Im doing this because I know my own skin. Anyway, this has worked so well in penetrating the layers of dead skin like nothing that I have used before. Everytime I take a bath, I am able to exfoliate more dead skin of off my feet with that metal cheese grater type device and when I get out..I just apply more of this lotion to the heels and balls of my feet and let it do its magic. My feet should be in great shape for summer!
It works slowly
The cream is a little pricey but it works. It has soften my heels over time. When I used it on my elbows I experienced some peeling so use with care.
Slowly softening the callouses on my feet
Ive used a few times now and it is definitely improving the thicker skin on my heels and making my feet softer. Wish I would have purchased earlier in the summer....
Great for Cracked Heels!
This product is amazing! I have been using it as directed and my previously cracked heels are getting smooth! Works great so far!
Best At-Home Product for Cracked Heels
This product has been the only product that has worked on my dry, cracked heels. I put if on overnight and then slough off the dead skin in the shower the next morning. You feel like you have just had a pedicure. My skin is so dry and rough the skin doesnt just "fall off" like I have read on other posts--I have to actually pumice it off, but it comes off easily where nothing else has worked. This one will be a lifetime part of my routine self-maintenance.
Really works!
This product really works! Be careful and follow the directions. It removed an area of ankle callous that I have had for years. It is fabulous to find a product that really does what it says without seeing a doctor. This is definitely professional strength. I will try more of their products!
Elbow and heel cream
Ive tried MANY products on my heels but this REALLY WORKS. All that dead skin is GONE and my feet are smooth! My arms and elbows are remarkably soft as well. Im thrilled with this product and will continue to use it.
Love it!
I find if I soak in a bath and put it on over night it does WONDERS! I go barefoot a lot and it makes all the difference.
Glorious
At first I did not think this was going to work but after going to the dermatologist and she gave me a sample, I was sold. I use it every evening and my heels and elbows are much softer now and it even out my skintone in these areas as well. I love this product and this site offers it at a much reasonable price.
great product
my dermatologist got me hooked on this product. It works amazingly well and quickly on heels. Regular use keeps my heels as soft as my 9 year old daughter's (and I just turned 43 and live in FL with my feet in sandals practically year round!)
Good for elbows and knees
I've read a lot of very flattering reviews of this product. So, I waited for the huge results – unfortunately it does not work on my heels. May be, my case is too difficult to cure. But it works pretty well on elbows and knees.
Good for elbows and knees
I read a lot of very flattering reviews of this product. So, I waited for the huge results – unfortunately it does not work on my heels. May be, my case is too difficult to cure. But it works pretty well on elbows and knees.