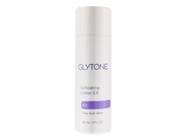 Reviews For
Glytone Exfoliating Lotion 5.5
7 Results
Good lotion but not great
The exfoliating 5.5 lotion is good for someone with very sensitive skin or someone who is just starting to use glycolic acid products. I don't think it works wonders on me, but it does help exfoliate my facial skin. I would prefer the 11 Glytone lotion for deeper exfoliation. LovelySkin Customer
Verified Purchase
Excellent product!
This is great...it absorbs immediately and is active but doesnt sting. Very few ingredients, works well layering with other serums and great under makeup. LovelySkin Customer
Verified Purchase
Good but Use Sparingly
Every evening I use a pea sized amount of this product after washing with Glytones Cream Wash. This product is more of a gel than a lotion but Im okay with that. If feels silky in hand and goes on quickly without leaving a residue. There is a faint chemical odor that some may find distracting but it doesnt linger on the skin in any way. Because I have sensitive skin, I only use this at night and I also mix in some of Cetaphils lotion. Using only this at night left my face parched. For me, this product induces a noticeable redness after application but diminishes significantly in the morning. It is an acid so this is expected. I have noticed a significant increase in the smoothness of my skin as well as an increase in clarity. I will continue to use this product and hope to eventually use a higher concentration down the road. LovelySkin Customer
Verified Purchase
Glytone Step-Up Rejuvenate Exfolating Lotion
This product definitely works. I only wear it during the day not before bed because I find its so effective it gives me a tingly/itching sensation when Im sleeping between the sheets. It great in combination with exfoliating body wash as well. Gentle but effective
This is a great product. Gentle enough to use daily, but you definitely start to see results after a week. LovelySkin Customer
Verified Purchase
Awesome!!!!!
Love, Love this product!! Start out with Step 1 and work your way up to step 3. Your skin will feel like a baby's behind!!! I'm 60yrs. old (Sept. 2012) and people can't believe my age. My skin is so incredibly smooth. I helps to rejuvenate your skin so any creams or makeup just glide on!! Don't forget to wear plenty of good sun screen!! Jane O. Wichita, Kansas LovelySkin Customer
Verified Purchase
Great stuff!
I've used this since college when my dermatologist recommended it. It works great! I love it and, as dramatic as this might sound, couldn't imagine life without it! LovelySkin Customer
Verified Purchase