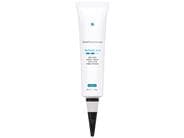 Reviews For
SkinCeuticals Retinol 0.5 Refining Night Cream
$76.00
71 Results
Good to have
Good product, use once a week, see some difference, but nothing dramatic. LovelySkin Customer
Verified Purchase
Awesome product!
Really makes a difference in my 36-year-old face. You only need to use a small amount - I still have 75% of the tube 6 months later! LovelySkin Customer
Verified Purchase
Best retinol
I love this retinol cream. I like the milder strength. Doesn't cause redness and flaking on my face. It works well for reducing fine wrinkles and occasional breakouts. I use it nightly. I also bought it for my daughter-in-law because she was having breakouts. It's the only retinol product she has tried that doesn't make her face red and irritated. Not only has her skin cleared but it looks beautiful. She loves it! Causes Peeling
I've used .5 retinol before with no problem, different brand, and am trying this one. I use it only twice a week as the directions suggest, but the day after use, my skin peels pretty badly for 2 days. I'm still using it because maybe my skin needs to adjust. LovelySkin Customer
Verified Purchase
Does the Job
I've been using Retin A for years and it really is the only product that consistently produces results. You will need to exfoliate a couple of times a week to keep up with rapid cell turnover and flaking but that means that it's doing the job. Skinceuticals is my go-to brand for skin care and this retinol doesn't disappoint. LovelySkin Customer
Verified Purchase
really like it
good product. think I saw a good difference, nothing dramatic. but upping to the 1.0 on my next order. I will say that the tube busted on the sides about halfway through and every time I used it it would seep out the sides! I had to keep it in a zip lock to stay fresh. so packaging could have been better. I have sensitive, acne prone mature skin and this did not irritate at all. LovelySkin Customer
Verified Purchase
Powerful Retinol
This retinol is an extremely high level of retinol so should be used sparingly (which is great because that only means that the product will last you longer!). I use this product 3 times a week, alternating with the hyaluronic acid. I have noticed a visible change in the fine lines on my forehead, jawline and neck. I have also noticed that the discoloration areas are fading and my face appears more even toned, I would recommend the entire SkinCeuticals line to anyone and as always, this product did not disappoint me. So far so good
I was anxious to try a Retinol but I have sensitive skin and did not follow through with previous products. I use other Skin Ceutical products so I purchased the 0.5 Retinol. I did have some redness and discomfort the first several times, but I started to apply less of the product and had less problems. I feel it is to soon to see much difference but my tolerates this product better without peeling. Didn't feel like this was powerful enough for m
I didn't feel like this was powerful enough for me. Would prefer something stronger LovelySkin Customer
Verified Purchase
Just okay
I took the advice of starting out with the .5. Wish I would have done the 1.0. I haven't really noticed a difference. LovelySkin Customer
Verified Purchase
Great retinol
I usually have a hard time with retinol but do really well with this one. LovelySkin Customer
Verified Purchase
Retinol for beginners!
This SkinCeuticals Retinol has been great for me to start With. My skin doesn't tolerate many things, so I opted to try the .5 instead of the 1.0. So far, so good. I started using it once every four days, now I am up to once every other night. This night cream has really helped the texture of my skin! LovelySkin Customer
Verified Purchase
Exceptional quality
I have used this product for approximately 8 years. It is not irritating. I am sensitive so this low dose retinol suits me perfectly. I can definitely tell a difference in my skin if I go without it for a few days. I use this 4 times a week in the winter and more often in the summer. SkinCeuticals never disappoints. Bichonfrise
Verified Purchase
Very good
Good medium dosed retinol. LovelySkin Customer
Verified Purchase
Really works. Best and only non-prescription retinol.
Background: I have never used pure retinol before. I used to have great skin, but recently I have bumpy texture and acne. I have used the 1.0 one before, but it was too potent. I am using the 0.5 one now. So far, I am using it one or two times a week, until I my face can tolerate it more. After first application, my whole face was swollen, red and extremely irritated. Apparently, this is normal for people who have never used pure retinol before. I waited about a week, religiously moisturizing my skin and wearing sunscreen. My skin was peeling throughout the week. I noticed my skin was becoming very smooth to the touch, and my blemish starting to disappear. Therefore, I know that it works! I just have to go through the hardest part of my skin getting used to it. I will continue to use this product and plan to use for years to come to maintain nice skin on my face. The SkinCeuticals Retinol is probably the strongest retinol you can get without a prescription. LovelySkin Customer
Verified Purchase
Gentle retinol
I can use this retinol with no irritation or redness. Great product and will repurchase! corinneg
Verified Purchase
Retinol
This retinol is powerful but more gentle than other retinol products I have used. It makes my skin very soft, bright and even looking. You do have to introduce it slowly though because your skin does peel some. I use a moisturizer after applying and that does help. LovelySkin Customer
Verified Purchase
Amazing
First time ever I am seeing results during the first week of use of a product. Too early to say something about anti-aging and pigmentation, but I can tell pores are smaller and skin looks healthier and glowy in the morning. I used retinol before but gave it a break as I was traveling this past summer in very sunny/hot places. I started using this every other night following with a heavy duty moisturizer. No irritation or peeling so far. LovelySkin Customer
Verified Purchase
Gentle
I have started using this only 2-3 times a week, as I have always had a lot of peeling when starting something new. I do feel like this is gentle and has made a difference in the fine lines already. I really like how it soaks in so quickly and isn't the least bit sticky. I have high hopes going forward as I use this product!! LovelySkin Customer
Verified Purchase
Great for everyone
I've been using the stronger strength for years. We bought the 0.5 for my daughter so that she can get started on a meaningful skin care routine. She is 25 and still has some acne. She is happy - no redness or flakiness, just a nice smooth skin every morning. Skin Ceuticals Retinol 0.5
I used to use the 1.0. Then, after quite some time, it was too strong for my skin (apparently, I was not the only one, as the company reformulated their retinols). I had to take a break from retinol altogether and then slowly build up. First, using the newly formulated 0.3 for one tube–all good–and now the newly formulated 0.5, still all good. I am very happy to be able to use retinol again. It makes such a difference on your skin. It diminishes fine lines and wrinkles, reduces pore size and fades dark spots, increases cell turnover and even promotes collagen. Just be careful not to get it too close to your mouth corners, as that area is very thin. LovelySkin Customer
Verified Purchase
Magic
I love this stuff. I have used it for over a year, and while I've upgraded to the 1.0, that can tend to make me break out because it is maybe too powerful, or maybe it has an additive my skin doesn't like. I do use the 1.0 for my chin area as it can handle it and the 1.0 works better to smooth that area more aggressively. But the .5 has been magic for the rest of my face in that it is giving me the benefits of a retinol on a lighter level AND keeping my face clear! I use a mild face wash, a toner, apply SkinCeuticals Resveratrol BE and then this .5, and my skin is pretty blemish-free.And, ANY blemish that was starting or that I may have tried to get rid of/left a mark is almost invisible by the next morning. The tube lasts forever because you need so little. I do put SkinCeuticals AGE cream on over it as well to prevent my 49 year-old skin to keep from drying out. LovelySkin Customer
Verified Purchase
Decent Retinol
I chose the 0.5 to start and after a few weeks using it at twice a week, I've stepped it up to three times a week. I have some slight flakiness on certain areas of my face that is mainly around the nose and lips. I use this all over and it's a bit puzzling that my whole face hasn't experienced that. I think I'll step up to 1.0 when this is done before I make a final decision. LovelySkin Customer
Verified Purchase
I'm back at it
I used this retinol a couple of years ago, had great results and then I stopped thinking that it would stay that way. Over time, my skin went back to its previous state so I decided to start again, so far so good! LovelySkin Customer
Verified Purchase
0.5% NIGHTLY RETINOL
Love this product! This is the ONE PRODUCT YOU NEED IN YOUR SKIN CARE ROUTINE! I use the 0.5% due to my sensitive skin. It helps with my wrinkles and redness and is absolutely a must have! It is very drying so you WILL NEED a great moisturizer to follow it up with. LovelySkin Customer
Verified Purchase