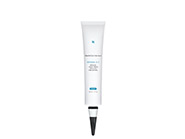 Write a Review - Receive 50 Rewards Points!
Tell us your thoughts about SkinCeuticals Retinol 0.5 so we can help you find the right products. With your review, you'll also receive 50 Rewards Points. Please note that it may take up to 72 hours for a review to appear on site. All reviews are subject to moderator approval.
Write a Review
24 Results
Non-Irritating
I have used the 1.0 version of this retinal cream and it is too irritating to my skin, especially on the neck area. The 0.5 is much better, I can use it every day, with good results. Hoping I can work up to the stronger version in the future.
Great retinol
I love this retinol because it's not too strong like others can. Usually when I start a retinol, my face gets really dry & starts peeling. I can use this every night & it never irritates my skin.
It works
I can see a difference in my skin already after s couple of weeks. I have had no irritation or redness with the 0.5. I may try the 1.0 strength once I'm done with this one. It is worth its price.
SkinCeuticals Retinol 0.5
For some reason my skin was mildly sensitive to this Retinol 0.5 product. I currently use another 0.5 product and have no issue.
Great product but start slow
Start slow. My skin started to peel with only 1x a week and I've been doing that for weeks. Gradually work up.
Very good!
When I use this one, my skin feels so soft. I heard that this one can irritate the skin but nothing happened to me. Just feel so much love. Thanks.
Amazing !
This is a superb retinol. It has done wonders for my mom and I. Like most retinols this is powerful at its 0.5% (and I can't wait to upgrade my mom to 1.0%) it has smoothed out, brightened, erased some wrinkles (on the forehead to be exact). If you have sensitive skin be careful mix it with your moisturizer at first and only a couple times a week because it will burn. My skin is sensitive to retinol and I have worked my way around it because I love waking up in the morning after using it and seeing how it has refined my pores and smoothed my skin literally overnite! On the other hand, my mom wears it every nite and she is not sensitive at all and every time I see her she looks younger and her skin looks smoother! I highly recommend!
Just what my beauty regime needed!
I've used Retin-A in the past when I had acne in my teens and 20's. While the product worked for what it was intended for, to clear my acne, it was harsh and left my skin sensitive and red. Since then, I've avoided retinol products because I feared it would irritate my skin. Recently, my esthetician recommended SkinCeuticals Retinol 0.5 because, now in my 40's, she said that retinol is a necessary part of an anti-aging routine....which I've heard many times before but kept avoiding! So, I took a sample of this home and I was very pleased. I went on to purchase the larger tube though LovelySkin and I am very happy with this product. It isn't too harsh yet still does the job! My skin is clear and has a healthy glow. I highly recommend!
This cream had done wonders for my skin
I have used other Retinol creams before but nothing has made my skin as smooth as this one. It's potent and works well. Several fine lines have disappeared.
An Exceptional Retinol
Over a few years' time, I have tried several Retinol products. SkinCeuticals Retinol 0.5 is by far my favorite. This is formulated as a lightweight cream. It is very easily applied and absorbed into the skin. I tend toward oilier skin, particularly in the warmer months. This formulation is perfect as it is not heavy at all. Fantastic product that will become one of my regular purchases.
Good alternative for sensitive skin
This is a good alternative for sensitive skin. I have been using this product for a few months every other day and have been relieved that there has been no peeling or redness. I plan on using this lower dose and then going on to the 1%.
Bye bye lip lines..,
I am so mad, I spent thousands with services from my aesthetician (skin pen & facials in Jan-Aug) and other products she recommends from SkinCeuticals but not once did she tell me to put this product on my upper lip! She recommends this company but never told me to use it for my lip lines! I used it for two weeks now and THE LINES ARE DIMINISHING!!! I put it on AM/PM & wait 30 before putting on serums and lotions. I am 54 and this product will go on my wrinkles daily and my entire face weekly from now on! I am going to move up to 1.0 retinol too. Thank you SkinCeuticals!
love this product
makes fine lines softer in appearance
Nice Product
My skin is sensitive and after reading some of the reviews, I will use it once a week for four weeks and progress slowly. Ive used the stronger stuff and had some issues even under a dermatologists supervision. The derm said it shocked my system and it did help the rosacea. So far, I like this product and will take it slow and easy.
New to Retinol
I am new to Retinol, and think I need to start with a dermatologist grade. I dont see a ton of results, and am having a tough time not waxing my brows. :) hoping its the fountain of youth...I used Skinmedica for a while and think I prefer that.
Skin Feels Great
Im new to retinol, so I started with the 0.5 strength. Have been very please with the results so far. No drying or redness, and my skin started looking and feeling smoother and softer right away. Very pleased with this product.
Great for beginners to Retinol
I am 29 with very sensitive, acne-prone skin and wanted to try a retinol in my regime. You definitely have to work your way up to using it regularly, so dont be discouraged if you have irritation and dryness at initial use. I have been using this for the last 6 months. I only use it sparingly, about 3-4 times a week at night. It has really helped the overall texture of my skin and I have had far fewer breakouts. It has helped improve my acne scarring and discolorations/pigmentation.
My first OTC retinol
Love this cream! used the tube as my first OTC retinol and worked up to the Skinceuticals Retinol 1.0 afterwards. Absolutely love!
Great treatment
Im in my early forties, and have been debating about adding in a retinol/retinoid product for the anti-aging properties. Years ago I used Retin-A and Renova, but didnt particularly want to get another prescription due to the cost/hassle. I thought over the counter retinols were probably too wimpy to make a difference. Wrong. I have been using this about a month, starting with twice weekly, then moving to every other day. My skin is plumper, smoother, and best of all, my milia (those annoying white bumps that take up permanent residence on my face) are starting to disappear. My skin isnt overly dry and I feel like Im doing something to reduce future wrinkle formation.
Non irritating
I got this product as my prescription strength retinol was irritating my skin, so decided to give this a try. I started with using it once every two days then worked it up from there to every other day and will bring it to every day. I havent reached there yet. It is working out fine so far. Do use the skinceuticals hydrating B5 masque two times a week with it and that helps. So far happy with the product. Have not used it for that long so am giving it 4 stars.
Quality product in a difficult package!
I love this product. It is gentle but effective. However, I find it difficult to get the product out. I was told to "prime" the air pump, which I did exactly as I was told. It helped, but it still takes about 25 pumps to get out the recommended pea size portion of the product. Would give it 5 stars if they could fix that little problem!
good
Great product for a retinol. It can be drying, so use sparingly. I use about three times a week (at night) and have seen great results. It also works to keep skin clear of breakouts (smoother texture and less imperfections). I am hoping to try the higher strength soon.
Fabulous Product
I use the 1.0 on face, upper lip and under chin and the .5 on the delicate area under my eyes. No more under eye wrinkles or bags. The only product that works for me. I'm delighted at the transformation.
So far so good
I am 24 years old, and all my life I have had acne, but as I got older it has cleard up except for on my chin. Ive done the dermatologist thing, but the products that I have been given have done nothing besides dry out my skin. I heard retinol was good for clearing up problem skin, so I decided to give this a try. It took a few months, for me to see any differences and for my face to adjust to this product, but I love it now. I rarely get any breakouts on my chin (before I would have 3-4 monster sized cyst like zits on my chin at all times. I also feel like this product has helped to reduce some scaring I had and pore size. I gave this a 4 because it did dry my skin out, I now only use it 4-5 times a week rather then every day and my skin is clear and has plenty of moisture. I hope this is helpful!!