Skin Care
Everything You Need to Know About Drinkable Collagen
If the fountain of youth really does exist, we're positive it would be filled with collagen. As the most plentiful protein in the human body, it's what gives skin its elasticity, plumpness and hydration - you know, youthfulness. While there are plenty of effective creams and serums formulated with collagen building blocks like peptides to choose from, it may be time to boost your collagen production alongside your morning coffee. We're sharing everything you need to know about collagen, plus how you can help plump your skin from within with the drinkable variety.
Why is collagen important to skin health?
Those that invest in their skin health are well-versed in the benefits of collagen. But, we consulted with board-certified dermatologist and LovelySkin CEO Dr. Joel Schlessinger on just how vital collagen is for that youthful glow:
"One of the primary reasons why skin naturally ages, besides unprotected sun and environmental pollutant exposure, is the slowdown of collagen production in the body. As we get older, our bodies are unable to replace collagen faster than we break it down, and that's when we start to see the signs of aging—wrinkles, loss of elasticity and increased dryness among other things. One excellent way to protect the current collagen your skin does have is to use a daily broad-spectrum sunscreen with antioxidants like La Roche-Posay Anthelios AOX Daily Antioxidant Serum with SPF 50."
Collagen is nothing more than connective tissue in your body, but it plays an important role in the health of everything from your nails and teeth to your skin and bones and just about everything in between. There are over twenty different types of collagen, but the ones you need to be concerned with for skin health are collagen types 1 & 3. These collagen types contain 19 essential proteins that make up most of the collagen found in the body. Adequate levels of collagen in the body ensure that skin appears tighter, properly hydrated and smoother-looking.
A healthy level of collagen in the body does more than just plump your complexion. Collagen types 1 and 3 contain proline and glycine, known amino acids that help keep aging joints lubricated and limber. Additionally, proline is a main component of keratin, so collagen helps provide the building blocks to support healthy hair growth, which also naturally slows as we age.
What are drinkable collagen peptides?
Collagen peptides are typically available in a daily vitamin-like capsule, fruit chew or powders that can be dissolved into your morning smoothie. Collagen beauty supplements are typically derived from cows, or in the case of marine collagen, from fish. This animal collagen becomes hydrolyzed (i.e. highly processed) through a series of milling techniques that breaks down the amino acids, so they are more readily available for the body. The best collagen peptides are flavorless, odorless and nearly undetectable in taste.
While the research on collagen peptides is still in its early stages, there does show some promise. One 2013 study showed a significant improvement in skin elasticity in elderly women who took varying doses of collagen hydrolysate.
How does my body use drinkable collagen?
You're probably thinking that since drinkable collagen is animal-derived, you can eat that instead of using a collagen in powder supplement. While it's reasonable to say that foods like high-quality bone broth or gelatin can provide some collagen benefits, most animal by-products rich in collagen aren't exactly appetizing. In fact, most collagen supplements derive their star ingredient from the connective tissues or hides of cows or scales from fish.
Additionally, the way that your body benefits from a collagen supplement is complex and probably doesn't work in the way you would assume. Because collagen is a protein and not a vitamin, drinking collagen doesn't just give your body more collagen to be readily used by the skin, but it may be used by the body in other ways. Collagen is rich in amino acids, also known as peptides, which are essential in the functioning of healthy cells. Just as a peptide-packed eye cream helps plump lax skin around the eyes, research shows that ingestible collagen could be helpful for improving signs of aging like wrinkles and dry skin . Additionally, it's important to consider that some research suggests that the acidic environment in the stomach doesn't allow much of the hydrolyzed collagen to be absorbed anyway.
Product to Try: Imbibe Miracle Collagen
If collagen-boosting products are your jam, consider trying this collagen in powder supplement that is backed by clinical results. It's made with 100% hydrolyzed bovine collagen types 1 & 3 (that's it!). No fillers, artificial flavors, preservatives or food acids. It contains 18 amino acids that are bioavailable to encourage collagen synthesis within the skin cell's fibroblast, which improves skin's elasticity and supports healthy hair and nail growth. It's flavorless, odorless and can be completely dissolved in a hot or cold beverage of your choice.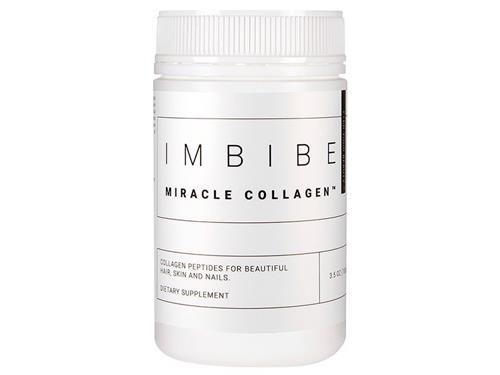 Read more about skin care ingredients that support collagen production on our blog.
Shop This Blog
Highlights
Strengthens nails
Plumps skin from within
Promotes glossy-looking hair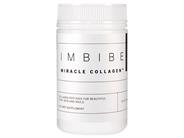 Quick Shop +