Skin Care
LovelySkin 30 Day Challenge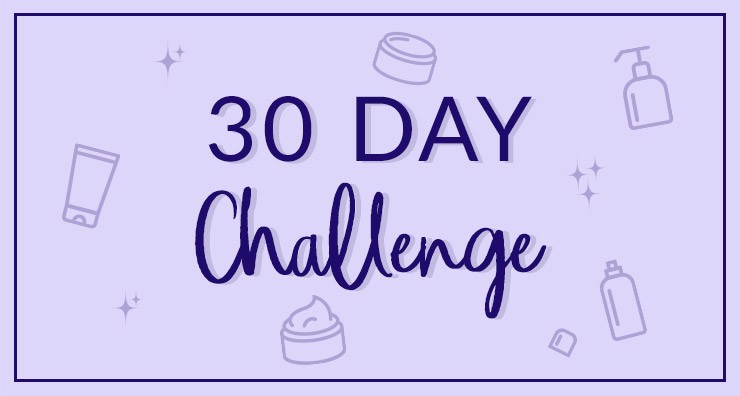 It's time to hit the reset button and give your skin the care it deserves! Are you up for the challenge? Take control of your complexion with the LovelySkin 30 Day Challenge.
Simply follow these guidelines using products of your choice and stay tuned for a chance to win a prize!
Step #1: Wash Your Space
Washing your face is imperative, but washing anything that comes in contact with your skin is just as important. Many household items harbor sweat, bacteria and dirt that lead to clogged pores, blemishes and even foul odors. Protect your complexion by washing and sanitizing items that touch your face at least once per week. These items include: pillow cases, phones, towels, makeup brushes, blankets, headphones, etc.
Pro Tip: If you are worried about sanitizing your electronics, we recommend using Lasercyn Dermal Spray! This antibacterial spray is so gentle that it's safe to use on any body part, surface or product.
Step #2: Don't be a Afraid of Double Cleansing
You might think a single wash gets off the day's grime, but a second wash can make a big difference. Whether you swear by cosmetics or stick to a simple routine of nothing but sunscreen, ensure a clean complexion with a double cleanse. Simply start with the first wash using an oil-based cleanser or micellar water to remove dirt, debris and makeup and follow with a second cleanse using a gentle cleanser to detox those pores.
Pro Tip: If you are looking for a double cleanse made easy, try Erno Laszlo Detoxifying Bespoke Cleansing Set! This easy-to-use kit offers a deeply detoxifying cleanse on the go.
Step #3: Wash Your Hands!
Yes, washing your face is key for achieving a clear complexion, but you also need to wash your hands! Whether you realize it or not, your face comes in contact with your hands a lot and the transfer of bacteria can lead to flare-ups and blemishes. It's important to try your hardest not to touch your face, but to combat the inevitable, try washing with antibacterial soap throughout the day.
Pro Tip: Kill germs on the go with SUZANOBAGI Cleansing Wipes!
Step #4: Exfoliate Smarter, not Harder
Exfoliating routinely is important when striving to keep a clear and smooth complexion, but exfoliating too much can cause more harm than good. Make sure to hit that sweet spot by exfoliating two to three times per week—no more, no less. Overdoing it can lead to flakiness, dryness, irritation, redness and even skin sensitivity.
Need an exfoliant? Try LovelySkin LUXE Microdermabrasion Polish! This skin-refining product uses environmentally safe exfoliating spheres, along with other powerful ingredients to soothe, smooth and hydrate the complexion.
Step #5: Remember to Feed Your Skin
Just like your body, skin needs nourishment to remain healthy! Feed your skin at least once per day with a nutrient-rich product. Those containing antioxidants, fatty acids, vitamins C, E and A or other nourishing ingredients protect against free radical damage and boost overall radiance.
If you like products to be all-in-one, no worries! Skip the extra product and multitask by using a moisturizer that contains a daily dose of antioxidants or vitamins.
Step #6: Make Sure to Moisturize
Including moisturizer in your everyday routine is vital. After all, are you happy when you're dehydrated? Your skin isn't either! Use a moisturizer day and night to encourage a youthful appearance, reduce fine lines and wrinkles and to maintain skin's balance.
Pro tip: Oily skin needs moisture too! If you're hesitant to incorporate a hydrator into your daily regimen, try an oil-free option with mattifying benefits!
Step #7: Sunscreen, Sunscreen, Sunscreen!
Sunscreen isn't just for the pool! Wearing a daily broad-spectrum sunscreen is arguably the most important step in skin care because it protects against sun spots, photoaging and skin cancer. Fight the signs of aging and make sure to include sun protection in your regimen each day before walking out the door. Don't forget to reapply every two hours!
Want to know which sunscreen is right for you? Find out Dr. Schlessinger's top picks for 2019!
Step #8: Bask in the Mask
A little R&R is good for the soul and the skin. Relax and refresh using a mask of your choice once a week.
Looking for a mask that's right for you? Try GLAMGLOW GravityMud Firming Treatment Mask! Safe for all skin types, it helps define facial contours by lifting and firming skin. As this peel-off mask dries, it turns from white to chrome, making for a selfie-worthy spa session that makes no mess.
Step #9: Do Away with Dairy
From the milk in lattes to the parmesan on pizzas, it's hard to monitor your lactose intake on a daily basis. But, did you know that dairy is a pro-inflammatory food group? Milk-based products contain problem-causing hormones that can lead to flare ups in skin conditions like acne and rosacea. For step #9, try limiting dairy from your diet as much as you can.
Want to go about this challenge like a pro? Completely eliminate dairy products and opt instead for skin-friendly alternatives like almond, cashew or oat milk. Dr. Schlessinger's favorite is Califia Almond Milk!
Step #10: Keep Calm and Hydrate On
Drinking enough water provides a number of health benefits, and a glowing complexion is one you can truly see. Sufficient hydration can improve your overall radiance by flushing out toxins trapped under the skin.
Promote a more resilient complexion and prevent dryness by upping your water intake to at least eight 8 oz glasses of water per day!
Now that you understand the steps, it's time to start the LovelySkin 30 Day Challenge! Ready, set, GO!