Skin Care
Tanning Bed Myths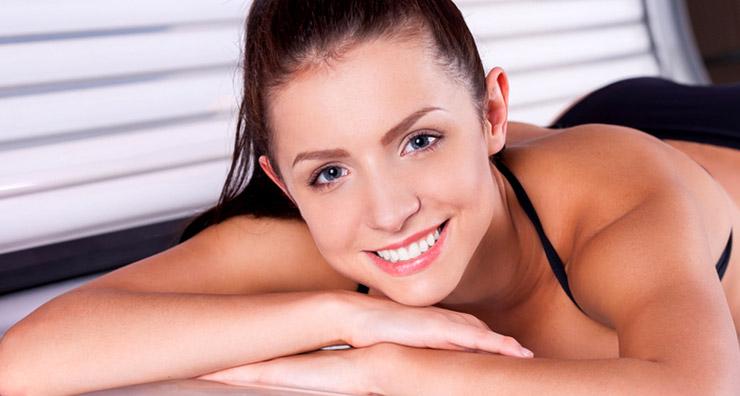 More than 30 million people in the United States routinely use tanning beds. Many are convinced that indoor tanning is the safest and fastest way to bronze, and the Indoor Tanning Association supports this belief by continuing to bolster false claims. At LovelySkin, we want to share the truth: there is nothing safe about indoor tanning or tanning in general. In addition to causing premature signs of aging like fine lines, wrinkles and dark spots, tanning beds are linked to dangerous disease. Read on to discover some of the most widely circulating myths about tanning beds, along with the facts you need to know.
Myth: Tanning indoors is the only way to get vitamin D in winter.
Truth: Vitamin D is crucial for overall health, and the sun is one of its most readily available natural sources. It's true that depending on which part of the world you live in, it could be difficult to receive enough vitamin D from natural sunlight. However, there is no need to expose yourself to dangerous UV radiation, whether indoors or outdoors, to get an optimal amount of vitamin D. Many foods, such as whole milk, cereal, yogurt and orange juice, are rich in vitamin D, and there are a variety of oral dietary supplements available to help ensure that you receive the daily nutrients you need.
Myth: Tanning beds do not cause skin cancer.
Truth: Multiple studies support a direct correlation between using indoor tanning beds and all types of skin cancer, including melanoma, the deadliest form. Skin cancer risk more than doubles if you begin indoor tanning regularly before the age of 35, and tanning beds have even been classified as a Class I cancer-causing agent, just like cigarettes. Those with fair skin are especially at risk.
Myth: Tanning beds are safer than natural sunlight.
Truth: The rays that tanning beds emit are comparable or even stronger than natural sunlight since they are not as diffused as they would be outdoors. Tanning beds mostly emit UVA rays, which cause the skin to tan, rather than the UVB rays that cause skin to burn. However, UVA rays actually penetrate much deeper into the skin than UVB rays to destroy or alter cellular DNA. In addition, UVA damage is cumulative, meaning it continues to build each time you tan. The more you tan, whether indoors or outdoors, the more damage your skin will accrue over time. It's important to keep in mind that any change in color to your skin is a sign of damage, not just sunburn. Don't be deceived because a tanning bed is warm or even cool in comparison to the hot, intense sunshine on a summer day. Though it may not feel like it, you are still receiving a powerful and harmful dose of UV radiation.
Myth: Tanning indoors can help prevent seasonal affective disorder.
Truth: Bright light can potentially improve mood disorders like seasonal affective disorder, a type of depression that typically occurs in relation to the short, gray days of winter and lack of sunshine. However, in the case of tanning, you would be trading depression for skin damage and potential cancer, an exchange that is hardly worth the price you might pay down the road. There are many things you can do to boost your mood, including eating a healthy, balanced diet, exercising regularly and taking dietary supplements. If symptoms persist, your physician can help you find a course of treatment.
Myth: Tanning beds are safe if you use sun protection.
Truth: Using a good sunscreen can certainly help reduce some of the damage you may experience from indoor tanning, but with the concentrated UVA rays penetrating just inches away from skin, it won't completely stop it. There are many products that are specially formulated for indoor tanning that claim to help protect skin and render indoor tanning safe. These products may help to keep skin from drying out from the UV exposure, but they are purely cosmetic and offer no protection from damage whatsoever.
The only safe, FDA-approved way to achieve a tan is through self-tanning products. Self-tanners are topical treatments that contain DHA, a colorless sugar that interacts with dead skin cells to create warm, temporary color. Though self-tanning products were once known to give orange, streaky results, they have come a long way in recent years. At LovelySkin, we carry a variety of self-tanners that are proven to provide an even, natural looking hue. Shop our selection here and let us know your favorite!
Do you have a question about tanning beds or how to achieve a safe glow with self-tanners? Share with us in the comments section.