Beauty
The Three Best Questions to Help You Determine Your Face Shape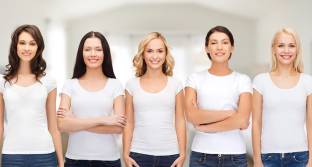 Face shape can determine everything from your next haircut to the way you contour. It can be difficult to simply look in the mirror and determine which shape best describes your face, so we've developed three questions to help you out. You'll be ready to pick and choose the hair and beauty styles that complement your face.
1. What is the widest part of your face?
Forehead: If your forehead is wider than your cheeks and jawline, you are in the heart-shape category.
Cheekbones: If your cheekbones are the widest part of your face, you have a diamond face shape. With this face shape, the forehead and jawline are about equal widths.
Jawline: You have a pear face shape if your jawline is the widest part of your face.
They're equal: If your forehead, cheekbones and jawline are approximately the same width apart, then you may have a square, round or oval face. Answer the next questions to determine which shape best fits your face.
2. What is the shape of your jaw?
Rounded: If your jaw is slightly rounded, you have a round or oval face shape. See the final question for an answer.
Flat: A strong jaw indicates a square face shape. Your chin may still come to a point, but the angle will be more gradual or flat.
Pointed: You have a heart-shaped face if your chin comes to a distinct point.
3. What is the length of your face?
To determine the length of your face, draw an imaginary line just below your eyes from one ear to the other. Then, draw another imaginary line vertically from the top of your forehead through your nose down to your chin. It will make the shape of a cross.
Short: If the ratio of your cross has a width that appears to be equal to its length, you have a round face shape.
Average: You have an average face length if the ratio of your face length to width is one to one and a half, meaning that your face is longer than it is wide. You likely have a square face shape.
Long: If your face is longer than it is wide, you have an oval face shape.
Now that you know your face shape, you can do your makeup accordingly. Contour to bring out your face's best features with glo minerals Contour Kit. This kit contains four powder shades to enhance your facial contours and create dimension unique to you. These formulas are blendable and buildable for a subtle or dramatic look.
Highlight your face with theBalm Mary-Lou Manizer Luminizer. This fine powder glides flawlessly over your skin to create a silky smooth texture. The silica particles in this formula reflect light so you can add depth and definition to your face shape. Check out this LovelySkin tutorial for a step-by-step guide on highlighting and contouring to bring out your best features.
How do you determine your face shape? Tell us in the comment section.
Shop This Blog
Highlights
Blends easily
Can be used to highlight your features
Four colors that highlight, add color and contour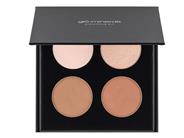 Quick Shop +
2 options
Highlights
Illuminates the cheeks, eyes and brow bone
Provides a shimmery finish
Contains light-reflecting minerals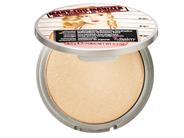 Quick Shop +