News and Events
Win a Free NuFACE Trinity Facial Toning Kit!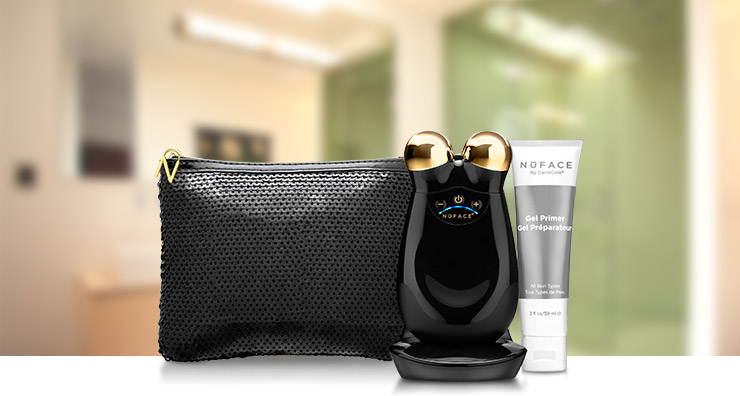 One of the best parts of the holiday season is having a chance to try out all of the exclusive skin care and beauty gift sets. This year, we're giving you a chance to win one of the most coveted holiday sets this seson, the NuFACE Trinity Facial Toning Kit – Limited Edition Chic Black. Keep reading to find out how you can enter to win this anti-aging device.
The NuFACE Trinity in Chic Black is the newest tool from the makers of the first at-home, FDA-approved microcurrent anti-aging device. The tool provides "fitness for the face" to help create a firmer, smoother and more youthful complexion. Microcurrent waves stimulate the underlying muscles of the face, which results in a firmer and tighter complexion. Using this device also results in the production of collagen and elastin, two essential components of healthy skin, to fade the look of fine lines and wrinkles.
It is easy to use the NuFACE device and it only takes five minutes a day. Begin by cleansing the complexion and applying NuFACE Gel Primer. Then position and slide the device up the skin following the natural contours of the complexion. Clinical results show that 85% of users experienced improvements in the facial contour and 80% experienced smoother skin.
This limited edition holiday set including the NuFACE Trinity Facial Toning Device in black with 24k gold spheres. The set also includes NuFACE Gel Primer (2 oz), charging cradle, power adapter and a black travel bag.
To enter to win NuFACE Trinity Facial Toning Kit – Limited Edition Chic Black, visit our giveaway page. This contest is open until Friday, December 4 at 12 p.m. CST. The winner will be announced on the blog on Friday, December 4.
This giveaway has ended.
Connect with Us!