News and Events
Last Chance Cyber Tuesday!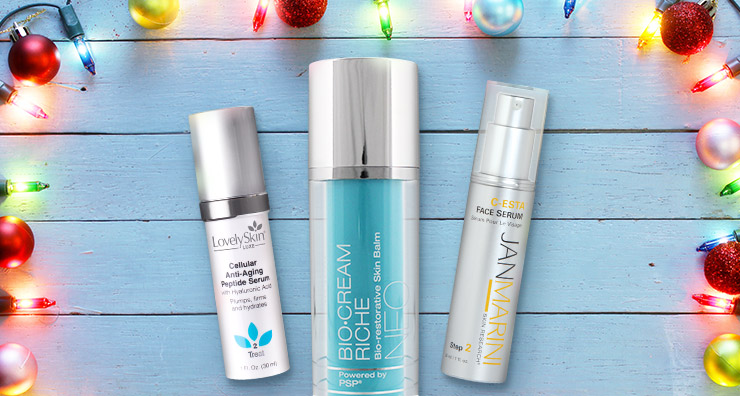 This sale has expired.
Cyber Monday has come and gone, but here at LovelySkin, we're celebrating Cyber Tuesday! Today is your last day to enjoy the best discounts of the entire year on daily doorbusters and earn up to $215 in free gifts with your qualifying purchase. You can also continue to save between 28% and 35% on most brands on the site, making now the best time to stock up on skin care and beauty essentials. Keep reading to learn about today's deals and find out how to qualify for free LovelySkin favorites.
Receive a Free Sample of NeoStrata Skin Active Perfecting Peel with Any Site Purchase
This year, we're throwing in a little something extra just because. With your site purchase of any amount, you'll automatically receive a free sample of NeoStrata Skin Active Perfecting Peel, a $7 value. This two-step anti-aging treatment features a blend of glycolic acid and citric acid, two gentle, yet effective exfoliating ingredients, to help remove dulling debris and reveal a more youthful, luminous complexion. It's the perfect way to boost overall radiance and achieve a healthy glow.
Save 35% on LovelySkin LUXE Cellular Anti-Aging Peptide Serum
Developed by our own CEO and board-certified dermatologist and cosmetic surgeon, Dr. Joel Schlessinger, LovelySkin LUXE Cellular Anti-Aging Peptide Serum is the ultimate reparative treatment. Hyaluronic acid works to firm and plump skin, while peptides and Swiss apple stem cells repair and protect skin cells. Persian Silk Tree extract helps to minimize signs of fatigue and encourage healthier looking skin. This serum is an excellent option for those looking to appear more youthful and energized, no matter where they are in their anti-aging journey.
Save 35% on Neocutis Bio-Cream Riche (with PSP)
Neocutis Bio-Cream Riche (with PSP) is a luxurious balm that makes a thoughtful gift for the loved one on your list who battles chronically dry or reactive skin. This anti-wrinkle treatment not only smooths and firms with a blend of growth factors and antioxidants, it also helps to intensely hydrate skin and strengthen against moisture loss. Yam extract helps to soften a rough texture and restore a healthy glow. Because it's so soothing, Bio-Cream Riche (with PSP) is also the perfect healing treatment for those who receive professional chemical peels, microdermabrasion or laser hair removal, and it even calms rosacea and acne.
Save 35% on Jan Marini C-ESTA Serum with DMAE Complex
Firm and tighten mature skin with Jan Marini C-ESTA Serum with DMAE Complex. DMAE stands for dimethylaminoethanol, Jan Marini's exclusive power ingredient that packs multiple anti-aging, antioxidant and anti-inflammatory benefits. It also features hyaluronic acid to help smooth and soften and vitamins C and E to protect and promote healthy collagen production. Gift this highly rated serum to the skin care veteran who knows her treatments—we bet C-ESTA Serum will become a new favorite.
Plus, with your site purchase of $150 or more, you'll receive a free travel-size TEOXANE RHA Skin Refiner Radiance Smoothing Cream with cosmetic bag, a $75 value. This cream uses 10% glycolic acid to exfoliate skin while infusing it with Resilient Hyaluronic Acid, an exclusive ingredient that locks in hydration and prevents moisture loss.
With your site purchase of $200 or more, you'll receive the TEOXANE cream, cosmetic bag and a free full-size Obagi Gentle Rejuvenation Skin Rejuvenation Serum, a $133 value and a total package value of $215. Specially formulated for sensitive skin, this mild treatment uses Swiss apple extract to encourage cell renewal and smooth the appearance of wrinkles.
Take advantage of these offers before time runs out, and don't forget to browse our gift guides for extra holiday inspiration.
Connect with Us!