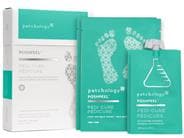 Reviews For
patchology PoshPeel Pedicure
Better peel for your money
I've used other products that say they do what this product does, at a much big price point. Patchology is always far superior. Better than a Pedicure
Honestly I was pretty nervous to try this product but finally convinced myself since my work is now entirely remote - no worries about shedding skin all over the office floor. Using the product is SO easy and peeling started on day 3. The package says peeling will happened within 3-5 days, so this was very accurate in my experience. On day 3, the bottoms of my feet started to peel. On day 4, I was able to peel off just about everything on the bottoms of my feet while the toe area and top of my feet were beginning to peel. By day 5 and 6, I had completely refreshed feet. LovelySkin Customer
Verified Purchase
Incredible
I was a little skeptical...but my feet needed help. The process was simple and straightforward. Within 4 days my skin was shedding like a snake. Nine days in and I had brand new baby soft feet. The peeling process is messy so socks are a must. LovelySkin Customer
Verified Purchase
Love it
This is a great way to get your feet looking nice and soft again. Like any peel, it takes several days for the peeling to start, then the peeling lasts awhile. So if you're looking to soften up the feet before an event, I suggest to use this a couple weeks prior. MindyFL
Verified Purchase
Hubby loves it
Extremely effective, even for my hubby's stubborn callus and rough skin. What's amazing that it's gentle and doesn't give any burning sensation at all. At Home Pampering
A great product for the times when you cant get in for a pedicure. LovelySkin Customer
Verified Purchase
Works Disgustingly Well
I tried the mask from the kit version. I tried the peel for the first time 3 days ago. The worst part was soaking my feet for an hour in the booties. 3 days later, layers of skin are peeling off in sheets. It's so gross, but my feet are so smooth. I will have to toughen them back up to cope with the amount of walking I do. But, this peel really does work. LovelySkin Customer
Verified Purchase
Next best thing to a salon pedicure
I got this during lockdown since I couldn't get to the nail salon. It worked well and my feet are soft and smooth. Best peel for feet
Love these peels. Easy to use with no chemical smell. Great results every time. LovelySkin Customer
Verified Purchase
Works great
Easy to use and this product really works. Within a few days, old skin starts to peel off, leaving feet smooth. LovelySkin Customer
Verified Purchase
Awesome!
I had seen the excellent reviews and rating for this product. So I had high expectations. Peel lived up to my expectations so much so that I plan to use it again. LovelySkin Customer
Verified Purchase
I bought, but I did not try it
Are use some different products, but I think that one will work better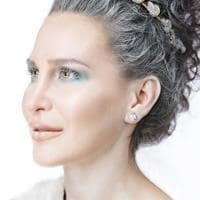 Perfect for Arizona feet
It seems it took off all old skin... my feet a so, so soft. LovelySkin Customer
Verified Purchase
It does work
It took 10 days for the bottom of my feet to finally start shedding. The only downside it's small pieces of skin shedding vs large sheets of skin. So it will take some time to get all the skin off. LovelySkin Customer
Verified Purchase
Best Foot Peel
I have loved the Pathology Foot Peels that I had my work colleagues all buy from LovelySkin. I love this brand. It is a simple foot mask that pays back dividends. You wear the socks for an hour or two, rinse feet and within a week your feet start to peel. Not getting many pedicures during Winter and Covid this is a perfect replacement to the nail salon. One of my favorite products!! Absolutely Amazing!
I bought the PoshPeel because I had some credit I wanted to use up. I've always had really dry, thick, cracked skin on my feet (especially my heels). I applied the product as directed and read that the results would come in 5-7 day. After 5 days I noticed just a small amount of peeling and thought "Well this sure isn't anything." The next day there was a little bit more peel. But, I think it was day 8 when I was taking a bath and the skin on my feet was peeling off in thick layers! It was really cool. I'm 65 and my feet haven't looked this good since I was a teenager. I will definitely repurchase! Carolbarrel
Verified Purchase
It Works
I had some doubts the first few days after using it as my feet didn't start shedding for about 2 wks. Well, they finally started and once they did, I wondered if they'd ever stop...lol! The amount of skin that came off was incredible! It was nice using this for a change rather than giving myself a pedicure. 4 out of 5 stars because it wasn't as effective as I hoped it would be on my hard calluses nor did it leave my feet as soft as I thought it would. My feet were very dried out for awhile afterward. Itsjustme
Verified Purchase
The real deal
These are the most efficient foot peels I've used. I've tried different brands but none work as well as these. I like that you pour the mixture into the bootie instead of it already being inside of it. Give it a few days, and you'll be amazed how much dead skin peels off. Highly recommend! LovelySkin Customer
Verified Purchase
This works!
I was somewhat skeptical but tried the PoshPeel Pedicure anyway. The instructions are clear and I sat with the booties on for an hour. My feet felt dry for a few days afterward, but no peeling. Then about day 6 the peeling began. So.Much.Dead.Skin. The soles of my feet peeled first, then the tops. End result: very soft feet. Glad I waited until the end of summer! PASuburbsMom
Verified Purchase
Great boost for feet
This is a fantastic product to use every few months instead of or in addition to pedicures. Really came in handy during quarantine. Hillary412
Verified Purchase
Thankful I found this.
Been looking for something powerful enough to deal with my less than beautiful feet. This product is the one! The results are stunning and the process is so easy. Will be keeping this on my shelf from now on. A+!! LovelySkin Customer
Verified Purchase
Works!!
My dead skin began to peel off after a few days. Now my feet are soft!! LovelySkin Customer
Verified Purchase
Baby feet and callous free
This was such a great purchase little money spent but big reward. You must give this a full two weeks to go through the shedding process. If it's your first time ever taking care of your feet and your feet are thickly calloused do use the full 90 minutes on your feet. And soak feet about 15 minutes prior to application, allowing product to penetrate better in my opinion. Dry feet thoroughly then put on booties and pour on product. This is self care it's not to be rushed. Do this when you are done leaving your home for that day. I repeat shedding takes place 2 weeks after your treatment or as early as a week later. Be patient. the shedding skin is so satisfying as you can peel it off in sheets and see smooth pink. Buy it. Such a small investment in your self care. Womantastic7
Verified Purchase
Love It!
Amazing! Try it. You won't be disappointed. LovelySkin Customer
Verified Purchase
It works!
The peel started to work after 8 days and does leave your feet feeling softer. I would recommend starting this peel at least 2 weeks before you are going to show your feet, as once it started to peel, the process took about 6 days. LovelySkin Customer
Verified Purchase