News and Events
Boost Collagen and Elastin with This Simple Treatment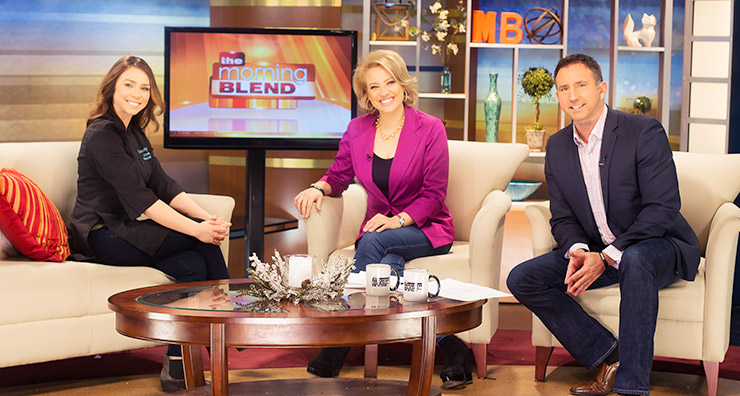 Pellevé and LovelySkin Spa featured on The Morning Blend
Loss of collagen and elastin is a natural part of aging. Then we're left with fine lines and wrinkles. But now there is a procedure that can help boost collagen and elastin production. LovelySkin Aesthetician, Kristen, recently spoke to Mary and Mike from KMTV's The Morning Blend about this innovative treatment, Pellevé.
Pellevé is a skin tightening treatment that uses radiofrequency waves to increase collagen production and tighten sagging skin for a more youthful appearance. It can be used to target mild to moderate lines on the face and the neck. Best of all, it's non-invasive and requires absolutely no downtime.
"The radiowave frequency is what's actually going to help promote more collagen," Kristen said. "It's going to help smooth your fine lines and wrinkles. How the radiowave frequency works is it actually penetrates through all of your skin layers, and this is going to help contract, tighten, stimulate that collagen production using that heat from that radiowave frequency."
A Pellevé treatment can be done over the entire face and neck, or it can be concentrated on areas of concern like around the eyes and mouth. The full face and neck treatment normally takes about an hour. More targeted treatments usually take about 30 minutes.
"There's absolutely no downtime with it," Kristen said. "A lot of women come in on their lunch breaks, get it done and go back to work."
This same radiofrequency technology can be used on the body with PelleFirm.
The radiofrequency technology can also be used to benefit the body. PelleFirm can be used to help reduce the appearance of cellulite in stubborn areas, creating a smoother, firmer appearance. It's also a great procedure for women to consider after childbirth.
"A lot of the times women are having a little bit of elasticity issues on their tummy and stretch marks after childbirth," Kristen said. "We have a lot of moms who come in and get this treatment done because it's very, very effective."
You'll start to see an improvement in your skin after your first visit, but at least three treatments are recommended for best results.
"When you come in and you get the Pellevé treatment done, you're going to get about three treatments spaced about a month apart," Kristen said. "Then a lot of women don't come back for about six months to a year to get treated again. With the Pellevé we want to do about three treatments and with the PelleFirm we want to do about six treatments."
Pellevé and PelleFirm are both safe and effective.
Safety is one of the biggest concerns for many patients. The great thing about this procedure, Kristen said, is that there's no pain and no downtime.
"It almost feels like a nice warm massage. You do feel the heat but it's not anything that's crazy or going to hurt at all."
After your Pellevé treatment, you won't see any redness or sensitivity. This procedure can easily be done over a lunch break and you can immediately return to work.
"It's a very safe treatment because before we even start the treatment, we put what's called a neutral plate on the back," Kristen said. "This is actually what's going to keep you grounded. Since we are using that radiowave frequency, we just want to make sure you're not getting shocked or anything like that. And that neutral plate is a very easy way of knowing that you are safe."
Both treatments are FDA-approved and the LovelySkin aestheticians are professionally trained to use each device.
For more information about Pellevé or to set up a free consultation at the LovelySkin Spa call 402-334-1226.