News and Events
Review and Win with MEG 21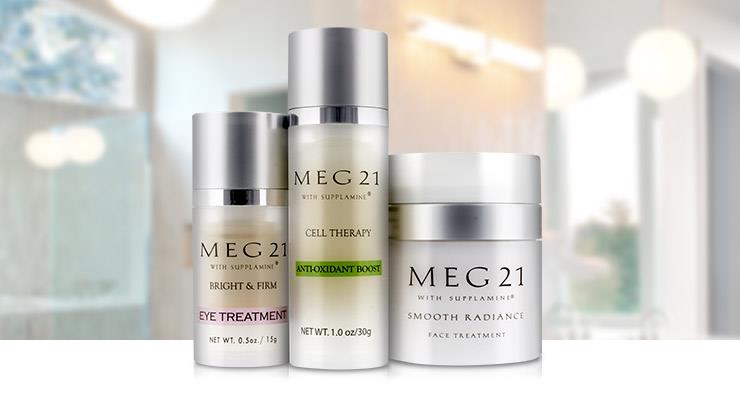 We're teaming up with MEG 21 to give away some great anti-aging products! All you have to do is let us know why you love your favorite MEG 21 product and you're in. If you're not familiar with MEG 21, not to worry. Here is a quick overview:
MEG 21 is a line of anti-aging products that are quick and easy to use. Supplamine, the patented key ingredient found in all MEG 21 products, was discovered during extensive cancer research at the Fox Chase Cancer Center in Philadelphia. The brand offers a full range of cleansers, moisturizers, treatments and more that have the power to prevent glycation, the sugar-binding process that breaks down collagen and causes the formation of fine lines and wrinkles. These unique formulas not only have an impressive clinical research background, they were created by women, for women.
To enter, review your favorite MEG 21 product and let us know why you love it. You can leave a review by visiting the product page and clicking on the "Reviews" tab above the product description. Click the blue "Write a review" button at the top of the reviews section. You will be asked to create a LovelySkin account if you don't already have one.
Please write your review under your own name instead of writing it as a guest. (This way, we'll know who you are and which product you love!) Then, give the product a 1 to 5 star rating. Finally, tell us why you love that product and click "Post review."
Once you have reviewed a product, please send an email to Twitter@LovelySkin.com with your shipping address and email address. Three lucky winners will receive the MEG 21 product they reviewed and the winners will be announced here on the LovelySkin blog on January 22.
Review and Win with MEG 21 starts January 19, 2015 at 12 p.m. CST and ends January 21 at 12 p.m. CST. Winners will be announced on January 22 at 12 p.m. CST. Only one review per person, please. Multiple reviews will be disqualified. Winners are up to the sole discretion of LovelySkin and MEG 21.
Connect with Us!