News and Events
ClarityMD Acne Solutions Giveaway!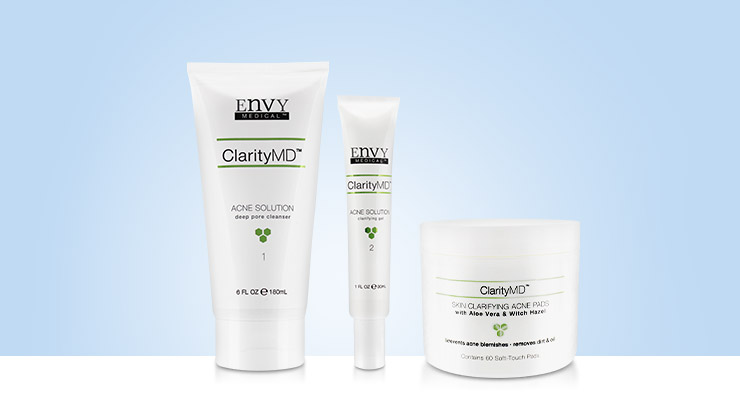 Few skin care issues are more frustrating to deal with than acne. To deal with this issue, you need effective ingredients that are proven to reduce breakouts. We've teamed up with Kelly from the YouTube channel Gloss and Sparkle to let you know about ClarityMD Acne Solutions, a line of products that help heal blemish-prone skin. You can find out what Kelly thinks of the products by watching her review video. Keep reading to learn more about this brand, and find out how you can enter to win a ClarityMD Acne Solutions kit including ClarityMD Deep Pore Cleanser, ClarityMD Clarifying Gel and ClarityMD Skin Clarifying Acne Treatment Pads!
Unless you are treating the causes of acne, your blemishes will continue to return. Issues such as clogged pores, excess oil and bacteria aggravate acne-prone skin and prevent your complexion from properly healing. The ClarityMD acne system targets these causes to address the underlying issues of acne and prevent breakouts from returning.
One of the key ingredients in these products is bakuchiol, a natural extract that has retinol-like properties. This ingredient helps the other ingredients in the products, such as salicylic acid, penetrate more effectively into the skin. The combination of these two ingredients removes excess oil, debris and impurities from within pores.
To use this system, begin with ClarityMD Deep Pore Cleanser to cleanse the complexion and prepare skin for treatment products. Follow with ClarityMD Skin Clarifying Acne Treatment Pads, which are pre-soaked, alcohol-free pads that help remove excess oil and eliminate bacteria. Finish by applying ClarityMD Clarifying Gel to the affected areas.
We're thrilled to offer you a chance to win these products. Entering is easy. Just comment below telling us whether or not you deal with acne and how you deal with it and you'll automatically be entered into the drawing. We'll select one lucky winner and announce the winner on our blog on Monday, Nov. 30. Good luck!
This giveaway has ended. Congratulations to our winner, Ashton N.! Thank you to everyone who entered!
Connect with Us!