Skin Care
CoolSculpting vs. Liposuction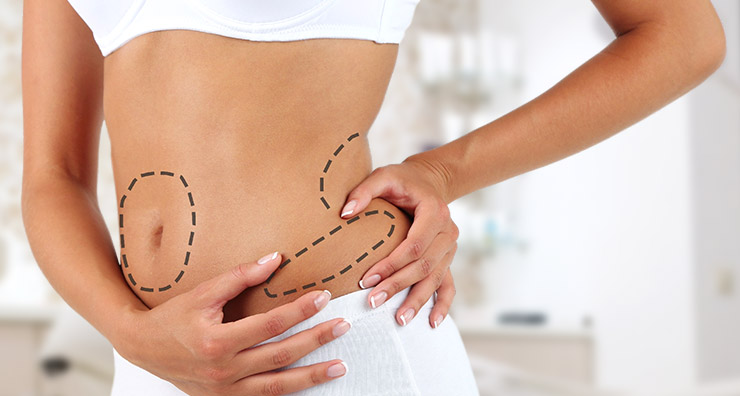 CoolSculpting and liposuction are two treatments that reduce unwanted fat. Determining which procedure is right for you depends on many factors including the location and amount of unwanted fat and your time availability. Read on to learn about these procedures.
CoolSculpting
CoolSculpting is an FDA-approved treatment developed by Harvard scientists. It is the only non-invasive procedure that uses advanced cooling technology to effectively and gently eliminate fat in specific areas of the body. Most often, CoolSculpting is used to treat the abdomen, flanks, arms and thighs. This procedure requires no incisions or anesthesia and requires no recovery time.
The CoolSculpting procedure typically takes about two to six hours depending on the area being treated. During the procedure, a non-invasive applicator is applied directly to the skin's surface to deliver precisely controlled cooling to eliminate fat cells in a specific area of the body. The fat cells in the area being treated are gradually eliminated through the body's normal metabolic processes, similar to the way fat from food is eliminated. During a CoolSculpting procedure, only fat cells are frozen to the point of elimination, while skin cells remain healthy and intact.
During CoolSculpting, patients may feel a suctioning sensation. There may also be tingling during or after the procedure, but most patients do not need any anesthetic or medication because they do not feel anything during CoolSculpting. After the procedure, patients are able to return to normal activity the same day.
The results of CoolSculpting will be seen over a period of about four months. The treated areas will gradually decrease in size. CoolSculpting generally removes about 25-30% of fat in the treatment area. This treatment is ideal for individuals who are within 10 to 15 pounds of their goal weight. For most people, the treated areas go back with minimal or no laxity of the skin. However, if you have loose skin to begin with, there will likely be loose skin after the procedure.
Liposuction
Invented by a dermatologist, tumescent liposuction uses a high pressure vacuum to extract fat cells. This procedure is typically used to treat the abdomen, chest, flanks hips, thighs, knees, back area, chin and neck.
Tumescent liposuction usually takes an hour or two. An anesthetic, large volumes of saline and diluted epinephrine are injected in the areas being treated to numb and cause swelling. A dermatologist then makes small incisions to insert a cannula, a small instrument connected to a vacuum machine. The cannula is then used to extract fat cells.
After the procedure, patients are taken to a recovery room to relax and are given a snug elastic dressing, girdle or body stocking to wear over the treated area to aid in the healing process. When discharged, patients are advised to rest for a few hours after the procedure and gradually increase activity as tolerated. The recovery period for tumescent liposuction is typically one to five days after which patients may resume normal activity. Most patients return to work after the second day.
The most common side effect associated with tumescent liposuction is swelling. Bruising rarely occurs. In extremely rare cases, other complications such as punctures, fat embolus, infection or fluid collection have been reported, but these will be discussed in-depth at your consultation.
Tumescent liposuction permanently removes fat cells to improve your body's contour. Should you gain weight after liposuction, it goes to the fat cells that remain in your body. The localized fatty deposits that existed prior to liposuction can no longer grow out of proportion to the surrounding areas. It is important to note that liposuction will not improve dimples, ripples or stretch marks. In some cases, these are accentuated following the liposuction procedure.
Which treatment is right for me?
If you are looking to reduce unwanted fat, CoolSculpting and tumescent liposuction can help you achieve your goals. If you are looking to lose weight, however, it is best to use diet and exercise as neither of these procedures cause patients to lose a significant amount of weight.
CoolSculpting is ideal for motivated individuals who are within 10 to 15 pounds of a goal weight. It is also a great option for anyone not able to spend a lot of time in treatment. It requires no downtime, allowing patients to return to normal activity after the procedure. Liposuction is a more effective solution as it permanently removes about 50-75% of unwanted body fat. Tumescent liposuction requires downtime but it is minimal.
To determine the best treatment for your goals, it is best to consult with your cosmetic surgeon who will advise the best course of treatment. Visit Dr. Schlessinger's clinic site to find out more about both these and other procedures. If you have any questions about tumescent liposuction or CoolSculpting, ask Dr. Schlessinger in the comment section.