News and Events
MEG 21 Giveaway!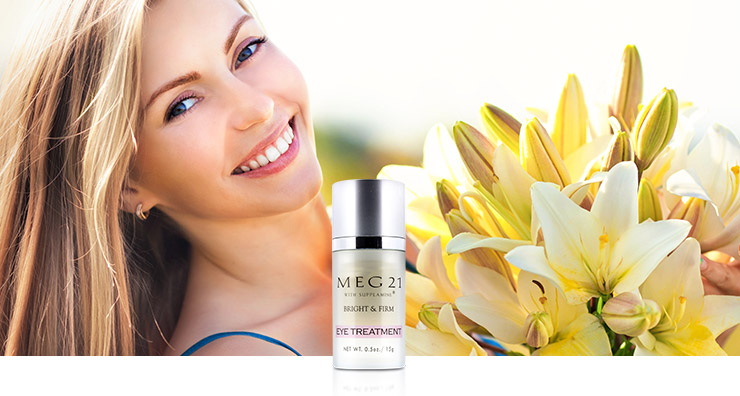 Studies show that over-indulging in sugary foods can lead to loss of firmness and wrinkled skin over time. MEG 21 offers the only line of products available on the market to help stop damage from toxic sugars with the patented ingredient, Supplamine. Keep reading to learn more about this exciting brand, and find out how you can enter to win a MEG 21 Bright & Firm Eye Treatment!
During a natural process called glycation, sugar in the bloodstream attaches to proteins to form harmful molecules called advanced glycation end products, or A.G.E.s. The more sugar you consume, the more A.G.E.s you form. Some of the most vulnerable proteins to A.G.E. damage are collagen and elastin, the building blocks of firm, supple skin. When collagen and elastin break down and become dry and brittle, wrinkles form and skin begins to sag and look dull and tired.
MEG 21 products are especially designed to prevent skin aging and inflammation that is caused by the glycation process. The brand's secret lies in their exclusive ingredient, Supplamine. Born of intensive cancer research, this special compound is scientifically proven to inhibit the glycation process and stop inflammation from toxic sugars. From the cleanser to the advanced cream, each MEG 21 product uses Supplamine to boost collagen production and promote a smooth, even skin tone, with noticeable improvements in as little as 14 days.
MEG 21 Bright & Firm Eye Treatment helps to minimize the appearance of fine lines and wrinkles in the delicate eye area. Like all MEG 21 products, the cream features Supplamine to inhibit the glycation process, plus lily flower extract to provide antioxidant protection. Shea butter, a rich hydrator and natural antioxidant, helps encourage soft, supple skin, while a blend of botanically derived vitamins and minerals works to reduce the appearance of dark circles and puffiness. With regular use, you can enjoy long-term protection against oxidative stress and an overall more youthful eye area.
We're thrilled to offer you a chance to win one of these innovative eye creams from LovelySkin! Entering is easy. Just comment below telling us why you're excited to try MEG 21 Bright & Firm Eye Treatment and you'll automatically be entered into the drawing. We'll select 12 lucky winners and make an announcement on the blog. Good luck!
One entry per household. Regular contest rules apply.
This contest has now ended. Congratulations to the winners: Tom S., Barbara T., Carol S., Kitty M., Jennifer L., Claire H., Lori F., Kimberly B., Julie L., Andrea D., Brandy Y. and Patti R.!