Sun Care
Choosing Wisely: The Difference Between Physical and Chemical Sunscreen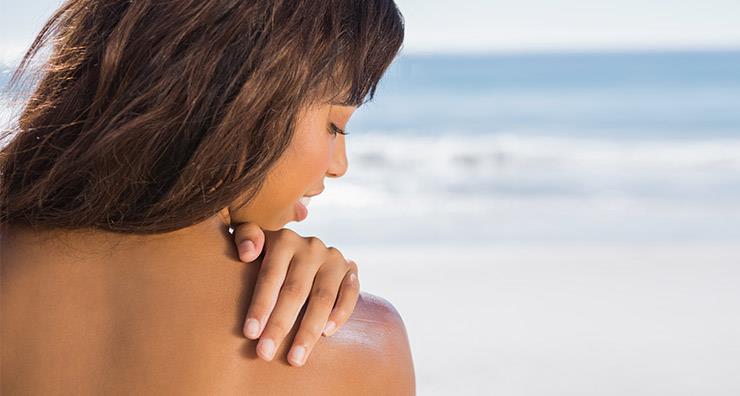 By now, we all have warm weather on the brain, and with that summer sunshine comes the need for protection against harmful UV rays. You should, of course, wear sunscreen year round but you'll need it more than ever in the months to come. With a vast variety of creams, lotions, gels and sticks available for all skin types, you might be wondering what to look for when you go to stock up this year.
Sunscreen can be divided into two main categories based on key ingredients: physical sunscreens and chemical sunscreens. Each has its own unique benefits, and choosing one will depend on your personal preference, skin type and summer lifestyle.
Physical Sunscreen
Physical sunscreens protect the skin by blocking UV rays with mineral ingredients, which is why they're often called mineral sunscreens. These sunscreens feature key ingredients like titanium dioxide and zinc oxide, which scatter and deflect the sun's rays. Most physical sunscreens are gentle, safe and non-irritating for all skin types. One wonderful benefit is that they start working immediately upon application, though you do need to apply frequently for maximum effectiveness.
Physical sunscreens often come in a thick, opaque lotion or cream form, which can make them difficult to apply properly. They may also leave your skin with a white tinge or cast. Physical sunscreens are great for sensitive skin types, and they're perfect if you lead an active lifestyle or if you often find yourself on the go.
Our LovelySkin staff recommends NIA24 Sun Damage Prevention Broad-Spectrum SPF 30 100% Mineral Sunscreen. This lightweight formula absorbs quickly to keep skin healthy and free of irritation and signs of aging.
Chemical Sunscreen
Chemical sunscreens, also known as classic sunscreens, actually absorb UV rays, neutralizing their intensity. They usually feature a combination of active chemical ingredients like octylcrylene, avobenzone, octinoxate, octisalate, oxybenzone and homosalate. On average, chemical sunscreens are more irritating to the skin than physical sunscreens. Some formulas may sting if they get in your eyes or they could cause redness and inflammation to sensitive skin. Though generally safe, in some cases, chemical sunscreens could perpetuate the free radicals responsible for skin damage and visible signs of aging.
You'll need to wait about 20 minutes before you go outside after applying chemical sunscreen to allow for it to absorb properly. Most chemical sunscreens are runny in texture as well as colorless and odorless. They're great to wear under makeup or even as a primer for your foundation. If you have a medium or dark complexion, you may want to opt for a chemical sunscreen to avoid a white cast.
A top-rated chemical sunscreen available on our LovelySkin website is NIA24 Sun Damage Prevention UVA/UBA Sunscreen SPF 30, a moisturizing formula that delivers vitamin B3 deep into the skin to repair and protect the complexion.
Which physical and chemical sunscreens are you looking forward to trying this summer? Let us know on Facebook, Twitter or Instagram using #LovelySkin.
Shop This Blog
Highlights
Protects against free radicals
Absorbs quickly
PABA-free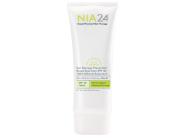 Quick Shop +
Highlights
Absorbs quickly
Strengthens skins natural protective barrier
2012 SELF Healthy Beauty Awards Winner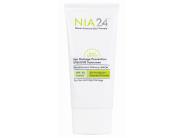 Quick Shop +
Connect with Us!