Ask the Experts
Dear LS: How Long Should I Stick with a Skin Care Routine?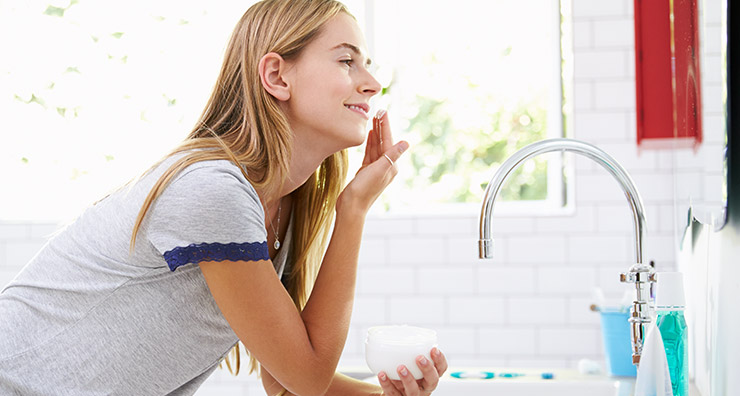 Dear LovelySkin,
How long should I stick with a skin care routine in order to see results?
-Anonymous
Since everyone's skin is a little different, how well or how quickly a product works is always dependent upon the individual using it. Your friend's holy grail moisturizer could be your personal "Holy fail!" if it isn't suited to your skin type. Factors like climate, makeup choices, adherence to a routine, active ingredients and the other products in your regimen can also play a big role in how well your skin care works.
That said, if a renewal product is well-suited for your needs and skin type and you have used it as directed, you can expect to see visible changes in tone and texture in about four weeks. This is the average amount of time it takes for a full cycle of skin cell turnover to take place. Keep in mind that as we age, cell turnover can slow significantly, taking 45 days or longer, so even the four-week rule can be a bit hit or miss.
For more potent anti-aging treatments, particularly those that address wrinkles and lighten dark spots, you may start to see changes in six to eight weeks. Acne regimens can take anywhere from six to twelve weeks to make a noticeable difference in clarity, sometimes longer. Because results can vary so much by product and individual, we suggest sticking with a skin care formula of any type for about eight weeks before considering new options.
Want to get the most out of your skin care? Follow these tips for achieving real results.
Have Realistic Expectations
We believe in miracles, but we have yet to find one that comes in a jar. If a product boasts instantaneous results that seem too good to be true, steer clear. There is simply no such thing as a Botox in a tube or a topical treatment that can "erase" acne and wrinkles. You can still expect wonderful results from high-quality skin care products, like a more even tone, skin that looks and feels softer and smoother and a boost in overall radiance. You can also enjoy a plumper, firmer complexion and a diminishment in wrinkles and sun damage. But your skin is still your own, and you won't be able to wipe it clean or completely change its composition.
See a Professional
Seeing a board-certified dermatologist or licensed aesthetician can take most of the guesswork out of your routine and ensure that you're getting the highest quality products that yield the fastest results. It's a no-brainer!
Stick to Your Routine
It's only natural to ask what our skin care can do for us, but maybe it's about time we asked what we can do for our skin care. Dermatologists report that compliance, a measure of the degree to which a patient follows a recommended skin care regimen, is a major obstacle for desired results. In other words, we're slacking, and it's all too easy to do. We run late one morning and skip the serum to save time. When we're exhausted in the evening, we take our makeup off with a wipe and fall into bed without applying eye cream and moisturizer. But keeping in mind that there is no such thing as a miracle cream or a cure for wrinkles, staying true to our prescribed routine and never missing a step is crucial to enjoying the results we want.
Avoid the Sun and Kick Bad Habits
You could be doing all the steps right and still sabotage your results if you skip the sunscreen. Sun exposure can interfere with how well and how quickly a product works. The same goes for smoking, frequent drinking and a poor diet. Be sure to apply sunscreen daily, reapply throughout the day and avoid being in direct sunlight at all. Refrain from smoking and drinking and eat a balanced diet with lots of fruits and vegetables, which are excellent natural sources of many of the antioxidants found in skin care. Lastly, drink plenty of water to stay healthy and hydrated.
Document Your Progress
At Dr. Schlessinger's dermatology practice, we often take before and after photos of patients to track progress once they've begun a new routine. Why not do the same at home? Snap a quick selfie in good lighting on Day 1 and resist the urge to look at it until four weeks later at the earliest. This way there's no waffling back and forth about whether your skin is benefiting from your products—you can see for yourself.
Know When It's Time to Let Go
Sometimes, a product or regimen just isn't for us, no matter how much we want to love it. It's time to move on to other options if: you've noticed no differences in your complexion, even subtle ones, after 8 weeks, it doesn't fit well with your lifestyle and/or you dread using it daily or you have begun to notice negative reactions, like redness, itching and peeling.
Do you have a question about achieving real skin care results? Let us know in the comments section.