Skin Care
Sunscreen or Moisturizer First? What's the Best Way to Layer Your Skin Care?
by LovelySkin
|
April 12, 2017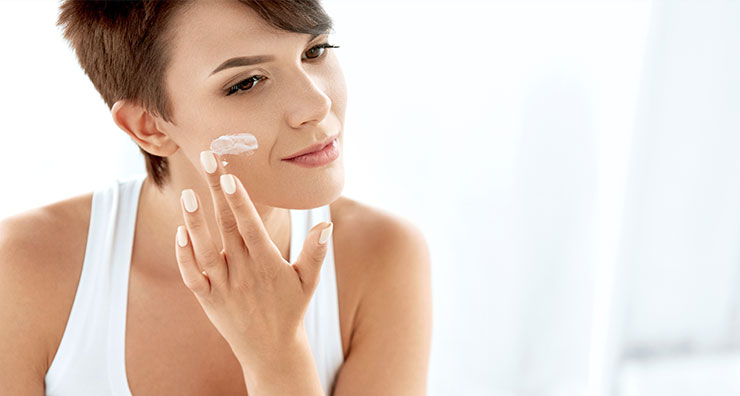 You can have all the best skin care products, but if you're not applying them correctly, you're not getting their full benefits. Figuring out the best order for layering skin care products can be confusing, but we've done the research for you! If you're wondering whether your treatment, sunscreen or moisturizer should come first, here's what you need to remember to help every product work its best in your routine.
Skin Care Layering Basics
After cleansing your skin, Dr. Joel Schlessinger, CEO of LovelySkin.com and board-certified dermatologist, recommends applying skin care products from thinnest consistency to thickest:
Toner
Serum
Oil
Emulsion
Lotion
Cream
Balm
Sunscreen or Night Cream
Why? Toners, serums and oils absorb easily into clean, dry skin, but they have a harder time penetrating through layers of moisturizing products like lotions, creams or balms. Treatment products also have higher concentrations of active ingredients than moisturizers, so you should apply them first to deliver those ingredients directly to your skin.
Note: Depending on your skin type, the best skin care routine for you may not include every type of product above. If you have oily skin, for example, you may find that a day routine of toner, serum, emulsion and sunscreen works best for you!
Step 1. Toner
Toners are exceptionally light, and help to prep your skin so your other treatments absorb more fully. There are many different types of toners that exfoliate, brighten, protect with antioxidants, balance skin's pH and more, so no matter what your skin concerns are, there's a toner that will enhance the benefits you get from the rest of your routine.
Step 2. Serum
Treatment serums have very light consistencies, but they can vary from feeling like water to having a heavier gel texture. Serums also typically have the highest concentrations of active ingredients, so you want to apply them directly after cleansing and toning to help those ingredients absorb fully. When in doubt, apply your lightest serums first.
Step 3. Oil
Oils are just slightly thicker than serums, and while they often contain a good concentration of active ingredients themselves, they're also meant to provide hydration. If you apply a serum over oil, the serum's ingredients can have a harder time penetrating the oil to get to your skin.
Step 4. Emulsion
Emulsions feel like very light lotions and bridge the gap between a treatment product and a hydrator. They often contain skin-nourishing ingredients like vitamin C, retinol and hyaluronic acid, and are formulated to provide light moisture, so they're great for oily or combination skin types.
Step 5. Lotion
Lotions are thicker than serums, oils or emulsions, but not as rich as a typical cream. Lotions are best applied after treatment products because they help to hold moisture and active ingredients in the skin. If you love the benefits of a particular lotion but find that it just doesn't give you enough moisture, your favorite brand might have a similar cream formulation available.
Step 6. Cream
Creams help to deliver intense hydration to skin while sealing in the benefits of other treatment products. They often contain rich ingredients like shea butter and avocado oil, and the best creams also include advanced actives like antioxidants and peptides.
Step 7. Balm
For extremely dry or irritation-prone skin, balms provide soothing comfort in some of the richest formulations available. Balms are usually very emollient and need to be warmed before they'll spread easily on skin. Because of their thick texture, any products with thinner consistencies applied over them will have difficulty penetrating through them.
Step 8. Sunscreen/Night Cream
Sunscreen should always be the last step in your daytime skin care routine, after any other moisturizers. Whether they're mineral or chemical, sunscreens provide optimal protection when they've created a barrier between your skin (and the rest of your skin care products) and the sun's UV and infrared rays. At bedtime, your night cream should be the last step in your routine.
How do you apply your skin care products? Let us know in the comments below!
Connect with Us!