Ask the Experts
Make the Most of Your Beauty Sleep with Glycolic 10 Renew Overnight
by LovelySkin
|
March 12, 2019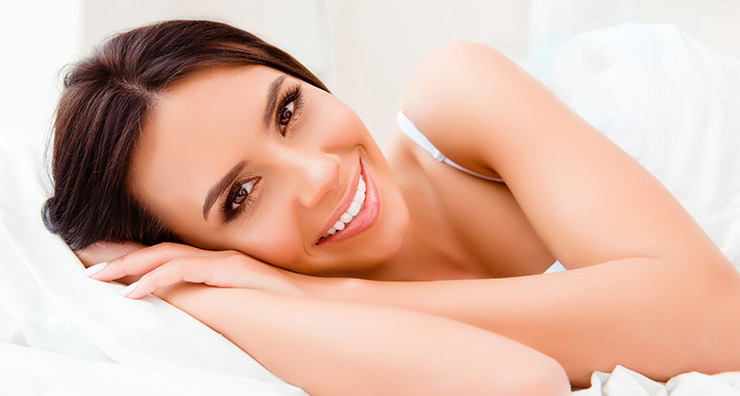 Experts from SkinCeuticals are here to explain how you should use products with glycolic acid to gently exfoliate your skin as you sleep!
Exfoliation is essential for maintaining healthy, youthful-looking, glowing skin, but sometimes, there just isn't enough time in the day to treat yourself to a skin-smoothing mask or at-home peel. So, why not make the most of your nighttime downtime with a treatment product that works to improve the skin's texture, tone and radiance while you sleep?
Using Glycolic Acid
But first, just what is glycolic acid? Often derived from sugar cane, this alpha-hydroxy acid helps loosen the "glue" that holds dead cells on the surface of the skin, making it easier for them to shed naturally. This boost in cell turnover helps improve the appearance of fine lines, rough texture and uneven skin tone. But for a product to be effective, it needs to contain the proper concentration of glycolic acid, and it needs to be formulated at a low pH to preserve its strength. This allows it to do its job once it's applied to the skin.
SkinCeuticals Glycolic 10 Renew Overnight
SkinCeuticals Glycolic 10 Renew Overnight fits these criteria and is clinically proven to significantly improve skin radiance, texture and tone within eight weeks. Even more, it can be used every night without unwanted side effects (after beginning with every other night for the first week). This innovative skin-rejuvenating treatment also features 2% phytic acid and a triple-blend of soothing ingredients that help reinforce the skin's barrier, which keeps the risk of irritation to a minimum.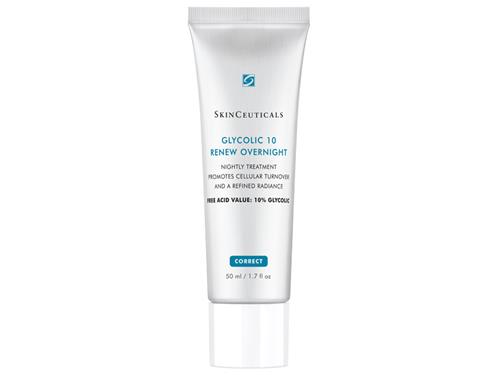 To make the most of Glycolic 10 Renew Overnight's results, a gentle cleanser such as SkinCeuticals Gentle Cleanser sets the stage for your evening skin care routine, while SkinCeuticals Resveratrol B E provides antioxidants that help repair accumulated damage from throughout the day (while enhancing the appearance of skin radiance and firmness). Glycolic 10 Renew Overnight is also ideal for use in conjunction with professional chemical peels to precondition the skin beforehand, as well as extend the duration of your results.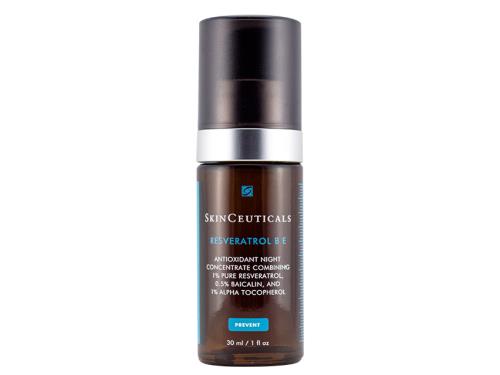 SkinCeuticals Physical Fusion UV Defense SPF 50.
Just remember, it's essential to use sunscreen daily when using an at-home acid-based treatment or getting professional peels (or even if you're not), as exfoliating ingredients like glycolic acid remove the uppermost layers of the skin that provide some degree of sun protection. Furthermore, daily sun protection also acts like an insurance policy that helps maintain your results. We'd recommend finishing your exfoliation regimen with SkinCeuticals Physical Fusion UV Defense SPF 50.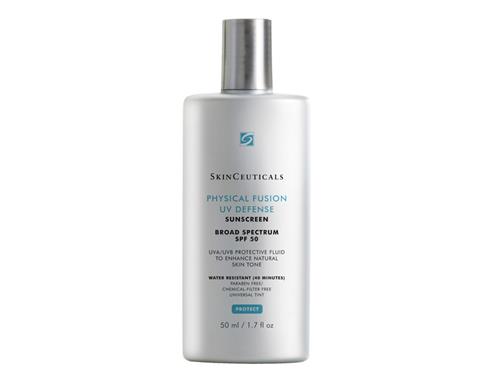 Do you like learning about SkinCeuticals products? Check out this blog that explains what SkinCeuticals Retinol is best for you: https://www.lovelyskin.com/blog/p/-a-skinceuticals-retinol-for-every-skin-
Shop This Blog
Highlights
Achieve a more radiant complexion with SkinCeuticals Glycolic 10 Renew Overnight.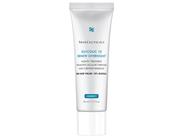 Quick Shop +
Highlights
Helps repairs damage
Strengthens and conditions skin
Contains vitamin E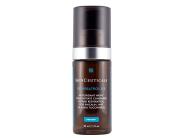 Quick Shop +
Highlights
Conditions skin
Soothes irritation
Removes dirt and oil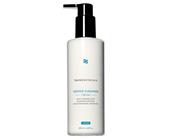 Quick Shop +
2 sizes
Highlights
Lightly tinted
Non-comedogenic
Paraben-free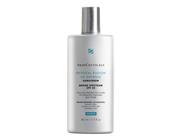 Quick Shop +
2 sizes
Connect with Us!