Hot Products
MEG 21 Guest Post with Annette M. Tobia, PhD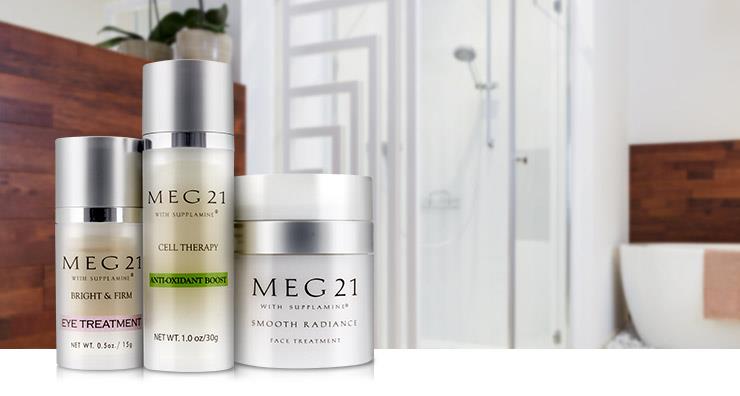 For today's blog, we'd like to welcome a special guest!
We had the wonderful opportunity to hear from Annette M. Tobia, PhD, founder, CEO and president of MEG 21, about her line of easy-to-use anti-aging products. These unique formulas not only have an impressive clinical research background, they were created by women, for women.
MEG 21 was inspired by what Dr. Tobia refers to as "cosmetic fatigue," the idea that there are so many different products to choose from with so little time for busy women to choose among them and use them as recommended. She and a team of scientists set out to create a "do-it-all, do-it-well" line of products that are quick and easy to use.
The team first developed Supplamine, MEG 21's patented star ingredient, at the Fox Chase Cancer Center in Philadelphia while completing research for accelerated aging diseases associated with diabetes. They discovered that Supplamine, a compound of amino sugar and amino acid, helped to prevent the glycation process, a leading cause of premature aging.
Glycation occurs when simple sugars attach to protein and begin to form advanced glycation end products, or A.G.E.s. A.G.E.s eventually attach to collagen and elastin proteins, those that are responsible for keeping skin firm and supple. This causes increased inflammation and the onset of signs of aging such as fine lines and wrinkles. With MEG 21's Supplamine, Dr. Tobia says, "Prevention of A.G.E.s by targeting glycation will prevent these alterations to the skin." Through seven clinical trials, the team discovered that Supplamine has the power to reduce visible signs of aging in as little as 14 days!
At LovelySkin, we were excited to give away MEG 21 Bright & Firm Eye Treatment during our Thanksgiveaway contest last month. This multitasking eye cream targets not only fine lines and wrinkles, but also dark circles and puffiness. Supplamine and botanical extracts help to prevent glycation, inflammation and free radical damage while firming and strengthening the fragile skin around the eye.
We also love MEG 21 Anti-Oxidant Boost, a silky cream that combines Supplamine with indian gooseberry and grape seed extract. Together, these ingredients prevent glycation and free radical formation and protect against environmental stressors. This lightweight formula also promotes a healthy, radiant glow for an overall rejuvenated appearance.
Do you have a question about MEG 21? Let us know in the comments section.
Shop This Blog
Highlights
Hydrates the eye area
Brightens dark circles under eyes
Firms and brightens the eye area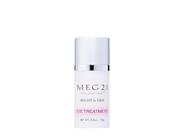 Quick Shop +
Highlights
Defends against free radical damage
Creates a silky soft texture
Adds a soft, radiant glow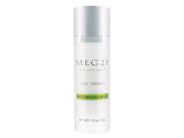 Quick Shop +