Skin Care
Micellar Water: Your Skin's New Best Friend
by Stepha
|
February 29, 2016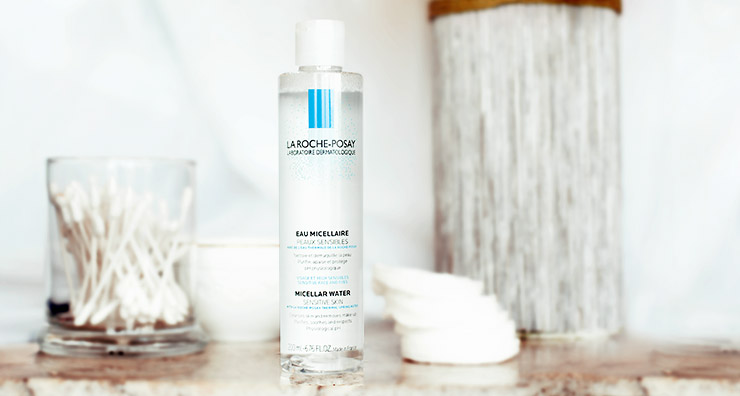 Micellar water sounds like a high-tech concept, but fancy name aside, it may just be the simplest cleansing solution we've come across yet. Pronounced like "my cellar," it would be easy to mistake for regular old tap water at first glance. But trust us, micellar water has way more going for it--we're seriously in love and seriously excited to introduce you.
It's Been Around for Decades
Micellar water has been a beauty staple in France since the 90s. Back then, it was a necessity since the notoriously hard water could be harsh and drying on skin. The water purification system eventually improved, but people were still hooked. Now, micellar water has finally found its way to the States as a go-to option for the perfect quick cleanse.
It's Not a Cleanser, Toner or Makeup Remover . . . It's Actually All 3!
If you take a glass of water and pour a little oil on top, you'll notice that they remain separated in visible layers. Oil and water do not mix. That's where surfactants come in. Surfactant molecules act as cleansing agents in our skin care, and they are the most important ingredient in any facial cleanser, shampoo or soap. Surfactant molecules have a head and a tail. The head is attracted to water while the tail is attracted to oil. Their balanced head and tail allow them to be suspended in water without repelling it.
Micelles are clusters of surfactant molecules, and micellar water is just surfactant molecules suspended in pure, soft water. The oil-loving tails of micelles are attracted to impurities (even makeup, though you may have a little trouble with waterproof eye makeup!), and they draw them out of skin gently and quickly, much like a magnet. When you soak a cotton pad in micellar water and sweep it over skin, the tails stick straight up to pull out dirt and oil so that it all winds up on the pad. Of course, this is all invisible to the naked eye, but it's fascinating nonetheless! There's no over-drying, tightening or tingling afterward, just a hydrated, glowing complexion that feels completely refreshed.
And did we mention no rinsing required? Yep, no rinsing! To use a micellar water, all you have to do is soak a cotton pad as we mentioned above and sweep it over your face. That's it. You won't need to rinse and you won't need to follow up with an additional cleanser or toner unless you want to do so. It's important to note, though, that depending on how heavy your makeup is, you may need to go over your face with micellar water again or pick up a separate eye makeup remover.
Who Should Use It?
In short, everyone! But if any of the following scenarios describe you, micellar water could save your skin.
You're a jetsetter.
If you travel frequently for business or leisure, you're probably always looking for new ways to save space in your suitcase and keep skin balanced during long, dehydrating flights. Micellar water's 3-in-1 cleansing, toning and makeup-removing action means packing light and streamlining your routine. And because there's no water required, you can use it anytime, anywhere.
You're always on the go.
Do you lay down after a long day and debate whether you really need to remove your makeup before you fall asleep? You definitely do, and micellar water can help! Keep it on your nightstand with a stack of cotton pads and use it to sweep away all makeup and achieve a great cleanse and pore-purifying tone all in one go. Busy mom, Kali, our Customer Care Assistant Manager, raves, "It is so easy to use and wonderful in removing all the makeup from the day!"
You're a sensitive skin type.
For those with sensitive skin, finding a mild cleanser that won't aggravate redness, dryness and bumps can be a real challenge. Our Social Media Strategist, Marie, swears by micellar water: "My sensitive skin loves micellar water because I don't have to scrub my face in order to get it clean. The water feels incredibly gentle and soothing on my skin."
You don't have access to running water.
Whether you have a job that requires extended periods of time in the field, or you love to camp, micellar water can keep your skin clear and balanced. Who says you have to sacrifice beauty in the great outdoors?
You worry you aren't getting an effective enough cleanse.
Micellar water doesn't have to be used on its own. It also makes a great pre-cleanse for your traditional cleanser. Erin, one of our Customer Care Team members, uses it to take off makeup and make sure her skin is completely free of any residue. "I absolutely love using micellar water in my daily routine. I use it at night before my regular cleanser, and in the morning, it's great for a quick cleanse to remove any residue from products I used the night before."
Intrigued? Try La Roche-Posay Micellar Water, an award-winning formula that leaves skin calm, healthy and hydrated. Dirt-encapsulating micelles gently remove makeup and other impurities, while the soft water helps to nourish skin and alleviate any redness. Just soak a cotton pad and use it twice daily as your sensitive skin cleanser or pre-cleanse, no rinsing required.
Have you fallen in love with micellar water yet? Let us know on Facebook, Twitter or Instagram using #LovelySkin!
Shop This Blog
Highlights
Oil-free
Suitable for sensitive eyes
Paraben-free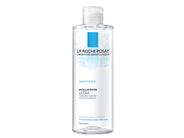 Quick Shop +
Connect with Us!