Sun Care
My UV Patch Diaries: Clark Hits the Links
Clark's Profile Summary
Skin Color: Light
Eye Color: Dark
Hair Color: Red
Phototype: 2 (Fair)
Skin Type: Mixed
Favorite Type of Sunscreen: Lotion
As LovelySkin's videographer, Clark is in charge of creating all the fantastic video content you find on the website. Since he spends most of his days working magic at his computer, he figured he didn't have much use for sunscreen.
"I wasn't sure how useful My UV Patch would be for me at first—I don't usually wear sunscreen at the office and I wasn't expecting my UV exposure to be high at all. Honestly, it's not something I think much about day to day."
From the first day he put on My UV Patch, though, Clark quickly realized just how much sun exposure he was getting, and it was a lot more than he thought. Looking at his app on a sunny Thursday morning, he saw that the UV index was already at 3 for a medium risk of sun exposure, and over the day it peaked as high as 7, putting him at a high risk of getting too much sun. At the end of the first day, his UV exposure was 42 percent.
"My UV Patch ended up being really eye-opening for me, and it was kind of fun, too," Clark said. "Getting the daily reminders to scan the patch helped me realize how little I'm paying attention to my UV exposure. I didn't really think about how much sun I get on my commute or when I go out to grab some lunch, but now I make sure that I'm protected."
On his days at the office, Clark used La Roche-Posay Anthelios 45 Face Ultra Light Sunscreen Fluid. "Usually I prefer a lotion sunscreen, and I really liked how lightweight this one is," Clark said. "It doesn't weigh me down and doesn't feel greasy, either, which is a huge plus for me."
On Saturday, the weather was a little cooler but the day's UV index was still high at 8. This meant that his risk of sun exposure was very high, so he made sure to apply his sunscreen early and often. By the end of a long day doing chores around the house, his UV exposure was 57 percent.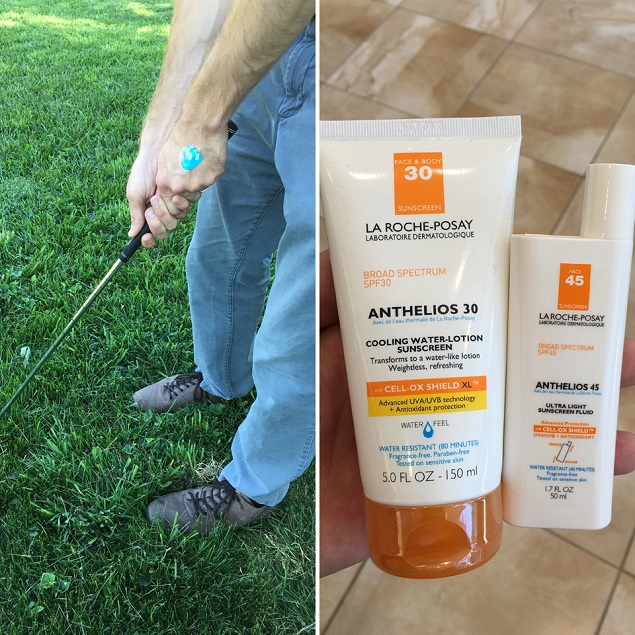 On Sunday Clark went out to play a round of golf, and he took along his La Roche-Posay Anthelios 30 Cooling Water-Lotion Sunscreen. It was a lucky thing, too, because this was the hottest, sunniest day by far, with a UV index of 10. He loved this sunscreen's cooling effect and water-like texture, and since it's water resistant for up to 80 minutes, he could spend less time reapplying and more time having fun. His UV exposure by the end of the day? 64 percent.
"At first I thought that I wouldn't like wearing the patch for 5 days straight," Clark said, "but it was so light I didn't really notice it was there. I'm glad I got a chance to use this new tech—it gives a lot of really interesting information and on top of that, I'm protecting myself better in the sun because of it."
Are you excited to try My UV Patch? Let us know why in the comments below!
Shop This Blog
Highlights
Provides a matte finish
Water-resistant
Suitable for sensitive skin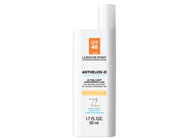 Quick Shop +
Highlights
A refreshing sunscreen that turns into a silky lotion.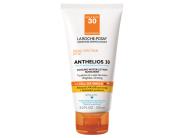 Quick Shop +
Connect with Us!