Skin Care
What Causes Crepey Neck Skin and How to Fix It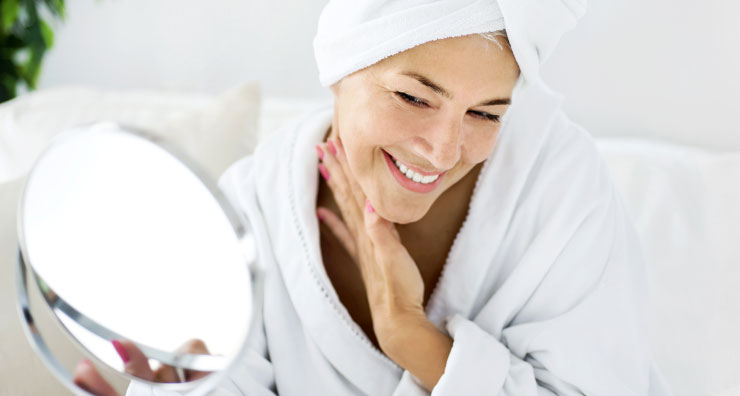 It goes by many names: elephant skin, tissue paper skin or just plain crepey skin, and if you have it you want to get rid of it. It's not so easy, though, because crepey skin is different from other wrinkles and needs a tailored approach to get results. Here's what causes crepey skin on your neck and the best products we've found to improve it!
A sugary diet can cause crepey skin.
Excess sugar in your body can begin to break down your skin's collagen fibers through a chemical process called glycation. When a sugar molecule binds with a protein molecule it creates an advanced glycation end-product (A.G.E.). Normally collagen fibers are flexible, but A.G.E.s cause collagen fibers to stiffen and break, which over time leads to paper-thin, sagging skin.
Glycation has a greater effect on skin that's thinner to begin with, which means you'll see it on your neck and chest first. One of our favorite neck treatments to fight the effects of glycation is NeoStrata Skin Active Triple Firming Neck Cream, which boosts collagen and elastin production with an advanced blend of amino acids, NeoGlucosamine and apple stem cell extract. Take a look at the impressive results of Triple Firming Neck Cream's clinical trials, headed by board-certified dermatologist, cosmetic surgeon and founder of LovelySkin.com, Dr. Joel Schlessinger.
It's not just aging—it's the sun.
Unlike other wrinkles like frown lines or 11s that are caused by facial expressions, crepey skin comes from a different source—the sun! Just as sugar can break down collagen fibers, over time UV exposure begins to do the same thing, leading to thinning of the skin, laxity and sagging. Because of this, crepey skin can appear anywhere on your body, but you're likely to see it first in areas like the neck and chest that are exposed to the sun a lot.
We always recommend applying a broad spectrum sunscreen of at least SPF 30 to prevent future sun damage, but that's only half the story. Certain skin care ingredients like peptides and amino acids are known to strengthen and firm crepey skin, which is why we love Revision Skincare Nectifirm. Smooth this peptide-enriched cream upward over your neck and chest, follow with sun protection and you're on your way to firmer skin.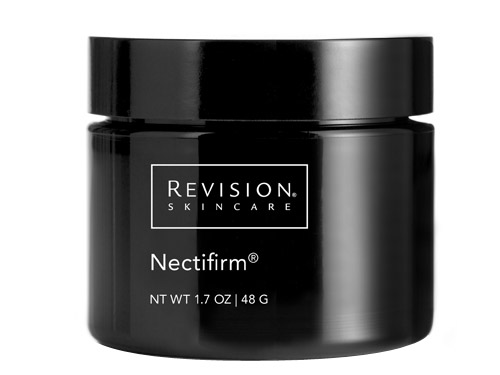 Dry, dehydrated skin is prone to crepiness.
Drier skin types need to be especially careful to avoid and repair crepey skin. Dry skin lacks the beneficial oils that keep your natural moisture barrier healthy, and this eventually leads to chronic dehydration that makes your skin feel less plump and more prone to collagen and elastin breakdown.
Keeping the thin, delicate skin on your neck and chest hydrated with a good moisturizer is essential in keeping your moisture barrier intact, and to truly repair crepey skin you should also look for ingredients like exfoliating acids that increase cell turnover. Right now we're excited about iS CLINICAL NeckPerfect Complex, because it combines advanced hydrators with exfoliating sugarcane extract to smooth and firm crepey-looking skin.
What causes of crepey skin surprised you the most? Let us know in the comments below!
Shop This Blog
Highlights
Firms and tightens the neck area
Plumps and rehydrates skin
Smooths rough, crepey skin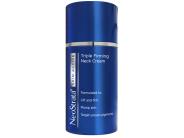 Quick Shop +
Highlights
Improves jawline contours
Lifts and firms sagging skin
Smooths rough, crepey skin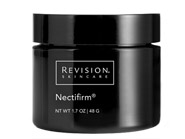 Quick Shop +
Highlights
Powered by targeted botanicals and extremely powerful antioxidants, NECKPERFECT COMPLEX transforms ...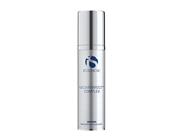 Quick Shop +
Connect with Us!