Ask the Experts
5 Questions Your Dermatologist Gets Asked Again and Again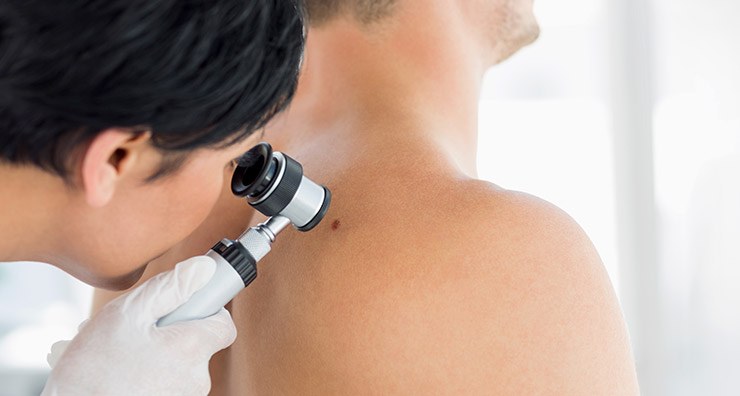 Whether posed by friends, patients or even people they've just met, there are certain questions that dermatologists are asked again and again. Keep reading to learn about five of the most common queries dermatologists receive, as well as how to keep skin healthy and youthful.
"Is this spot cancer?"
Skin cancer is the most frequently diagnosed form of cancer in the United States, and patients are becoming increasingly aware of risk factors and prevention strategies. With amplified awareness comes a concern that this or that spot could be cancerous or precancerous, and dermatologists are regularly asked to perform quick mole checks, both inside and outside the office.
Sometimes, it's easy for your dermatologist to rule out skin cancer right away since common conditions, like seborrheic keratosis, can sometimes resemble symptoms. For more ambiguous spots, however, a diagnosis involves much more than a quick glance. Your dermatologist uses special equipment to perform skin cancer checks, and they may need to order a biopsy. The best way to receive an accurate diagnosis for an irregular mole or spot is to schedule an appointment.
"Do I need Botox?"
Botox is a neurotoxin that works to temporarily relax the muscles that cause expression lines. Crow's feet, smile lines and "11s" between the brows are often significantly minimized for an overall more youthful appearance.
Electing to have a cosmetic procedure is a personal choice. Your dermatologist can listen to your rejuvenation goals, evaluate your skin and let you know whether you would benefit from Botox. Remember, there are countless procedures available to address fine lines, wrinkles, loss of firmness and loss of volume. They may suggest a different treatment altogether or discuss how to combine Botox with other procedures to achieve your best results.
"Will I age like my parents?"
Genetics are proven to play a role in skin type and whether you develop certain conditions, like acne. However, aging well often comes down to lifestyle since diet and habits can greatly slow or accelerate the natural aging process. Smoking, frequent alcohol consumption and a diet heavy in saturated fat and sugar can lead to the breakdown of collagen and elastin and dull, wrinkled skin. Similarly, skipping sunscreen can damage skin and cause hyperpigmentation, a rough texture and fine lines, not to mention put you more at risk for skin cancer.
Don't look to your parents for clues. Instead, eat a diet rich in fruits, vegetables and lean meats, do not smoke and consume alcoholic beverages sparingly. You should also apply sunscreen daily and reapply throughout the day.
"What do you use on your face?"
Most dermatologists are pleased to share what products they personally swear by, but it's important to understand that their regimen may not work for you. Everyone's skin is a little different, and your dermatologist can make suggestions for you based on your unique needs. For more universal products, like sunscreen, your physician may have a brand or line in mind. For example, Dr. Schlessinger personally uses EltaMD sunscreens and recommends them to all of his patients. He has also used his own line, LovelySkin, since the 1990s, and he feels that it has done a great job of keeping his skin feeling supple, smooth and rejuvenated. As the line has advanced over time, so have the skin benefits. With its most recent advancement, the new LovelySkin LUXE extension, the products are more elegant and effective than ever, and Dr. Schlessinger and his patients love them!
"What is the latest must-have miracle product?"
As stated above, there is no such thing as a one-size-fits-all skin care routine or a miracle formula that will magically erase wrinkles. While complying with a professional-quality regimen may help prolong signs of aging and visibly improve skin, the single best product you can buy is sunscreen. Sun exposure not only breaks down healthy collagen and causes a rough, mottled texture and tone, it's the leading cause of skin cancer. Applying an SPF daily, rain or shine, is the best way to maintain healthy, young-looking skin and prevent a potentially life-threatening disease down the road.
Though sunscreen is your best bet for a radiant complexion, your dermatologist can suggest additional products that will help you achieve smooth, beautiful skin. Ask them about prescription-strength anti-aging ingredients, like tretinoin and hydroquinone, as well as top anti-aging brands to explore.
Do you have a question for Dr. Schlessinger? Let us know in the comments section.
Connect with Us!