Skin Care
Beach-Ready Feet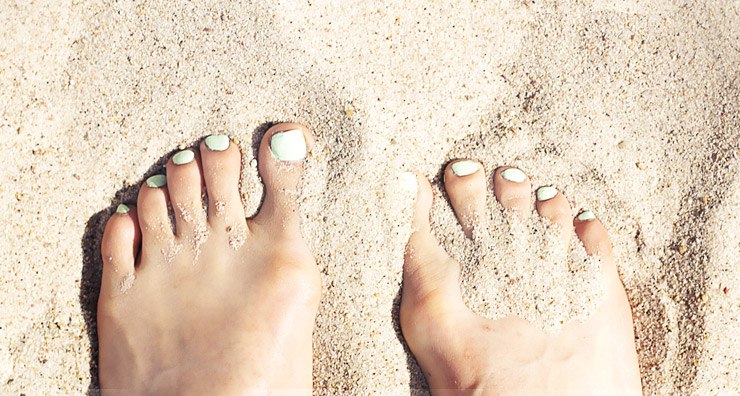 A day at the beach means three things: sun, surf and sandals. We know you're armed and ready with your sunscreen and swimsuit, but what about your pedicure? You don't have to book an appointment at the spa to prepare your feet for the beach. Give yourself a luxurious, spa-quality pedicure at home with these easy steps.
Start by removing old nail polish and filling a basin with warm water. Add a foot soak like essie Spa Pedicure - Foot Alert - Foot Soak to the water. The salt in this formula will help soften rough skin. Let your feet soak for no more than five minutes and then pat skin dry with a clean towel.
Next, use a tool like the Clarisonic Pedi Sonic Foot Transformation System to soften rough calluses and hardened heels. In this Clarisonic Pedi kit, you'll find Pedi-Buff Sonic Foot Smoothing Treatment, which has an exfoliating blend of lactic acid, apricot seed and a tri-fruit acid complex that refines rough skin. Apply a small amount of this exfoliating treatment to the soles of the feet and then use the Pedi device to massage it into skin for two minutes on each foot. Focus on heels and rough, dry areas where calluses usually form. When you're finished, massage a liberal amount of Pedi-Balm Sonic Foot Softening Treatment onto feet, which will hydrate and comfort skin.
If you already have a favorite moisturizing foot cream, you can also use a foot file like Diamancel Classic Buffer - #10 to exfoliate and smooth heels.
Trim your toenails straight across with nail clippers. Use three cuts to trim each nail, as clipping the entire nail at once can cut too close to skin. Then, gently round the edges of each nail with an emery board. Do not trim your cuticles. This skin is there to protect nails from infection.
Now it's time for a little color. Before applying any polish, wipe off any oil left on nails with a polish remover and then spread toes apart with a toe separatoror tissues. First, apply a base coat like essie Protein Base Coat, which helps to strengthen nails, create a smooth canvas for polish and extend the life of your pedicure. Paint all 10 toes with two coats of nail polish (this season, we love essie Boom Boom Room's bright pink hue!). Finish things off with a top coat like essie No Chips Ahead Top Coat to protect your pedicure against fading, chipping or peeling. Wait at least 15 minutes for your polish to dry before slipping on a pair of sandals.
Maintain soft, smooth heels between pedicures with NeoStrata Problem Dry Skin Cream. This dry skin cream contains 20% alpha hydroxy acids that exfoliate to smooth dry, rough and callused feet. It also contains moisturizing ingredients like beeswax and other oil extracts to relieve itchiness, flakiness and inflammation. This cream is clinically proven to improve skin texture after three weeks of daily use. Check out these great results below!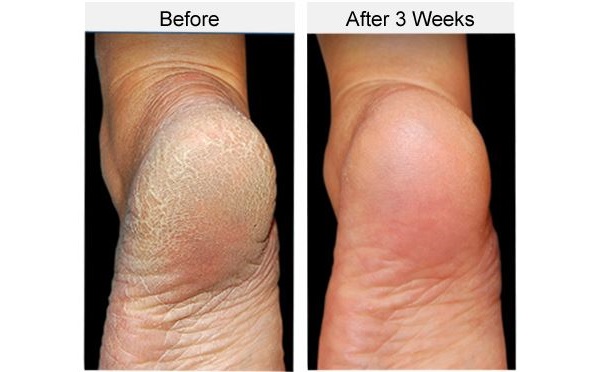 What's your favorite part of a pedicure? Share with us in the comments.
Shop This Blog
Highlights
Formulated with a blend of sea salts and cupuacu butter, essie Foot Alert Foot Soak is a stimulatin...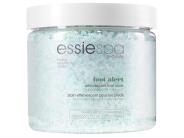 Quick Shop +
Highlights
Designed for use on the feet
Hydrates and soothes feet
Repairs dry skin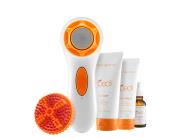 Quick Shop +
Highlights
Smooths skin
Removes roughness and calluses
Designed for use on the feet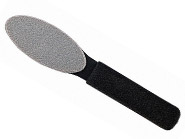 Quick Shop +
Highlights
essie Protein Base Coat helps to strengthen the nail while leaving a smooth canvas for polish appli...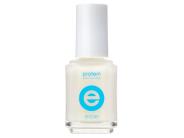 Quick Shop +
Highlights
Feel like dancing the night away in the hottest boîte in town? This ultrabright pink nail pol...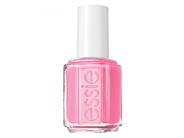 Quick Shop +
Highlights
Long live color! Formulated with a wear extender and color shield to protect against fading, resist...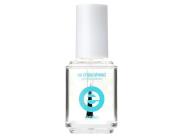 Quick Shop +
Highlights
Best suited for dry skin
Exfoliates to remove dead skin cells
Ideal for use on callused hands and feet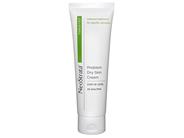 Quick Shop +