Ask the Experts
Should I Use a Shower Loofah, Washcloth or My Hands to Clean My Skin?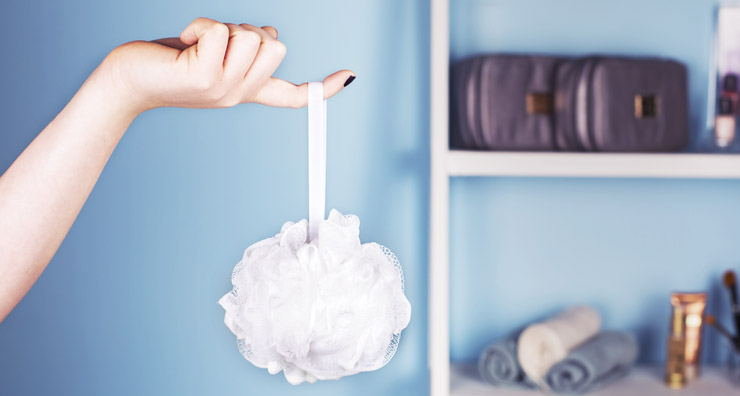 Dear LovelySkin: Should I use a shower loofah, washcloth or my hands when I'm in the shower?
The method you use to cleanse your skin is really down to personal preference, but there are definite pros and cons for each. No matter which you choose, you'll want to be sure you're using the best techniques and products.
Washcloth
Pros:
Depending on texture, washcloths can help provide gentle to intense exfoliation. You can also easily control the amount of pressure you use, allowing for a concentration on tough areas like the knees and elbows and a more gentle touch on sensitive skin. They are a low-cost option, and you can use any mild cleanser you'd like with your washcloth and still receive exfoliating benefits that are similar to a physical scrub.
Cons:
While washcloths are inexpensive and versatile, they are also known to harbor bacteria. A used washcloth that is left to air each day creates an ideal environment for mold and bacteria to thrive. Plus, each time you use it, dirt, oil and dead skin cells get caught in the fibers, creating even more germs. Certain infections, like pink eye and staph infection, can be spread through sharing washcloths. Those with skin conditions such as eczema and psoriasis may be especially at risk for irritation and infection, or they may find washcloth exfoliation harsh and uncomfortable.
Verdict:
We recommend skipping the washcloth for facial cleansing. The risk of spreading acne-causing bacteria and clogging pores with debris is high, and dry areas can form from daily friction. If you love your washcloth, reserve it for use on the body. Don't scrub too hard and avoid rubbing body acne or other skin irritations. Never share washcloths and change out your washcloth every single day.
For a gentle, quick-drying option, try Dermalogica The Sponge Cloth, a soft-textured cloth for all skin types that can be wrung out and reused.
Shower Loofah
Pros:
Loofahs have many of the same benefits as washcloths. They can provide excellent exfoliation, particularly when skin is especially dry and flaky in the winter months. Loofahs can also help enhance circulation and encourage pores to expel oil and other impurities.
Cons:
When it comes to harboring mold, germs and bacteria, loofahs may be of even more concern than washcloths. Loofahs trap and hold moisture more effectively due to their structure. In addition to various strains of bacteria, they can also contain yeast, a form of Candida responsible for many different rashes and infections. Bacterial folliculitis, a condition in which the hair follicles become inflamed, can cultivate and spread through use of an unclean loofah.
Verdict:
Reserve your loofah for the body only and use gentle circular motions while cleansing to avoid over-exfoliating. Never share your loofah and do not hang it in the shower to dry. To ensure that it dries out properly, store your loofah in a cool, dry place where there is little moisture. You will need to replace it every three to four weeks.
At LovelySkin, we have loofahs and sponges of all shapes and sizes. If you're tired of your poof, change it up with the LATHER Natural Sea Wool Sponge or the LATHER Body Buffing Mitt. Both are a bit less abrasive than a traditional loofah, but still effective.
Your Hands
Pros:
You can cleanse your skin with your hands any time. Unless your hands are rough, you'll receive a gentle, mild cleanse, making this method great for those who are sensitive, have a skin condition or who are otherwise prone to irritation. In fact, LovelySkin CEO and board-certified dermatologist Dr. Joel Schlessinger recommends cleansing with your hands over a loofah or washcloth.
Cons:
Hands are not considered optimal for exfoliation, which can leave behind dirt, oil and dead skin cells. Unclean hands can also contaminate skin on the face and body with acne-causing bacteria.
Verdict:
Using your hands is perfectly fine as long as you wash them first to avoid spreading bacteria. Always use gentle circular motions when massaging in cleanser. Also, if you plan to use just your hands for cleansing, you'll want to invest in a good body scrub and facial exfoliator to add to your routine two to three times a week. We love ELEMIS Frangipani Monoi Salt Glow for the body and NIA24 Physical Cleansing Scrub for the face. If you prefer not to use a physical exfoliator on your face due to irritation or sensitivity, try a product with a mild percentage of glycolic acid, like LovelySkin LUXE Clarifying Gel Cleanser.
Remember, there are also several wonderful devices available to help you achieve fresh, clean skin every time you cleanse. Dr. Schlessinger is a huge fan of Clarisonic devices, and one of our best-sellers is the Clarisonic Smart Profile Skin Cleansing System. The device uses sonic frequency and SMART microchip technology to automatically adjust speed, power and timing for optimal cleansing every time. Great for use on the face or body, this sonic cleansing brush exfoliates skin, leaving it smooth and soft.
Do you have a question about cleansing? Let us know in the comments section.
Shop This Blog
Highlights
Removes makeup and skin care treatments
Gentle enough for babies
Bacteria-resistant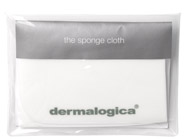 Quick Shop +
Highlights
A cleansing sponge that works with your favorite body cleanser.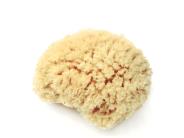 Quick Shop +
Highlights
Less abrasive than loofah and made with 100% sustainable bamboo and vegetable sisal, this buffing m...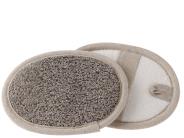 Quick Shop +
Highlights
A decadent salt scrub that melts on contact with the skin leaving it beautifully soft and nourished...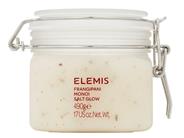 Quick Shop +
Highlights
Exfoliates dull, dry skin
Increases circulation
Softens uneven texture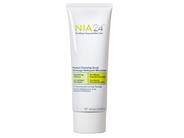 Quick Shop +
Highlights
Ideal for acne-prone skin
Eliminates blemishes with salicylic acid
Exfoliates with glycolic acid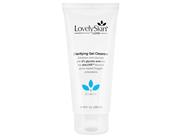 Quick Shop +
Highlights
Auto-adjusts for a better cleanse
Cleanses 11x better than hands alone
Features four speeds & turbo for body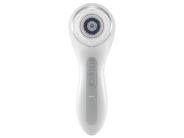 Quick Shop +