Sun Care
Everything You Need to Know About Squamous Cell Carcinoma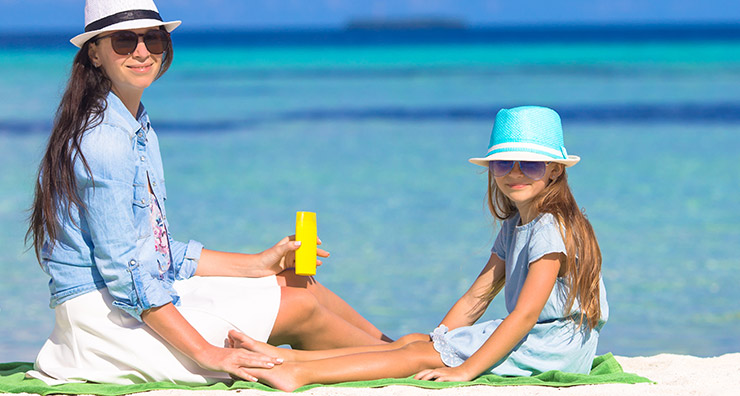 Understanding the different types of skin cancer can help you understand the best way to protect yourself against sun damage. Squamous cell carcinoma, while not as common as basal cell carcinoma, is a type of skin cancer that is seen frequently by dermatologists. Approximately 700,000 new cases of squamous cell carcinoma are diagnosed each year in the United States.
Anyone can develop this type of skin cancer although is most likely to develop on skin that has been exposed to the sun for many years. You will often see squamous cell develop on areas such as the face, ears, lips, hands, arms and legs, or any other area that is consistently exposed to UV rays. Individuals with fair complexions who do not tan easily are most likely to develop this type of cancer. If you have spent large amounts of time in the sun without sun protection, frequently visit tanning beds or been badly burned, you are more likely to develop this type of skin cancer.
Signs of squamous cell carcinoma include a bump or lump that feels rough and continues to grow or a flat, reddish and scaly patch that grows slowly. Squamous cell can also begin in a pre-cancerous growth called actinic keratosis, which appears as a rough, dry scaly patch that is irritated or itchy. While the risk is low, there is still a risk of squamous cell carcinoma spreading through the body. The only way to diagnose this type of cancer is with a skin biopsy so if you notice any of these symptoms, you should be checked by a dermatologist.
When caught early and treated correctly, this type of cancer can be cured. The most common treatments for squamous cell are excision and Mohs micrographic surgery. During the treatment, the cancerous cells are removed, which allows for a 96-98% cure rate. If the cancer is not caught early enough or has spread to other areas, radiation may also be used to treat the disease. Below is an example of squamous cell carcinoma that was successfully removed by Dr. Joel Schlessinger using the Mohs surgery method.
Patients who have been diagnosed with squamous cell carcinoma have a higher risk of developing another skin cancer. It is important to keep all follow-up appointments with your dermatologist and receive regular check-ups. Self-examinations can also be extremely helpful in discovering symptoms early.
To protect yourself against this type of skin cancer, follow safe sun guidelines. You should wear a broad spectrum sunscreen with an SPF 30 every day and reapply every two hours when you are in the sun for extended periods of time. You should also avoid direct sunlight between the hours of 10 a.m. and 4 p.m. to avoid the sun while it is at its strongest. Wide-brimmed hats, long sleeves and pants are also beneficial for protecting your skin.
If you have questions about squamous cell carcinoma, ask us below in the comments section.
Connect with Us!