Sun Care
The Best Sunscreens For Your Anti-Aging Routine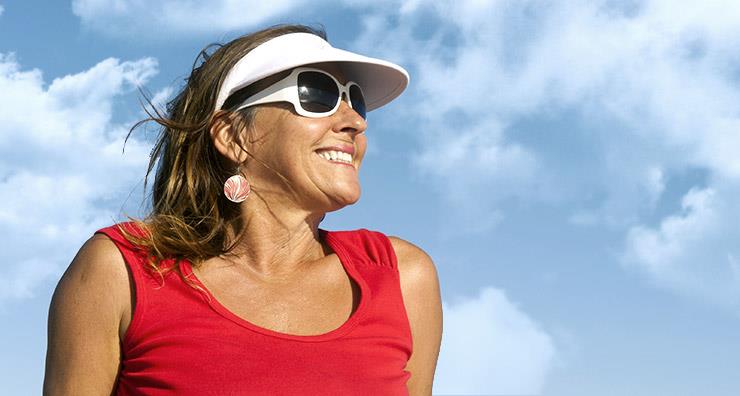 Sun protection is the last and perhaps most crucial component of your anti-aging skin care routine. Just a few minutes of sun exposure a day could add up over the years to produce sun-damaged skin and noticeable changes in tone, texture and firmness. Not only is repeated exposure to the sun responsible for the vast majority of premature aging, it is also the leading cause of skin cancer. Read on to find out more about the sun's role in the aging process as well as some of the best sunscreens for your anti-aging routine.
How does the sun affect the skin?
The sun emits ultraviolet radiation in the form of UVA, UVB and UVC rays. UVA, or what some people refer to as UV AGING rays account for 95% of the radiation that reaches the Earth's surface, making them 30 to 50 times more prevalent than UVB rays. While they aren't as intense, they penetrate the skin more deeply than UVB rays. Because they are the tanning ray, they play a key role in melanin production and photoaging over time. UVB, or UV BURN rays affect the outer layer of the skin, causing surface damage like reddening and sunburn. Their intensity depends upon location, season and time of day, with the highest intensity hitting earth between 10 a.m. and 4 p.m. from April to October. They are a threat to skin year-round, though, especially in high altitudes. UVC, or UV CLOUD rays are almost completely shielded by clouds so they are less likely to have a negative impact on the skin. However, above the cloud level (in the mountains, for example), UVC rays become a real issue.
Though researchers once thought that only UVB rays were cause for concern when it comes to sun damage, premature aging and skin cancer, studies indicate that UVA rays are just as harmful since they cause cumulative damage over time. In addition to UVA and UVB rays, mountain climbers and those who spend any amount of time above the cloud level for any reason must take extra care to wear lots of SPF to protect against UVC rays. Sunscreens like EltaMD (see LovelySkin's Top Sun Protection Picks below) work best for protection above the cloud level.
Collagen Breakdown
UV radiation accelerates collagen deterioration. Sun-damaged collagen fibers create abnormal elastin, and when this abnormal elastin accumulates, the body produces enzymes to try to manufacture healthier collagen. However, this process is often incomplete or imperfect, and when the skin must repeat the repair process over and over again, wrinkles begin to form, and the skin loses its suppleness.
Free Radical Formation
UV radiation creates free radicals, the unstable molecules that expedite the aging process. Because free radicals have only one electron, they must scavenge other cells for a second electron to make a pair. In doing so, they make holes in healthy cell walls and cause irreversible damage over time. Cell function is impaired and genetic material altered, causing fine lines and wrinkles. In some cases, free radical damage can even lead to skin cancer.
Changes in Skin Tone and Texture
Sun exposure causes thickening and thinning of the skin. Sun-damaged skin can be "leathery," uneven, craggy and/or excessively fragile. To protect itself from sun damage, the skin produces extra melanin, resulting in a tan. Permanent dark spots appear on the face, hands, chest and shoulders when melanin-producing cells become damaged and enlarged. Sun exposure can also cause blood vessels to become thin and stretched, leading to a blotchy red appearance or bruising from minor contact.
Skin Cancer
UV radiation is directly linked to skin cancers such as melanoma, basal cell carcinoma and squamous cell carcinoma. Skin cancers are on the rise, and according to the Skin Cancer Foundation, about 90% of all cases are associated with sun exposure.
The Best Sunscreens For Your Anti-Aging Routine
Wearing a sunscreen with an SPF of at least 15 can go a long way toward protecting your skin against premature signs of aging and skin cancer. It's also important to remember that certain anti-aging skin care ingredients can leave your skin more sensitive to the sun, making sun protection all the more important. SPF only signifies how well a product protects against UVB rays, not UVA. This is why it's important to choose products that offer broad spectrum protection. At LovelySkin.com, we carry a wide variety of sunscreens in formulations to suit every skin type and lifestyle. Follow package directions and re-apply often to ward off harmful rays effectively.
EltaMD UV Clear SPF 46 Broad-Spectrum Sunscreen is a part of Dr. Schlessinger's personal skin care routine. The oil-free formula won't clog pores or leave a greasy residue, making it perfect for oily, acne-prone skin types. The lightweight sunscreen lotion uses 9% zinc oxide and 7.5% octinoxate to shield against UVA and UVB rays.
If you plan to be active outdoors, you need EltaMD UV Sport Water Resistant Broad-Spectrum SPF 50. This powerful sunscreen remains water-resistant for up to 80 minutes. It won't budge, even during swimming or excessive perspiring. The fragrance-free, paraben-free formula will not run into eyes, irritate the complexion or exacerbate acne.
Obagi Sun Shield Matte Broad Spectrum SPF 50 offers unbeatable lightweight protection using 10.5% zinc oxide and 7.5% octinoxate. The nourishing sunscreen lotion helps to prevent the dryness that can come with sun exposure. Its beautiful matte finish makes this product especially beneficial for oily skin types and great for layering under makeup.
For a non-liquid option, try Colorescience Sunforgettable Mineral Sunscreen Brush SPF 50. This mineral powder sunscreen comes in a convenient, all-in-one, self-loading brush for easy application on the go. Just sweep it across your face for instant sun protection with 23.9% titanium dioxide and 24.1% zinc oxide. The formula contains red seaweed extract to help firm and balance the skin and lend anti-aging benefits.
While Heliocare Sun Protection Pills won't stand in for regular sunscreen, they're an easy, innovative way to supplement your regular sun protection products. These sunscreen pills use advanced technology to defend your skin from the inside out. Potent antioxidants that have the power to improve sunscreen efficacy are the main ingredient in these dietary supplements. Taking one daily will help strengthen the skin and prevent it from incurring sun damage.
Do you have a question about the importance of sunscreen in your anti-aging skin care routine? Let us know on Facebook, Twitter or Instagram using #LovelySkin.
Shop This Blog
Highlights
Calms sensitivity and irritation
Creates a matte finish
Oil-free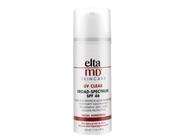 Quick Shop +
Highlights
Water-resistant
Fragrance-free and paraben-free
Oil-free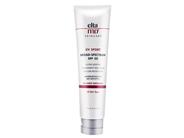 Quick Shop +
Highlights
Creates a sheer, matte finish
Prevents sun damage
Defends against aging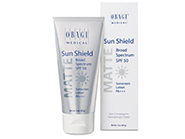 Quick Shop +
Highlights
Non-irritating
Water-resistant
Lightweight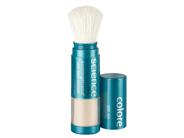 Quick Shop +
4 options
Highlights
Enhances UV protection
Strengthens immune response
Gradually builds UV tolerance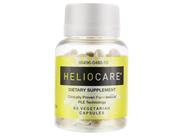 Quick Shop +
Connect with Us!