Hot Products
NuFACE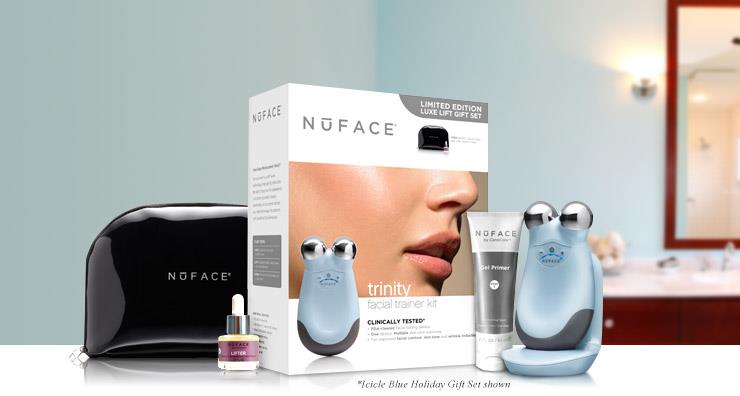 NuFACE is an industry leader in innovative anti-aging devices that can help you achieve firmer, smoother skin in a matter of weeks. The company strives to give men and women alike the tools they need to put their best face forward. NuFACE is dedicated to providing customers with the best available skin care advancements in convenient, easy-to-use technologies.
NuFACE's most sought-after product is the NuFACE Trinity Facial Trainer Kit, the first FDA-cleared handheld microcurrent skin care device. The Trinity Trainer works to gently stimulate larger surface areas of the face with low levels of microcurrent to improve facial contour, skin tone and the look of fine lines and wrinkles. Over time, in as little as five minutes a day, you can enjoy a more even complexion and a lifted, rejuvenated appearance. In fact, some customers like to refer to the Trinity treatment as "The 5-Minute Facial-lift".
After cleansing the face, apply the included NuFACE Gel Primer to ensure optimal microcurrent penetration. Place the device over targeted areas and move it in sequence according to suggested use or as directed by your physician. The device will make a soft beeping noise when it is time to move to another area.
You can use your device for between five and twenty minutes each day. It's convenient to use as part of your regular skin care routine or any time that your schedule allows. You can even use it while you catch up on your favorite television shows or relax in bed with a book!
Each NuFACE Trinity Facial Trainer Kit includes a handheld NuFACE Trinity Device, a NuFACE Trinity Facial Trainer (Microcurrent Attachment), a NuFACE Gel Primer, a Charging Cradle and Power Adaptor and a User Manual and Quickstart Guide. Each kit is also backed by a one-year warranty with a 30-day money back guarantee. For an additional fee, you have the option of purchasing an extended two-year warranty, protecting your device for a total of three years.
Additonal NuFACE accessories are sold separately for your more specialized needs. The Trinity Wrinkle Reducer uses infrared light therapy to address fine lines and deep wrinkles, while the Trinity ELE attachment helps to tone hard-to-reach places such as eyebrow furrows, crow's feet and smile lines. Each attachment is interchangeable with your Trinity device, and you use them to customize your anti-aging routine.
NuFACE also offers a mini device that is perfect for travel, plus a selection of skin care products to help supplement your microcurrent treatments. Visit LovelySkin.com/NuFACE to find out how you can put your best face forward with NuFACE accessories, skin care and devices.
Do you have a question about the NuFACE Trinity Device? Let us know in the comments section.
Shop This Blog
Highlights
WHY WE LOVE IT: Effectively targets hard-to-reach eyebrow furrows, crow's feet and smile lines wit...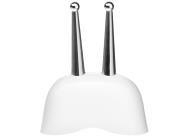 Quick Shop +
Highlights
WHY WE LOVE IT/WHAT IT IS: Award-winning, multi-solution, skin care device innovatively-designed w...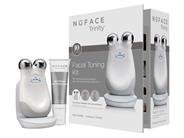 Quick Shop +
Highlights
WHY WE LOVE IT/WHAT IT IS: Give wrinkles the red light with the NuFACE Trinity Wrinkle Reducer, a ...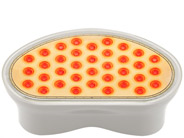 Quick Shop +
Highlights
New! Limited Edition NuFACE Trinity Facial Trainer Kit in Icicle Blue: known as the 5 minute Facial...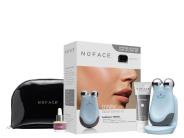 Quick Shop +