Beauty
Manicurists Face Threat of Cancer and Miscarriages From Nail Products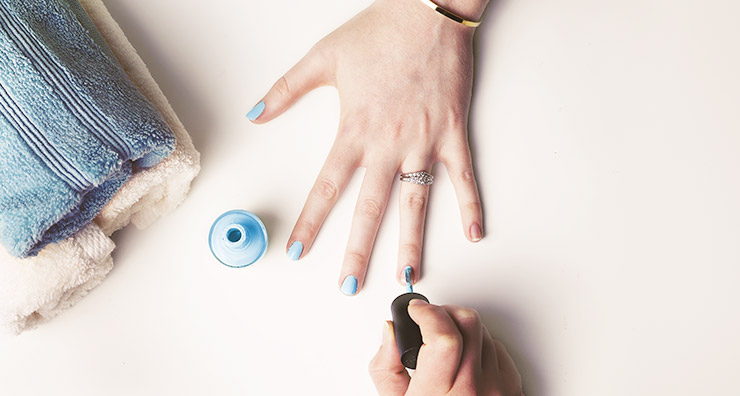 From fungal infections to UV damage, there are many health hazards associated with nail salons. A recent article in The New York Times brought to light even more serious dangers including threats of cancer and miscarriages—all thanks to chemicals found in everyday nail products.
The three chemicals in nail products that pose the most serious health risk are dibutyl phthalate, toluene and formaldehyde. Dibutyl phthalate, or DBP, makes nail polish and other products pliable, but it's also a known reproductive toxin. Toluene, which helps polish glide on smoothly, can impair cognitive and kidney function. Formaldehyde, a hardening agent in nail products, is a human carcinogen. All three chemicals can cause harm to unborn children and impair fertility.
Even with these findings, the nail industry still doesn't have concrete safety regulations that ban these chemicals in the use of cosmetics. Manicurists face the biggest threat of health issues because they are heavily exposed to these chemicals on a daily basis. But that doesn't mean you're safe if you only visit the nail salon once a week.
"[Nail salon] fumes can cause many unintended consequences for individuals, both in the industry or in their own homes," says Dr. Joel Schlessinger, board-certified dermatologist and founder of LovelySkin.com. "For this reason, I recommend putting on nail polish in an open and safe area where other individuals are not present to breathe in the fumes. This includes, in particular, closed spaces such as airplanes, small rooms and cars."
Although restrictions on nail products are lax, there are ways you can protect yourself when you visit the nail salon.
"When going to a nail salon, make sure that you are protected as well," Dr. Schlessinger says. "If the salon doesn't have adequate air movement, inquire about this and, if necessary, explain the importance of it to the owner of the salon."
LovelySkin only carries nail polish brands that have committed to a "3-free" promise, which means their products don't contain DBP, toluene or formaldehyde. Browse our entire selection of nail polishes today.
How do you protect yourself when you're at the nail salon? Share with us in the comments.
Connect with Us!