Ask the Experts
How to Choose the Perfect SkinCeuticals Sunscreen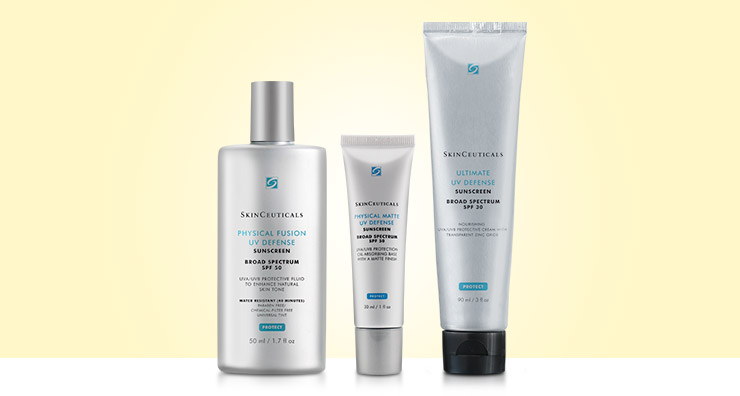 Using a sunscreen that's right for your skin type will make it easier to apply every day. Here to help you find the one that's perfect for you is the education team from SkinCeuticals.
It's essential to keep your skin type in mind when choosing a sun care product, but SkinCeuticals offers an array of options that allow you to factor in your preferences and lifestyle as well.
Each one has been formulated to be safe for all skin types, including formulas for sensitive and post-procedure use. All of these products also provide broad spectrum UV protection and can help decrease the risk of skin cancer and sun-induced premature aging!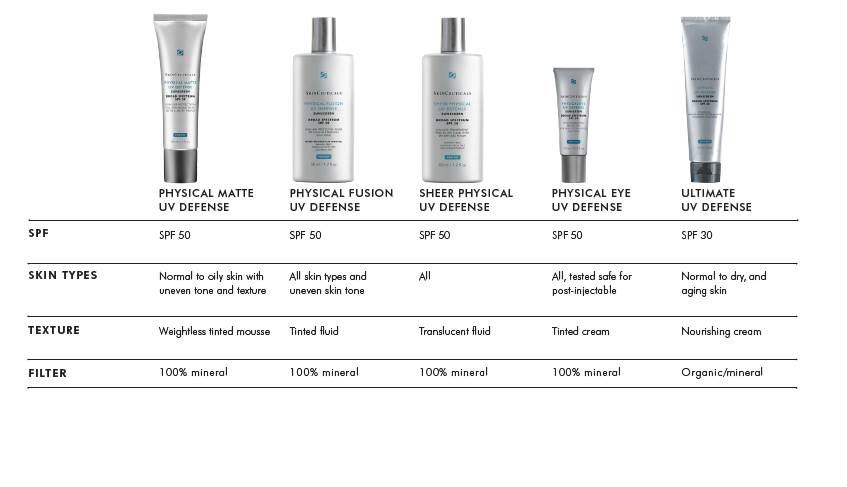 For light, oil absorbing coverage with a matte-finish . . .
Your sunscreen: SkinCeuticals Physical Matte UV Defense SPF 50
Summer's heat and humidity can lead to an increase in shine. This weightless tinted mousse helps you put your best face forward thanks to 100% mineral-based UV filters and oil-absorbing technology that keeps skin looking fresh when used on its own or under makeup.
For a lightweight fluid with a touch of coverage . . .
Your sunscreen: SkinCeuticals Physical Fusion UV Defense SPF 50
With a universal tint that helps even out the appearance of all skin tones, this 100% mineral-based, radiance-enhancing sunscreen fluid provides optimal sun protection with or without makeup.
For sheer, 100% mineral-based sun protection . . .
Your sunscreen: SkinCeuticals Sheer Physical UV Defense SPF 50
If a translucent fast-absorbing fluid is on your sunscreen wish list, this is the product for you. Offering broad spectrum protection with 100% mineral-based UV filters, this ultra-lightweight formulation leaves skin feeling soft and silky.
For nourishing, creamy sun protection . . .
Your sunscreen: SkinCeuticals Ultimate UV Defense SPF 30
Ideal for dry and aging skin, this hydrating sunscreen cream features a blend of organic and mineral-based UV filters for optimal protection in drier climates, high altitudes and other extreme conditions.
For tinted protection for the eye area . . .
Your sunscreen: SkinCeuticals Physical Eye UV Defense
The skin around the eyes is especially prone to premature signs of aging but diligent sun protection may help keep fine lines and wrinkles at bay. In addition to shielding this delicate area from damaging UV rays, this 100% mineral-based, non-migrating tinted cream also helps even out skin tone and doubles as a makeup primer.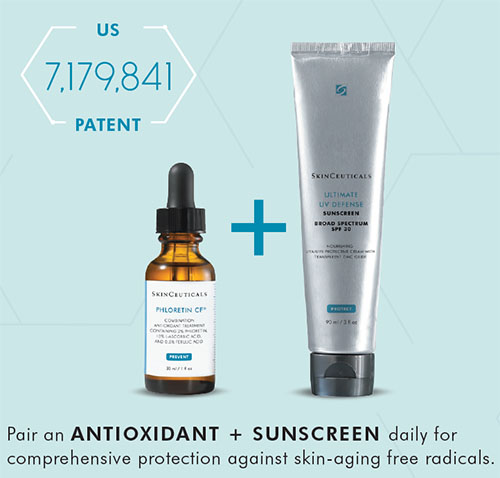 UV rays are just one of the causes of premature aging. For optimal protection against free radicals generated by the sun, pollution and lifestyle factors such as stress, heat, alcohol consumption and smoking, it's best to pair your sunscreen with the appropriate vitamin C antioxidant, such as SkinCeuticals C E Ferulic or SkinCeuticals Phloretin CF.
Shop This Blog
Highlights
Minimizes enlarged pores
Creates a matte finish
A physical sunscreen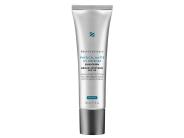 Quick Shop +
Highlights
Lightly tinted
Non-comedogenic
Paraben-free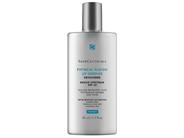 Quick Shop +
2 sizes
Highlights
Hydrates dry skin
Oil-free
Fragrance-free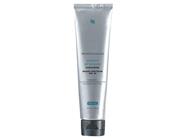 Quick Shop +
Highlights
Gentle enough for sensitive eyes
Lightly tinted
Defends against UV and free radical damage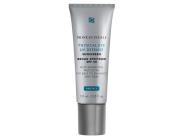 Quick Shop +
Connect with Us!