Ask the Experts
The Secret to Achieving Ultra-Clean Skin: The Dermalogica Double Cleanse
by Jennifer
|
September 07, 2017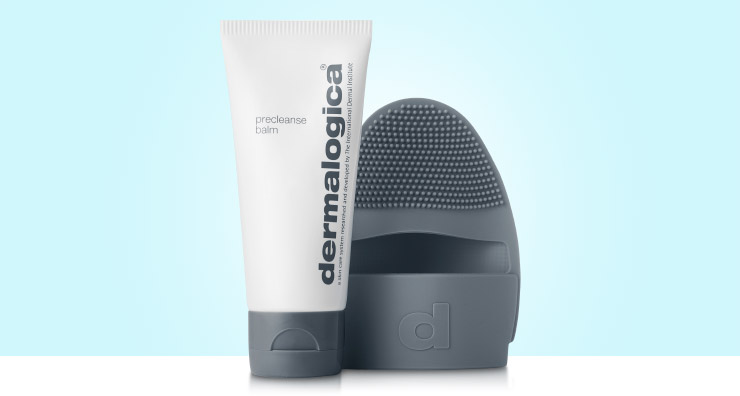 Ever heard of the double cleanse? It's a technique that can change your skin care routine completely. Here to share some information on it is Elizabeth Jones, the Advanced Instructor at the International Dermal Institute.
In your day to day life, your skin accumulates a substantial amount of buildup. Everything from environmental pollutants, sweat, and excess sebum to long-wear foundation and sunscreen. Despite these layers and layers of buildup, most people only spend about 20 seconds washing their face – which isn't nearly enough to break through the layers of debris coating the skin's surface. Leaving this residue on the skin can prevent serums and moisturizers from penetrating, reducing their optimal performance. It also dulls the skin's appearance and contributes to congestion.
Most cleansers are water-based, sudsy, or milky, but today's long-wear, water-resistant make-up and sunscreens are difficult to remove with water-based, surfactant cleansers alone. We need something more. Our solution? The Dermalogica double cleanse.
The Dermalogica Double Cleanse is a technique-based regimen taught to and performed exclusively by Dermalogica skin therapists. It's our secret to healthy, ultra-clean skin. Beginning with new Dermalogica PreCleanse Balm or our original Dermalogica PreCleanse, this technique effectively penetrates through layers of oily debris for complete removal. This ensures a more intense, professional level of clean – all without residue, stripping or irritation.
To achieve that extra level of clean as the first step in the Dermalogica Double Cleanse regimen, PreCleanse Balm uses beneficial plant-based oils to cut through and melt away oil-based debris on skin. Key ingredients include Apricot Kernel Oil, a nourishing, lightweight oil rich in fatty acids which tones, firms and enables the skin to maintain its moisture balance and a Natural Biolipid Complex to reinforce the skin's barrier function and preserve skin hydration.
How PreCleanse Balm works:
1. Apply PreCleanse Balm to dry skin to attract oil-based debris. Use the included double-sided silicone cleansing mitt to enhance and customize your cleanse.
2. Add water as this creates an emulsion to trap debris and flush it from the skin's surface.
3. Use your favorite Dermalogica cleanser like the Dermalogica Special Cleansing Gel or Dermalogica Skin Resurfacing Cleanser which will penetrate deeper into pores to remove trapped dirt, oil, and debris.
The result? A thorough cleanse that sets you up for your healthiest-looking skin.
Pro Tips:
Take your Double Cleanse on the go! PreCleanse Balm is great for travel and the gym, and is TSA-friendly.
Use it during the winter months to nourish and soften dry, dehydrated skin
Use as your make-up remover to break down waterproof mascara, long-wearing foundations and impossible-to-remove lipsticks!
Have you ever tried the double-cleanse? Let us know about it in the comments section!