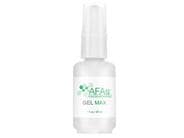 Reviews For
AFA Gel Max 19%
$99.00
AFA Gel Max
This stuff is amazing! Got rid of sun damage and my skin has never looked better. It works. LovelySkin Customer
Verified Purchase
AFA Gel Max 19%
I love this product I have been using this product for over 20 years. My dermatologist is the inventor of this great line. It is a wonderful line of products. I love the AFA gel max is my choice. I am 65 years old. My skin looks great and this is the products I use. I have no dark spots my face is very soft and very little wrinkles, and I have color in my face people can not believe how old I am. Best thing I ever used on my face. LovelySkin Customer
Verified Purchase
I found my silver bullet
One is always looking for a perfect solution to one's problem. Kind of a "silver bullet." I found mine some 24 years ago in AFAs gel. I am now 80 years old, and no one ever can guess my age. I look in my sixties. I started using it when I've seen it displayed at my dermatologist's reception, and graduated throughout the time to 19% strength. Mine is part of the morning routine, and I wear it under a sunscreen. There are other products on the market promoting to do the same as AFA, but this product is the best. I go to a lot of trouble to get it, as the cost of Freight to Australia where I live is quite hefty. But it is worth it. LovelySkin Customer
Verified Purchase
awesome
I have tried everything out there and this works awesome. I use this every night before bed and when I wake up I feel my face is refreshed and clearer. I love this stuff! I been using it for 3 years and haven't had a problem ever! LovelySkin Customer
Verified Purchase