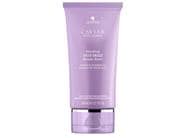 Reviews For
Alterna CAVIAR Anti-Aging Smoothing Anti-Frizz Blowout Butter
Healthy shiny hair
This is a great product! It makes my hair so shiny and manageable. This butter is thick but it melts so good in the palms and it is really easy to apply. This product gives my dry ends a good moisture and help them to look healthy and neat. I believe this blowout butter will last for a lot time. A little goes a long way. I use it before hair dryer and I am very happy with the way my hair looks. Alterna caviar blow out butter
I love this product. I use a quarter size dollop and smooth it through my wet hair then blow dry. It makes my hair shiny and has smoothed out my frizzes. I highly recommend this product to curly and frizzy hair types. Also use it when I let my hair air dry which helped to smooth and tame my curly hair. LovelySkin Customer
Verified Purchase
Excellent
This product is amazing, especially for putting my hair up in a ponytail in the Florida heat and humidity. A little definitely goes a long way because using too much can make your hair a little greasy. Otherwise, it's amazing! LovelySkin Customer
Verified Purchase
It didn't quite work for me.
This blowout butter for me did not work well. It weighs my hair down. It may be cause my hair is very thin. LovelySkin Customer
Verified Purchase
Great for humid climate
I just started using this. It's thick so use as directed. My hair felt silky and didn't look awful after leaving the house. I plan to reorder. LovelySkin Customer
Verified Purchase
Like it
I am a fan of the Alterna products. This one is light and works. LovelySkin Customer
Verified Purchase
Great Product
My hairdresser used this on me before she blow dried my hair the last time I went for a cut/style. I really liked it, so I purchased it to use at home. I have naturally wavy, frizzy, thin hair and I live in a very humid climate. While my hair is not naturally smooth or perfect ever, I believe this product really makes a difference in the frizziness level. You only need a small amount, so it will last a long time. I have tried many, many products over my lifetime, and I would rate this product as one of the best that I have used. I highly recommend it. LovelySkin Customer
Verified Purchase