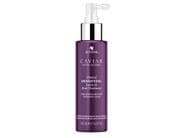 Reviews For
Alterna CAVIAR Anti-Aging Clinical Densifying Leave-In Root Treatment
Great product!
Only had this shampoo for a few weeks and love it so far. I was experiencing hair loss and so far so good...seems to be slowing down which is the goal. Love it Vanessav
Verified Purchase
So far, I love it
I gave a 4 star it's just too soon to tell, but so far, The product does make my scalp feel fresh and light. I do love this product line. Very high quality products that my hair loves! LovelySkin Customer
Verified Purchase
Great Product
I have been using the Alterna CAVIAR root treatment for just 2 weeks. So far, I like it. I have fine hair and I can see the difference already my new grow are much thicker and my hair does look fuller. I will continue using it. LovelySkin Customer
Verified Purchase
Nice Product
I've used the Leave-In Root Treatment for three weeks. Still in early days. The smell is nice, and the product is easily applied with no stinging and a clean sensation. So far, the experience has been as expected. I hope to see results within a reasonable time period. I've used Alterna products for several years with no problems. LovelySkin Customer
Verified Purchase
LOVE......WORKS
Takes 1 month for 1/2 inch new growth, I have seen RESULTS with lots of Volume...The BEST...💟 Good so far
I have only been using for a couple of weeks. It definitely adds some volume in dense areas, but the jury is still out as far as new hair growth. LovelySkin Customer
Verified Purchase
Love this product
I have very thin hair and most of the time it would be flat. I ordered this product because one of the review said she could see new hair came also. However I have started using it for 2 weeks I still don't see new hair yet but my hair seems to have more volume. I will keep using it and I hope I will see new baby hair comes up soon. LovelySkin Customer
Verified Purchase
Works well
Been using for two weeks and I start seeing some hairs growing out. LovelySkin Customer
Verified Purchase