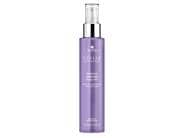 Reviews For
Alterna CAVIAR Anti-Aging Multiplying Volume Styling Mist
$30.00
Great for Refreshing Limp Hair
I've always loved this styling mist, it used to come in a different shaped bottle. I like to use it when on vacation in a tropical climate and after combing out my hair post shower before blowing it out. I have very long thick straight hair. Erika2020
Verified Purchase
Great volume for fine hair
This product provides great volume without weighing hair down. It has a pleasant fragrance and works well with the other products in this line. CyndiLynne
Verified Purchase
Nice Clean Smell but Disappointing Volume
I read about this product for quite some time. The reviews were wonderful so I bit. Well guess my un colored fine hair is to blame. It did nothing so I then tried to combine with Oribe Mousse. Still nothing.... not for me. Great volume
I got it with a hairdryer I bought from QVC. I liked it. Gives great hold. LovelySkin Customer
Verified Purchase
Go to for volume!
I purchased this product for my mom, who has fine, thinning hair. This must be her 7th bottle. It gives great volume and smells fresh! Wonderful Product!!
I absolutely love product - easier to use with the redesigned bottle. Provides great volume! LovelySkin Customer
Verified Purchase
Makes my fine hair full!
Lovely product! Took me about a week to get the right amount and now I love this product. I have fine hair and this makes it look and feel full and natural. I totally recommend it! Drying
I like the Alterna Caviar products, but this one made my hair a bit dry. LovelySkin Customer
Verified Purchase
Thank you to whoever created this hair mist
It's so great to spray some of this in, blow dry and go. It gives your hair such a fulfilling texture that leaves you wanting to touch it more and more. It's great if your going out quick but doesn't last very long unfortunately, but with a lot of hairspray, it might be a different story, I just prefer to use the lighter side so my hair won't look like a wig. Great product
This product is easy to use and smells good on your hair. It increases the feeling of fuller hair. LovelySkin Customer
Verified Purchase
Ok
This product was ok for my hair. The first day I had serious volume, but not so much the next day. My biggest issue was that it caused my scalp to itch, and it had a strong perfume smell. I have a sensitive scalp, so that did not help. Again, I will say that it does give your hair volume. skeys72
Verified Purchase
Caviar miracle mist
Love this product! It's great for my thin hair LovelySkin Customer
Verified Purchase
Works as Promised
This product is pricey but it delivers! That said, the price point here is better than any other I've found. Thank you, LovelySkin.com. LovelySkin Customer
Verified Purchase
Gorgeous sexy hair
If you find your skin on the scalp is sneaking through your hair, well then, gotta spray spray and spray. Chee chee chee, boom, full hair that lasts for couple days. Yep! No kidding.