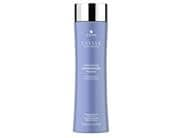 Reviews For
Alterna CAVIAR Anti-Aging Restructuring Bond Repair Shampoo
$34.00
Not worth the agony of trying to get product out of bottle
I've used this for a few weeks and do not notice a positive benefit from any other shampoo that's meant to help hair resiliency, texture, and volume. I also today wound up slicing the bottles open and spooning their contents into other containers, as I couldn't get the tops of otherwise, my hand having been pounded too hard and for too long each morning in the shower to get the stuff to come out. This is very frustrating for the consumer. It also seems to be a trend, as Viviscal's square boxes are similar, but they work out okay if you keep them upsidedown. Being upsidedown has no benefit for Alterna Caviar. Bottom line: the company chose the wrong packaging. Product is too thick and needs a pump, Alterna. Nothing special
The bottle is way to hard to disperse the shampoo, will not buy again. And the shampoo was a disappointment. LovelySkin Customer
Verified Purchase
Breathing life back into my damaged hair!
With only a few uses I can tell a difference. My hair feels stronger and the texture is already more silky and smooth! LovelySkin Customer
Verified Purchase
I bought this as a gift.
My Mom really loves this shampoo because she has fine, thin hair. She's been using store bought and said that her hair was falling out. This shampoo is overhauling her hair and rebuilding to its fullest, like when she was younger! Becky4Rod
Verified Purchase
Strong Hair
This shampoo has made my hair stronger and less fragile to heat. I love it! LovelySkin Customer
Verified Purchase