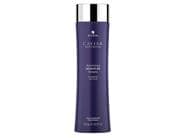 Reviews For
Alterna CAVIAR Replenishing Moisture Shampoo
Alterna caviar moisture shampoo
Finally a shampoo and conditioner that does what it says it will do. After years of trying shampoo after shampoo, this one has done wonders for my aging hair! I highly recommend this product, so worth the money spent! Highly recommend
I have dry, coarse, highlighted hair and this shampoo has truly made a difference. Smells good, is very moisturizing, and it is fantastic for highlights. Highly recommend. Very good quality shampoo
I always come back to this. The same shampoo in the volumizing version did not work for me. It dried my hair out and made it unmanageable. Hawkster
Verified Purchase
One of my favorites
This is one of my favorite shampoos of all time, and I've tried many. Lathers well, cleans well, and leaves hair in good shape - manageable, moisturized (but not too moisturized), ready for your favorite pre-heat product. Every time I try other, similar shampoos, I go back to this...time and time again. SouthernChic
Verified Purchase
Does What It Says
At 68 years old, I find my hair to be thinning, breaking more easily, and drier than ever. I do cut and color every five weeks ( professionally) and am always trying new treatments to improve the quality of my hair. This CAVIAR shampoo and conditioner is excellent for my needs right now. The shampoo is thick and rich with a great lather. The conditioner detangles beautifully and is more gentle than others I've used. I highly recommend these two products and will be trying more from this line. The light scent is very pleasing as well. Audigirl
Verified Purchase
Shampoo
Love the smell and very moisturizing for my dry hair! LovelySkin Customer
Verified Purchase
Excellent
My husband has thick, prematurely gray hair,. It's stiff and this shampoo and conditioner make a noticeable difference in softening and helping keep his hair manageable. Deltarose23
Verified Purchase
Holy Grail
This shampoo combined with the matching conditioner and the volumizing mousse has transformed my hair. Alterna is wonderful. This product adds moisture and keeps my locks healthy and bouncy without weighing them down. The Best!
I always think no matter how happy I am with a product there is something better. My guests get all the products I never finish. This is my 3 rd time purchasing and my new year resolution was to stick with products I like and stop switching! Love what I'd does for my highlighted hair, soft, manageable but not heavy, a definite keeper. Great product
My husband and I both use Alterna Hair products. They work well and leave your hair feeling clean. Did not care for the smell
I was looking forward to trying this, as I had heard it is highly rated. However, I found I did not care for the smell, and it seemed to make my scalp itch. Love this shampoo
I tried this in a sample size originally. It transformed my color-treated aging hair after the first use. I knew it was a must have for better hair days for me. It gave me lots of body and shine and didn't make my roots greasy. I scoured the internet to find the best price for an authentic product and found that with LovelySkin.com. I love the product and will definitely order again from LovelySkin.com. Shipping was fast and my items were packed well. LovelySkin Customer
Verified Purchase
Great hydrating shampoo
This is a great hydrating shampoo that leaves my hair hydrated and tangle free. It lathers well and has a nice fragrance. I use it with the hydrating conditioner and volumizing conditioner both from the caviar line. I recommend it. LovelySkin Customer
Verified Purchase
Cleans without stripping
Perfect for dry hair. Great fragrance. NicoleLynn
Verified Purchase
Super soft hair
I love how hydrated my hair is when I use this shampoo and conditioner. LovelySkin Customer
LovelySkin Employee
Alterna Caviar Shampoo
I am definitely seeing an improvement in manageability and shine. I rated a four star instead of a five star because I definitely need a good conditioner after using it. I strongly suggest buying the Alterna conditioner for desired results. LovelySkin Customer
Verified Purchase
Does not leave hair tangled
Strengthening shampoo, non-drying great cleansing. Paired with conditioner, it's a 10! LovelySkin Customer
Verified Purchase
Amazing!
I love this moisturizing shampoo! My hair looks so much healthier and feels smoother and softer. LovelySkin Customer
Verified Purchase
Go-to anti-aging shampoo
Hydrating and smoothing consistently, so I use this shampoo weekly ever since I turned 50. Smells great too. And worth the price, although I got a great deal with my LovelySkin rewards. LovelySkin Customer
Verified Purchase